Is Little Miss India hit or miss?
My experience with Indian restaurants in Dubai are hit and miss. I love punchy flavour, but I can't, or rather my stomach can't tolerate high doses of chilli spice. Digestion issues aside, I feel that, a little like truffle, extreme spice overpowers the natural flavours of a dish, and in the case of chilli, sets your tongue on fire. So it's a welcome change to dine in a new Indian restaurant here, Little Miss India at the Fairmont Palm Jumeirah, where the menu, a gorgeous hardback design, has no indication of spice levels. When I raise this point with the manager, he explains the strategic decision to downplay the spice to appeal to a wider customer base, however the heat level can be increased on request. I would actually recommend the team proactively asks guests for their preferred spice level.
Little Miss India is a fictional character, Mohini Singh, the 'mistress of the mansion' aka the restaurant. However, to confuse matters, she is actually based on a real ex-Miss India, Prachi Mishra (@mishraprachi on Instagram) who essentially modelled for the restaurant's social media campaign. Are you sensing a new theme from restaurants here? Her fictional name is mentioned in the menu introduction. The vibrant colonial-style restaurant and lounge bar feature mesmerising truck art including an unconventional bar in the shape of a heavily decorated truck, with the bonnet on display outside. The terrace soaks up Dubai Marina views.
I had reserved a table by the window, thinking that might be more atmospheric, but on arrival, I realise the main dining room with the open kitchen is in a second room, so our hostess offers to seat us in front of the kitchen instead. As it turns out, the three tables here with wonderfully comfy blue velvet armchairs are Little Miss India's version of a chef's table with front row view of the chefs in action including charcoal tandoor ovens. I am a little worried my cover may be blown, especially as bite-size tasting dishes are sent to us complimentary (as with all tables), however the team has absolutely no idea.
The cocktails are magical concoctions. A Bhangarita is a tamarind chutney and coriander flavoured margarita. The Bollywood Spritz is a vodka Aperol prosecco with pear and apple juice (lethal). I would order both again. The only other times a cocktail list impressed me so much in Dubai, was at lacklustre Maiden Shanghai and the sadly defunct Q'bara. The wine list features my much-loved Indian Sula Shiraz wine, but the selection is pricey – an issue prevalent across Palm Jumeirah hotels because of the purchasing process through a third party, CCD.
A selection of quirky poppadums arrive with three different chutneys – a mint green apple; a tamarind chilli; and a pickled-flavoured yoghurt – all equally addictive. The menu is primarily focused on traditional North Indian dishes starting with appetisers from the charcoal tandoor and soups, moving on to curries, biryanis and breads.
Instead of a platter of mixed kebabs (AED110), I select a slightly more expensive starter to share (AED120) because the cooking technique and presentation differs. Four barbequed lamb chops marinated in bark wood with a dozen different spices arrive presented in a large jar. Smokey, succulent and tender meat with a slight char from the tandoor falls off the bone easily – the best Indian lamb chops I have ever tasted.
Butter chicken never photographs well (not that I choose dishes based on photogenic appeal), but it's always a good order to test an Indian kitchen, as frites are to the French (or Belgian). Plentiful morsels of juicy chicken soak up a decadent gravy blend of butter, tomatoes and cashew nuts, with a hint of fenugreek. A dish that is rich without being heavy. A side order of kulcha potato, essentially a stuffed naan that has been charred on the tandoor, is soft and flaky – and mops up the butter chicken gravy beautifully.
Our second main, biryani, with prawns as my choice of protein, arrives sealed in a clay pot – with a side of raita. The waiter peels back the crispy thin flatbread at the table to reveal a steaming slow-cooked dish of saffron-spiced basmati rice mixed with many a succulent prawn. An excellent rendition of pure comfort food.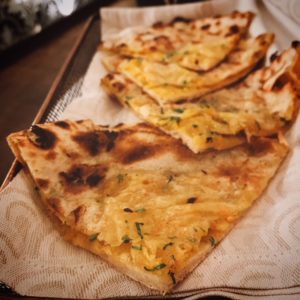 For dessert, a range of sorbets using traditional digestive syrups intrigues me – perfect after a carb-laden meal. I want to order two flavours to share, but our waitress advises starting with one. She's worried we may not enjoy the salty notes (little does she know me!). I choose the Indian mangosteen, which is tangy, juicy, and indeed a little salty – but if, like me, you prefer savoury over sweet, this sorbet is highly appealing.
Service is exemplary, bar one quibble at the start when we are served imported water, even though the restaurant also offers local water. The waitress apologises and brings us local water. In contrast, like with the sorbets, she advises against ordering a separate raita given it accompanies our biryani anyway – good to see the up-selling minimised. The price point at AED185 per person without alcohol is ridiculously affordable for a high-end licensed restaurant in Dubai. Just be mindful of the wine prices.
Little Miss India is a hit on many levels, from the delicious value-for-money soul food and cocktails, novel presentation included, and slick, well-informed service, to the prime Palm Jumeirah location and impressive décor with a welcoming vibe. Here's to a high 4.5 out of 5 FooDiva knife rating.
What other licensed Indian restaurants hit the spot for you? How do you like your spice levels?
A bientôt.
FooDiva. x