Does Flamingo Room by Tashas live up to its Instagram image?
Natasha Sideris, the owner of South African café chain, Tashas, also present in Dubai, has introduced a new licensed restaurant concept, Flamingo Room at Jumeirah Al Naseem serving modern European cuisine. This new Dubai opening is a strong testament to the belief that a loyal following of consumers, Instagram-worthy interiors and an alcohol licence are all one needs to charge a substantial amount of money in a restaurant.
On a Wednesday evening, just one month into opening, Flamingo Room is packed to the brim, showing no signs of slowing down. It's a 200-seater licensed venue with both indoor and outdoor seating overlooking the hotel's Turtle Lagoon. The interior pays homage to the Golden 70s era with opulent hanging fixtures, zebra printed velvet chairs and ostentatiously-designed bar counters (including a Champagne bar), alongside a playful pink and peach colour palette with hints of gold, teal and white. Furthermore, as an ode to its African heritage, Flamingo Room has collaborated with South African retail brand, Collective by Charles Greig, giving the brand its own trading space in the restaurant.
Service throughout our evening is on point. At no point do I feel uncomfortable or unattended to – perhaps it's the number of staff who grace the floor, or the fact that everyone is very proactive. We are attended to by a lovely waitress who is not only personable and able to anticipate our needs, but gives strong recommendations as well. Her knowledge of ingredients, as well as advice on flavours and portions make the entire dining experience that much more educational and appetising (pardon the pun).
The menu is mammoth and includes the usual suspects such as burrata, steak tartare, beef carpaccio and fish and chips – with no dish unique to Flamingo Room. There appears to be little effort to 'glam up' classic dishes with interesting accompaniments – which sits at odds with the intriguing and photogenic interior. For example, the fish and chips feature shoestring fries, lemon aioli and nori salt which, in my opinion, are mainstream.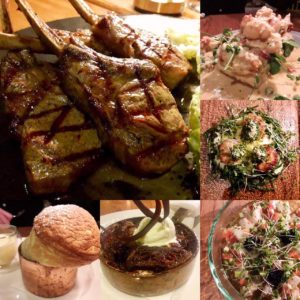 We go with the white fish ceviche and scallops for starters which arrive within ten minutes. The fish's ceviche marinade consists of ponzu, ginger, black salmon roe, chilli, lemon zest, lime juice and coriander – and whilst the combination sounds like a engine of bursting flavours – the dish is bland and forgettable. The scallops arrive covered in a fine coat of golden panko crumbs on a bed of cauliflower purée infused with truffle and topped with samphire. Every bite is a perfect marriage of sweet truffle flavours, salty samphire and scallops, and textural crunchy panko crumbs.
For mains, the lobster and prawn vol-au-vent presents itself as a simple puff pastry with a golden pot that the waitress serves the sauce out of. While beautiful in its presentation with an added touch of showmanship – the puff pastry is flat and the lobster thermidor sauce is neither flavourful nor rich, lacking that umami essence. It reminds me more of an Hollandaise sauce, perhaps due to the use of a non-alcoholic white wine instead of a more typical brandy or cognac. Our lamb cutlets arrive well done as opposed to my request of medium-rare, and I immediately send the plate back which kicks off amazing service recovery. Within seven minutes, the dish arrives at its correct cooking temperature, whilst both our waitress and the manager apologise, offering us dessert on the house.
To end, I order the passion fruit soufflé which is light and airy. In contrast, the chocolate banoffee bread and butter pudding with salted caramel and vanilla pod ice-cream served in a warm pan is rich, sweet and decadent. Both are Instagram-worthy and diet-crashing-worthy.
At an expensive AED380 per person based on three courses without alcohol, you can definitely get more bang for your buck elsewhere with better quality food, AND a more interesting menu. However, if you're looking for Instagram-worthy interiors and food, then Flamingo Room may be your cup of tea. Here's to an average 3 out of 5 FooDiva knife rating.
When selecting a restaurant to dine out, how influenced are you by social media photos?
JEC
Who is FooDiva's guest reviewer? JEC has lived in some of the world's best culinary destinations including Paris, Hong Kong, Singapore, Bangkok and Switzerland, working as a marketing and PR professional in the hospitality industry. On the weekends, JEC offsets her Dubai dining by teaching indoor cycling classes and practising yoga.