Cuisinero Uno: a chef-owned concept in Dubai with a monthly rotating menu
We have a new restaurant in Dubai with a menu that rotates monthly according to seasonality and availability of produce. A first for this emirate? Well, if the majority of dishes do change, then yes indeed. Cuisinero Uno is Filipino chef John Buenaventura's crowd-funded 'fusion tapas' concept atop the Steigenberger Hotel in Business Bay. You may recall him from Seafire at Atlantis. He's one of a small but growing number of UAE-based chefs opening their own concepts here – and I don't just mean helming the kitchen, but with a vested, commercial interest in the entire operation.
The location on the second terraced floor of this hotel is much bigger than I expect. To the right sits an open kitchen with counter seating so diners can engage directly with the chefs. That's where I would have loved to perch myself, but to preserve my anonymity, I opt for an al fresco table on the L-shaped terrace. With natural foliage and astro-turf flooring, it's not quite as atmospheric as indoors. Back inside, a bar counter and a Jack Daniel's lounge with private dining table take up the remaining space.
There's a dedicated cocktail list, a mammoth selection of spirits, three different sangrias, and a very small selection of wines. We pick a couple of glasses of Peter Lehmann's Australian Shiraz for AED62 – not badly priced by Dubai standards. Interestingly, we are not asked if we would like to order water – a first for Dubai!
The one page menu printed on natural brown card is a mix of cold and hot "stuff" across four different categories – seafood; wings and meat; veggie; and desserts – with each section boasting between ten and 11 tapas size dishes. We ask the waiter how many plates we should order, and he advises two, or three each if we are hungry (excluding desserts). It's a compelling menu with plenty, but almost too much choice. We eventually settle upon six dishes across the different categories.
A well-seasoned yellow fin tuna tartare goes well mixed with a dollop of crème fraiche and a dashi glaze. Some more substantial sea crisps would have helped spoon it up. Our second seafood dish disappoints – a hot smoked salmon fillet is over-charred and therefore dry – however, the accompanying crispy egg (the reason for my order) is beautifully deep fried with a gorgeous runny yolk. The anchovy sticks are mini moreish brick pastry 'cigarillos' served with a lemon lime mayo dip – but the popcorn 'crumbs' these are perched in are stale and superfluous.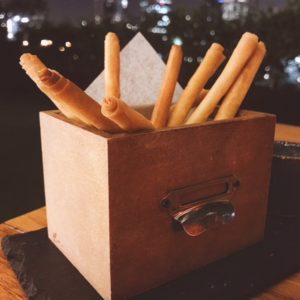 Deep-fried, tempura-style Padron peppers are incredibly delicious on their own, and dipped in a paprika mayo. A Moroccan pastilla with shredded quail, which is served as a large spring roll sliced in half on a bed of tabouleh, is excellent with the filo pastry nice and crispy. A fresh taco is the star of the meal with wonderful umami flavours and textures from pulled mutton marinated in a Filipino adobo sauce that is mixed with a mint raita and a tomato slaw. We order another taco as it's simply impossible to share. Note; the waiter should have advised us, and simultaneously succeeded in upselling!
Seven dishes in, we're still a tad hungry, so we order the "DXB short ribs"– another well executed dish with the beef slightly pink, tender and smokey. Served on a bed of madrouba, a wholesome spiced rice porridge from the Gulf with some pickled onions on top.
The desserts we order need refining. A sponge cake that surrounds a decent Italian affogato flavoured with Jack Daniel's and espresso, is redundant. An Earl Grey and orange sorbet is overpowered by too much orange blossom, and the sorbet scoop itself is too granular.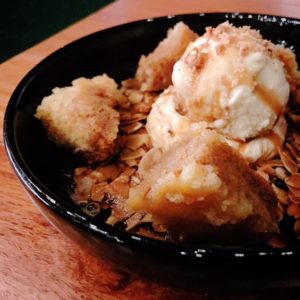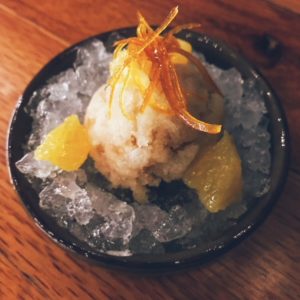 Chef John's tapas fuses cooking styles and flavours from the Middle East, Asia, Latin America and the Mediterranean – that's pretty much the whole world! Five out of nine dishes are well executed and full of flavour. So from what we try, the menu is a little hit and miss, with some dishes working better than others. He would do well to condense the menu and the fusion mix, especially given the monthly change, thereby focusing on serving all dishes that are high in technique, flavour and presentation.
Apart from the couple of small glitches that I mention earlier, the service throughout is swift and efficient, with the waiters well versed at explaining the dishes. By the time we leave on a Thursday evening the restaurant is a little busier, but far from full. Based on four dishes each, expect to pay AED160 per head without alcohol, which is very good value for a licensed restaurant in Dubai.
It's heartening to see Dubai move away from transplanting celeb chef restaurants here, with more and more UAE-based chefs taking the leap of faith to open their own homegrown concepts – a sign of a maturing market. It's chefs (and restaurateurs) like John that we need to cultivate with our support and custom. Yes, some of his dishes need revisiting, but overall the food is decent, well priced fare, and combined with good service, a little atmosphere indoors, and a central location, Cuisinero Uno scores a 3.5 out of 5 FooDiva knife rating.
Can you recommend any other chef-owned concepts in the UAE?
A bientôt.
FooDiva. x