Who and what is Miss Tess?
Miss Tess actually exists, unlike the imaginary Mr Miyagi – both Asian 'street food' restaurants. She's a well-travelled Asian lady with the Instagram handle @tomoko_tess who has just opened a restaurant at Taj Dubai (@misstessdubai), taking over the Tesoro space on the third floor, but she has forgotten to update the signage.
However, that's quickly forgotten once we walk in to a lively, kitsch bar and restaurant. The centrepiece is a neon tuk tuk with diners popping in for photos. I just wish the team had invested in ripping up the mock marble, aka acrylic flooring to something a little more rustic, in keeping with the Asian street theme. The waiters provide some 'impromptu' dance entertainment to the tune of house music, which all adds to the fun atmosphere. Our waitress points out Miss Tess who is hosting a group of friends on the other side of the dining room – apparently a regular occurrence.
Miss Tess is a walk-in restaurant, with reservations only required for large groups – or the Korean barbeque which requires a minimum of four people. At 8pm on a Thursday it's not busy (it does pick up later), so we get to choose our table. The menu designed like a fan boasts traditional, recognisable dishes from the chef's home of Thailand – as well as Korea, China, Vietnam and Japan. Oddly, we are not presented with a drinks menu until we ask – it's a similar situation with the prawn crackers, which a neighbouring table that arrives after us is served. The cocktail list is nicely presented as illustrations with an extensive selection, but sugary as you would expect from a joint like this. The wine choice is limited. Help yourself cutlery and condiments sit on the table.
Many of my first choice, signature dishes have to be dismissed either because they include mushrooms (an allergy) or are unavailable (Peking duck) – the latter gobbled up at a large event the evening prior, says our waitress. So for starters I end up ordering the rather tame prawn tempura of which a generous portion of six arrive in a pretty basket presentation, with the typical tentsuyu dipping sauce. Plump, piping hot, and clearly freshly fried.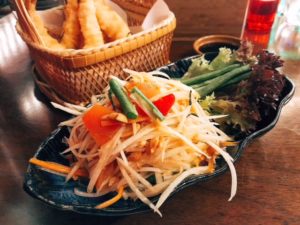 A traditional Som Tam Thai salad with shredded papaya, shrimp, diced cherry tomatoes, yardlong beans and roasted peanuts in a delicately spiced lime dressing is textural and well balanced.
A main course of grilled lamb chops boasts a delicious finger-licking sweet and sticky caramelisation from the char siu barbeque marinade. An accompanying dip that is too acidic does nothing to enhance the earthy meat flavour. A side of stir-fried bok choy is sensational – al dente with just enough oyster sauce for flavour without drowning the leaf blades.
However, the real reason I am eager to dine at Miss Tess is to try South Korea's national dish of bibimbap, which I am pleased to report is an excellent rendition with rice, julienne strips of assorted veggies, beef, kimchi and a glorious runny egg – served in a hot stone bowl. The chilli paste is served on the side. All mixed together, the umami flavours make this dish very comforting and wholesome fare.
For dessert we pick the turon, with banana and jackfruit deep-fried together as spring rolls. These are crispy, with the fruit caramelised and a dusting of icing sugar for presentation. A scoop of fruit-topped vanilla ice cream is served on the side. A delightful ending.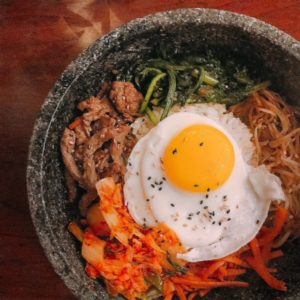 The sloppy service at the start is quickly replaced by efficiency, friendliness and menu knowledge, along with a restaurant manager who checks on the tables. At AED185 per person based on three courses each, Miss Tess offers terrific value for money for a licensed restaurant in Dubai. That combined with well-executed, classic Asian dishes; a vibrant, casual atmosphere; a strong identity; and a funky interior in a central location all support a four out of five FooDiva knife rating for Miss Tess. However, I would like to see Miss Tess working the room and mingling with paying guests, rather than just acting as a brand ambassador. A little like the almost long-forgotten art of service from a maître d'hôtel, which only a handful of restaurants now boast.
Do you miss the service and personal attention that goes hand-in-hand with a traditional maître d'? Does that need to be restricted to formal fine dining restaurants, or would you like to see casual restaurants embrace this style of service?
A bientôt.
FooDiva. x