Izu Brasserie may be hidden but is it a gem?
Izu Ani is a seasoned chef specialising in Mediterranean cuisine with a focus on southern Italian influences. He opened La Petite Maison in Dubai, then moved on to replicate, arguably, that concept with La Serre, followed by a partnership with The Lighthouse at Dubai Design District which is ongoing, and now a consultancy project with Izu Brasserie at City Walk. He's also set to open a namesake licensed restaurant at the Mandarin Oriental in Doha before summer next year.
Izu Brasserie is an unlicensed concept tucked at the back of French department store, Le BHV Marais – the staff can direct you though the maze of shopping aisles, but don't expect any signage. I suppose that could qualify as a hidden gem, if it is indeed a gem.
A far cry from a traditional French brasserie with white table cloths and all, the concept occupies a skinny corridor of space that's been lovingly designed with a kitchen counter as the centrepiece, one wall of banquette seating, a rather forlorn pastry display and charming retro sinks for hand washing (the toilets are located elsewhere in the department store). Any chefs that complain of teeny kitchens would do well to visit Izu Brasserie as a reminder of their good fortune.
We arrive for a late Friday lunch-cum-early dinner at 4pm so I am not surprised to only find one other table occupied. But like with my last Dubai restaurant review, it still carries atmosphere. My reason for a late arrival is intentional, in the hope that Izu would not be on duty to blow my cover.
The simple one-sheet menu is concise covering starters, pizza, pasta/ risotto, meat/ fish and sides, with three to five dishes in each section. I spot vitello tonnato from the starter selection, quite a rare find in Dubai (Social by Heinz Beck makes an excellent twist). A northern Italian cold dish from the Piedmont region, Izu serves it traditionally with slivers of pink veal in a creamy tuna mayo sauce dotted with capers and strips of sundried tomato for some sweetness. Works wonderfully as a spread over chunky toast. If you have an adventurous palate, you will love this well-executed dish, as do I.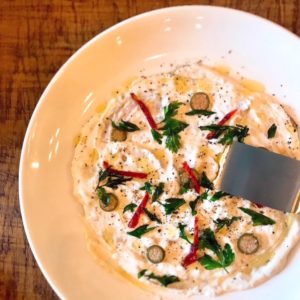 Squid ink ravioli veers more towards tortellini, with a well seasoned stuffing of prawns and sea bass. The home made al dente pasta has us mopping up a delectable butter sauce.
Our second main is a mammoth veal chop Milanese that is cooked just the right side of pink. The breadcrumb coating is fresh, robust and far from greasy with a simple topping of a mixed salad and Parmesan slivers. Some squeezed lemon is all it needs for the flavours to shine. Only one other restaurant in Dubai, Sicilia at Movenpick Ibn Battuta serves a dish to rival Izu's. The accompanying beautifully crisp French fries set a high benchmark for frites in Dubai, but the portion is far too small. The veal dish is the most expensive on the menu at a ludicrous AED160, whereas all other main courses range from AED55 – 85. Izu has some explaining to do.
Service is polite, efficient, non-intrusive and knowledgeable. If you order three courses each, expect to pay on average AED215 which is expensive for a teeny restaurant tucked at the back of a department store – but then again, it's not the kind of place that you would feast on a multitude of dishes – one main course or a couple of starters are more than enough to fuel a shopping jaunt. Throughout all his Dubai ventures, Chef Izu Ani has turned out dishes that let the ingredients shine through a very simple cooking style. You get what you expect; no surprises – and I don't think there's anything wrong with that formula. He's done it again here – bravo. Izu Brasserie may not be a brasserie but it is a hidden gem – just save up for the veal Milanese.
Are you a fan of Izu's cooking style?
A bientôt.
FooDiva. x