Is Sean Connolly at Dubai Opera a tourist trap?
Chef Sean Connolly you might ask, as did I…who is he? I only came across this Yorkshire expat when I ate in one of his Sydney restaurants, The Morrison, a no-frills gastro-pub and oyster bar last December. He's made his name in New Zealand and Australia through five restaurants and endless telly work – but he's not a world-recognised name. So to hear that he was helming the flagship restaurant atop Dubai Opera caught me by surprise. That coupled with my low expectations (I envisaged an overrated tourist trap like Atmosphere that rides solely on location), didn't exactly fill me with enthusiasm. But I was pleasantly surprised from the moment I walked in on a Thursday evening.
First impressions always count, and 'wow' is what I uttered when faced with a large contemporary brasserie that was buzzing with activity despite the lack of diners. It got busier as the evening progressed. At just after 8pm, we had missed the pre-theatre crowd, but three different bars serving cocktails (the Pearl island bar is inspired by Sean's signature oyster ingredient); raw seafood; and a grill created pockets of interest. It's rare for restaurants to claim atmosphere when not particularly busy, but Sean Connolly's ticks that box. When the rooftop terrace opens, you'll get Burj Khalifa views. The DJ music was a little loud on arrival (a pet peeve), but as soon as we were seated, the volume was magically reduced, almost on cue, to a nostalgic, acoustic playlist that is apparently influenced by Sean's youth.
The wine list is expensive with the cheapest bottle of red starting at well over AED400. We settled on a glass each of Australian Shiraz (Gamekeeper's) for AED65 (near US$18). According to Vivino a bottle retails at half that price – just under US$9! Alcohol is heavily taxed here, but this mark-up is ludicrous, even by Dubai standards, so I hope Emaar reads this review and adjusts the pricing.
The menu describes itself simply as "steak and seafood" with a raw bar selection, oysters and sashimi included; starters; main courses; and grills. The prawn cocktail from the raw selection boasted three juicy tiger king prawns dressed with a gorgeous, smooth cocktail sauce atop a bed of crispy lettuce – a little tricky to mix together in the small bowl though. The duck liver parfait served in a jar from the 'entrees' was velvety smooth with a hint of sweetness from the jelly. Simply decadent smothered with salty butter on sour dough toast, and a side of pickled gherkins. So deliciously good, the waitress offered to bring us more toast to polish it off.
Onto mains, and a mammoth portion of fish and chips. The cod was encased in a beautiful crispy batter (apparently cooked in duck fat) that benefitted from seasoning with drizzles of malt vinegar and a squeeze of lemon. It sat on a bed of crushed minty peas, a much more refined version of traditional mushy peas. The chips disappointed though – I was hoping for double or triple fried, but these were undercooked and lacked a crispy texture.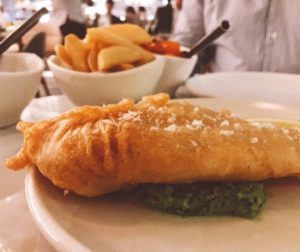 A 3-point rack of tender Welsh lamb cutlets from the grill section was cooked pink as requested with the fat wonderfully caramelised – accompanied by a mild, textural mint sauce. Two side dishes – 'grandma's' carrots and creamed spinach were probably some of the best I have ever tasted in a Dubai restaurant. The carrots in particular were so soft (far from al dente) oozing with lashings of butter, sea salt and fresh herbs.
We both struggled to choose from the dessert menu. There's a choice of seven dishes (one of which is French cheese – hoorah!), but nothing appealed. I appreciate I don't have a sweet tooth, but my dining companion does. A semi freddo; opera cake; cherry sorbet; trifle; panna cotta; and chocolate bark is hardly enticing. We settled on the latter, and what arrived was literally jagged slivers of dark chocolate, and separately, white chocolate, all baked with candied fruit and nuts. Gorgeous, but essentially a twist on petit fours that I begrudged paying AED50 for.
The service from the outset was excellent – friendly, intuitive and casual in a good effortless manner. Just one quibble on the lack of menu knowledge – I tested two waiters on the species of fish (in the fish and chips), and only one was correct. The price point is high at AED400 per person without alcohol. You would do well to eat there before 7.30pm, ordering from the AED195 three course pre-theatre menu. Otherwise you are paying for the high profile location, but at least Sean Connolly manages, overall, to get the food right with simple, fuss-free, flavoursome dishes. Some rethinking from the pastry chef would help formulate a more compelling dessert selection. The atmosphere is a huge winner making it a restaurant that I will most definitely return to, even without a theatre booking. Thankfully, Sean Connolly at Dubai Opera shows no signs of being a tourist trap. Here's to a 3.5 out of 5 FooDiva knife rating.
What other restaurants combine a great location with atmosphere, good food and service? Are you familiar with Sean Connolly and his ventures?
A bientôt.
FooDiva. x