Mr Miyagi's: where dishes are served in random order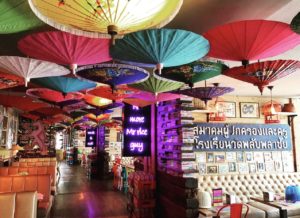 A small starter portion of Peking duck arrives, with a large main course bowl of Nasi Goreng in quick succession. A Szechuan sea bass main follows. And lastly (before dessert thankfully), an appetiser of bao buns with sausage char siu.
"The food will be served when ready," so we are told twice (by two different waiters) at a new 'Asian street food' restaurant  in Dubai, Mr Miyagi's in the Media One hotel (replacing Crab Tavern). In other words, dishes may not arrive in traditional sequence of starters, followed by mains. An excuse for a lazy kitchen, in my opinion. This serving practice may be an Asian custom, but given dishes are served to share, it's illogical and near-impossible to eat a Nasi chicken satay rice bowl with a quarter Peking duck and pancake starter simultaneously. One, undoubtedly, is going to go cold. And furthermore, after a very filling deep-fried sea bass, the carb-heavy bao bun appetiser arrives. Thankfully, we don't order dessert until later on – otherwise, who knows, that may have rocked up first.
Take a peek at the menu here to see how Mr Miyagi's groups these dishes. Whilst each section is titled with witty pun-crammed names (bravo), the menu engineering has these flowing coherently from small to larger plates. So why the kitchen can't serve these dishes in that sensible order makes me question the chef's organisational and timing skills.
Call me a traditionalist, but whilst I don't mind sharing, on occasion, for ease of digestion, I do want to eat my starter (small plate) before my main (large plate). I thank the Russians for introducing 'service a la Russe' to France in the early 19th century. Even with Mediterranean-style mezze eating, main courses would never arrive before the small plates. Mr Miyagi's is not the only restaurant in Dubai to serve dishes in any random order the kitchen deems fit, so this review is simply the catalyst from many an odd meal, and a mini rant (another one) that has been brewing for a while. As a follower on Instagram mentions, "if a main course arrives before an appetiser, that should go off the bill!" I agree.
Anyhow, 360 words into this review, if you can put the serving methodology aside, the Far and South East Asian food and concept is actually pretty good. In case you're interested, Mr Miyagi's is the latest venture from 4 Front who also own The Scene and Jekyll & Hyde – the latter replaced their sadly defunct concept R Trader.
The Peking duck served on an enamel plate mixes succulent earthy meat with crispy skin, whilst the pancakes are fresh, soft and malleable – not at all cardboard-y, like in some Dubai establishments. Interestingly, the 'signatures' section also offers the choice of a half or full portion of duck – clearly defining the starters from the mains. Indonesia's traditional rice dish, Nasi Goreng is served here with skewers of super tender and juicy chicken satay, whilst an egg, sunny-side up, allows me to mix up all that runny goodness – a comfort dish I would return for in a heartbeat.
I am expecting a banana leaf steamed sea bass, but instead the fish is diced and deep fried with punchy Szechuan spices, alongside some chopped peppers and celery. Oddly, the fried fish head and tail is served for presentation purposes. It needs a sauce, perhaps something with tangy tamarind, to mop up the greasy textures. A side of similarly spiced bok choy thankfully arrives at the same time. The beef sausage 'char siu' in a sesame-speckled barbeque sauce sits next to some gorgeous light and fluffy Chinese steamed buns, otherwise known as mantou or bao buns. If you can get over the lack of pork, then you may just polish these off.
For dessert or 'happy ending' as per the menu descriptor, piping hot crispy spring rolls are filled with banana and jack fruit – and served with a rather bland purple yam ice cream. A caramel sauce makes for more delectable dipping.
There's plenty of beer and sugary cocktails to choose from if you like that kind of thing, but the wine list is limited – frankly an Asian street food joint is not conducive to serving decent vino so I won't hold it against them.
Our waiter is fun-loving and clearly enjoys striking a conversation. Menu knowledge at times is lacking though – and he has to return to the kitchen for advice.
The concept is casual, reflected in the Instagram-worthy kitsch Asian-style décor, with some furniture reinvented from the Crab Tavern days. It's not particularly busy on a Monday night over the summer, but the interesting, eye-popping interior helps create some atmosphere.
The price point based on three courses (plates) each without booze is AED232 which is perfectly reasonable for a licensed casual restaurant in Dubai – but watch out for the whole duck which will set you back AED325.
I am going to give Mr Miyagi's an above-average 3.5 out of 5 FooDiva knife rating on the basis that it's a restaurant I would love to return to for a relaxed and affordable night out with friends over well-executed soul food. I will, however, be asking that my dishes are served in the right order. Let's see how the chef reacts.
How about you…what's your opinion on this style of service? How do you like dishes to be served?
A bientôt.
FooDiva. x