Does my gamble with Graze pay off?
After my last Dubai restaurant review, I crave a simple meal where courses are served traditionally, three-course style, à la Russe. The website of Graze, a "gastro-grill" in the new-ish La Ville boutique hotel at City Walk explains that "sharing is central to the dining concept", but, thankfully, that's not reflected in the online menu, so I take a gamble.
We walk in without a reservation on a Thursday evening near 7.30pm to find an empty restaurant. By the end of our meal, we are one of three occupied tables. But despite the lack of diners, with the French windows drawn open (even in steamy August) creating a welcoming indoor-outdoor feel to an L-shaped restaurant; an open kitchen with a fired-up Josper oven; and ambient lighting, Graze manages to score a little atmosphere.
In addition to a 20 per cent ENBD discount on food, any day, any time (which partly entices me to visit), three wines each of white and red are on offer for AED30 per 100ml glass. The team is not too strict when pouring. A full-bodied Lebanese red blend from the Beqaa valley, Ixsir's Altitudes is excellent.
Two types of fresh warm bread, sour dough included, arrive with a delightful spread of roasted onion, artichoke and cream cheese. The chef de cuisine hails from Mexico (he's on holiday, we are told when I ask) – and that's evident with some Mexican inspiration peppered throughout the menu starting with an amuse bouche of a ceviche topped taco.
What stands out on an otherwise traditionally engineered grill menu is the amount of side dishes – 23 to be precise! But as the waitress explains, some can be interchanged for starters, of which there are six (plus a couple of soups). She does not impose any sharing concept, even though, for the sake of reviewing, we do share some dishes.
The baked oysters (from the starters) call out to the non-purist in me, and here these are served with a spinach and Parmesan crumb at AED28 a piece (thank goodness for an additional 20% discount). I adore oysters Rockefeller and Kilpatrick, if well executed, so to try them with this different topping is very appealing, and just as delicious. A squeeze of lemon and we polish off four pronto. I can happily eat a dozen.
Our second starter, a 'side dish', is a fondue of melted Mexican cheese with 'chorizo' (beef sadly) and some mild chilli (poblano) peppers. We use the bread for dipping, but it's just as moreish straight from the spoon – or some crispy tacos would make a good alternative.
I select a main from the signatures section – Welsh lamb chops that have been marinated for 48 hours in a garlic and herb infusion. A huge portion of six plump chops, cooked perfectly pink, with a highly earthy robust flavour.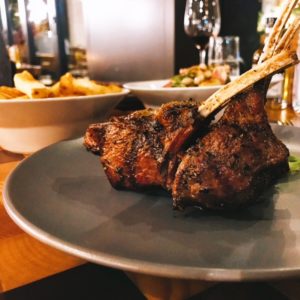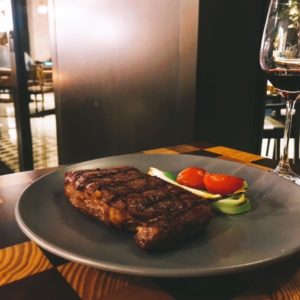 My dining partner chooses an aged, grass-fed rib eye steak (350g for AED280) from Ireland's John Stone farm – cooked as requested to medium rare in the Josper oven which gives it that umami flavour that comes from charcoal grilling. It's good to see the option of healthier grass-fed beef, alongside the more typical American grain-fed Black Angus, and the pricier Australian Wagyu and Japanese Tajima cuts. Two dips/ and or sauces are included (unlike Ruth's Chris Steakhouse who shockingly charge AED19 per sauce). The Gruyère cheese fondue with balsamic onions is a divine dip (can you tell I am a cheese-aholic?), which I use to dunk an excellent side order of paprika-dusted crispy, chunky and clearly hand-cut fries. Our second side, an enormous mound of one of my favourite veggies, Brussels sprouts, are char-grilled al dente with sweet pearl onions and veal pancetta – the latter needs more crisping for the fat to caramelise.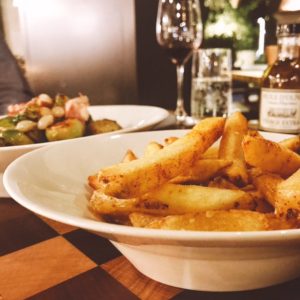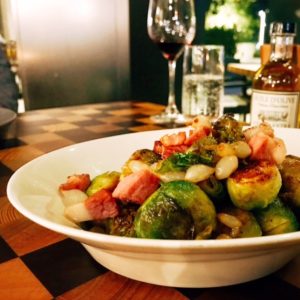 Too full for any more, but for the sake of a review, I order the cotton cheesecake to share, a Japanese hybrid dessert of sponge cake and cheesecake. Not to be confused with a crustless cheesecake, like the version I devoured in Bilbao. At first bite, I am a little unsure of the cool spongey texture, but when mixed with a delightful mandarin sorbet and some cookie crumbs, the combination works.
Service throughout from a lovely Ukrainian waitress is friendly, knowledgeable and discreet, whilst the manager pops over once to check on our meal. The challenge is whether the team can maintain this standard with a busier restaurant.
The price per person based on three courses each without alcohol is AED338 per person, and the 20% ENBD discount (an on-going offer) reduces the bill to AED270. So if you don't have an ENBD card, Graze borders on the pricey side, but on a par with other steakhouse/ grill restaurants in Dubai. Otherwise, steer away from the steaks and order from the signature meats or seafood dishes for a more affordable meal.
The gamble pays off. We leave Graze satisfied and satiated after a relaxing and nicely paced three-course meal that marries well-executed classics with a touch of creativity in a central location. I hope this Dubai restaurant can pull in more punters once the new season starts. Here's to a four out of five FooDiva knife rating.
What's your go-to grill or steakhouse?
A bientôt.
FooDiva. x