Top 10 pintxo bars in San Sebastian, and more
The charming coastal city of San Sebastián in Spain's northerly Basque Country close to the French border may have one of the world's highest concentration of Michelin starred restaurants in the world (second to Kyoto) – but the more unique reason to visit, is for the world-class, cheap as chips (or patatas bravas) cuisine in the myriad of pintxo bars.
Pintxos (pronounced pin-chos) are the Basque equivalent of Spanish tapas – in fact the word translates to toothpick, which tends to hold the bite-size snack together on a slice of baguette. These line the counter of every pintxo bar, but it's wise to skip these and order small plates from the à la carte menu or daily chalkboard specials. That way dishes are cooked à la minute, plus you're less likely to fill up on carby bread – even though for ease of handling some are served on baguette.
The majority of the pintxo bars are located in San Sebastián's (referred to as Donostia in the Basque lingo) pretty pedestrianised old town, but you can also find a few in the commercial centre and shopping district. Each bar specialises in anything from one to a handful of dishes, so if you steer away from this guide, just ask the bartender for their speciality.
Expect to pay only EUR2 to 4 per pintxo, plus another EUR2 for a glass of Txakoli (pronounced chacoli), the local, spritzy white wine. Its low alcohol content is a bonus to help you through the bar hopping which is really what pintxo feasting is about. I wasn't a fan of the cloudy, less sparkly Basque cider – too soapy for my palate.
The one thing I found frustrating is the opening hours. Some shut shop in the afternoon for a little siesta, and many close on Monday (and even Sunday too) – so in my recommendations below I have included opening hours. That said, if you want to avoid queuing, grab an early or late lunch, or dinner – at the pintxo bars open all day. The late-time dining habit prevalent in the rest of Spain does not apply to San Sebastián – these bars get busy from 7ish. Consider yourself lucky if you bag a stool for perching against the high tables.
If navigating the pintxo bars sounds daunting, then book yourself a pintxo tour with Mimo Food on your first day which includes six bars, each serving two to three dishes and vino – plus an English speaking local guide who will elbow his/ her way to the front of the queue. That way, the following day, you can return to your favourites or simply try new bars. In fact, I booked our whole four-night package with Mimo who are also adept at securing reservations in Michelin star restaurants that typically require bookings months, if not a year in advance. Food tour aside, the package included an all-day Michelin restaurant secrets cooking class (eye-opening), dinner at two-star Mugaritz (a dire experience), and lunch at three-star Arzak (superb), as well as glorious hotel accommodation with brekkie at the Belle Epoque grande dame Maria Cristina, a Luxury Collection property (pictured top right). See the hyperlinks for my insta-reviews – and for my dining recommendations on Madrid and Bilbao, see #SpainDiva.
So voila, here are FooDiva's top 10 pintxo bar picks in San Sebastián's old town – including the dishes to order:
Gandarias: order the sirloin steak cooked perfectly rare; the melt-in-your-mouth griddled foie gras; and the Gilda, named after Rita Hayworth's character in the film of the same name. It's a comforting combination of gently spicy guindilla pepper, green olive and anchovy – all cured in vinegar. You'll find it in many pintxo bars. If you're dining in the restaurant which requires advance booking, the T-bone steak is a must order. Open daily 11am – midnight.
A Fuego Negro: a modern take on pintxos. Try the mini wagyu burger – so tasty, order half a dozen! And the sardine with pineapple and mustard. Open weekends 11.30am – 1am, and Tuesday to Friday 6pm – midnight. Closed on Monday.
Atari Gastroteka: a pintxo bar-cum-restaurant (book for the latter). Order the hake with veggies which change according to seasonality; beef cheeks on mashed potato; fried guindilla peppers (slimmer version of padron peppers but just as moreish); and salmorejo, a gazpacho (cold) soup with tomatoes, bread, olive oil and garlic – perfect for a hot summer day. Open daily 11am until late.
Sirimiri: a buzzing pintxo bar, also known for its cocktails. A wonderful private dining room in the basement beckons for big groups, or if à deux, sit at the counter to watch the chefs in action. Try the lamb with Jerusalem artichokes and salicornia, a mini sea asparagus. It's also famous for Iberian pork with apple purée and fried leeks that wasn't available on the day we visited. Open daily 12noon until late.
Txepetxa: go here for the love of anchovies. A slice of baguette, topped with different anchovy recipes. I tried the anchovies mixed with the delicacy that is spider crab cream – super moreish. Open Wednesday to Sunday 12-3pm and 7-11pm; Tuesday 7-11pm; closed Monday.
Ganbara: savoury pastry heaven. Try the puff pastry filled with chistorra, a Basque cured pork sausage – truly the best sausage roll I have ever eaten!; the spider crab tart; and the Gilda, again. Open Tuesday to Saturday 12.30-3.30pm and 8-11.30pm; Sunday 12.30-3.30pm; closed Monday.
Borda Berri: tiny and always rammed, but well worth the wait at the bar for the veal cheeks in a red wine sauce; and local Idiazábal (an unpasteurised sheep's milk cheese) risotto. Open Wednesday to Saturday 12.30-3.30pm and 7.30-11pm; Sunday 12.30-3.30pm; closed Monday and Tuesday.
Goiz-Argi: go here for the skewer of prawns cooked on a hotplate; and green peppers, smoked salmon and smoked anchovy rolled round a toothpick. Also known for the tuna burger that I sadly didn't get to try. Open daily 10am-4pm and 6.30-11.30pm. No website.
Bar Sport: ignore the not very enticing name and nibble on the baby cuttlefish with a balsamic vinegar, parsley and garlic sauce; typical but very good deep fried calamari; and grilled chorizo sausage. Open daily 9am until late.
La Vina: by now you're probably wondering why I've not mentioned dessert. The pintxo bars do offer sweet stuff, but savoury tends to rule in San Sebastian (my kinda town). Undoubtedly, you've read elsewhere that the exception is the crust-less cheesecake at La Vina. Sadly I didn't find it as decadent or well executed as Gure Toki's in Bilbao, an hour's drive, which was fluffy, velvety and not too sweet. La Vina's was sickly and far from dense, almost running off the plate. Perhaps we caught them on a bad day. Give it a go and let me know. Open Tuesday to Sunday 10.30am-5pm and 6.30pm-midnight. Closed Monday.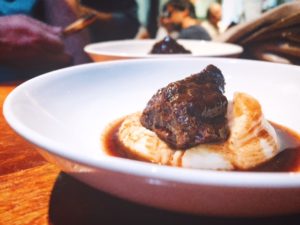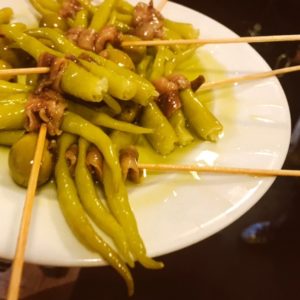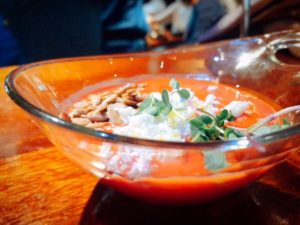 Three pintxo bars from my research – Bar Nestor, Casa Urola and Paco Bueno – were sadly closed the week of my visit. An excuse to return next year!
Have I missed any of your favourite pintxo bars or dishes?
Here's a link to The Hedonista's guide on the etiquette of pintxo eating that makes a handy read.
A bientôt.
FooDiva. x