Does Katsuya by Starck offer much beyond its new Dubai location?
Katsuya by Starck, the latest independent restaurant to open at Jumeirah Al Naseem promises to deliver a Japanese menu developed by US-based chef owner Katsuya Uechi, who is known for reinventing classics with a Californian twist – for an American palate. But can he convince me, an outsider?
Our reservation is taken swiftly over the phone and confirmed for a Thursday evening. We're greeted with a traditional Japanese 'irasshaimase' welcome from the chefs and are quickly directed to our table in the main dining area. The interiors are simple and slightly underwhelming given the Philippe Starck association; nothing really stands out to make the design memorable. I expect more from the decor given the restaurant relocated from Dubai Mall (after closing for a while) to a more upmarket and licensed venue, but I'm willing to overlook that if the food impresses. A few minutes after settling into our booth, the novelty of that warm greeting starts to wear off and starts to feel gimmicky and disruptive as more guests arrive, with the yelling continuing sporadically throughout the evening.
The mammoth menu is introduced by our waiter as a sharing concept, which comes as no surprise given more restaurants than not have adopted 'family style' dining. I find large menus hard to navigate; it's a challenge to settle on a reasonable amount of dishes without falling trap to over-ordering, so some additional thought and curation with the menu engineering would be beneficial. Luckily our waiter is helpful and makes some suggestions. We opt for a few sharing plates and maki rolls to start as we ponder the rest of the menu. The service is slick and quick with dishes arriving at the table a few minutes later.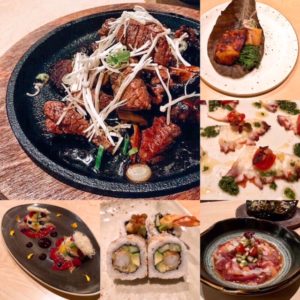 The octopus carpaccio is the most impressive of our starters – thin slices of delicately flavoured octopus dressed with a citrusy lemon and earthy herb relish finished off with yuzukosho, a fermented paste made with chillis and yuzu, giving the dish depth. The crispy Brussels sprouts are toasted with a hint of char and dressed with a sweet yet tart balsamic soy dressing that brings out their earthy undertone. The crab salad is served with shaved cucumber and mixed green leaves topped with shredded snow crab lightly tossed in a dashi vinaigrette. I expect more flavour and would have liked some intensity to shine through the dashi, balancing the sweetness and subtlety of the snow crab. The Katsuya ceviche, a dish that I am most excited about and, arguably, the simplest to execute, is sadly the biggest let down. What arrives is a bowl with thick slabs of tuna and salmon sashimi drenched in what tastes like tomato paste ponzu – a far cry from the simplicity and sharpness of traditional ceviche with its citrus marinade.
The maki rolls hit the spot – the California roll uses kanikama rather than real crab meat, which, I guiltily admit, in some ways is tastier than the real deal. I suppose this is one of the many ways Katsuya stays true to its Californian influence. The shrimp tempura roll is well balanced and surprisingly light, with the crispiness of the shrimp marrying well with the creamy avocado and crunchy cucumber combination.
For our main courses, we settle for a neo-Japanese classic made famous by Nobu – miso marinated black cod. The fish is cooked well, and each bite consists of buttery textured fish flakes coated in a sweet umami miso coating. A side dish of wasabi mashed potato is creamy with a sharp kick, but nothing to write home about. The wagyu tobanyaki arrives well done, although we are specifically asked how we want it cooked. We alert our waiter who quickly deliberates with the kitchen and returns with a new dish cooked medium rare. The meat is tender and full of flavour sizzling on a hotplate – accompanied are hearty mushrooms made juicy with a soaked-up plum reduction.
To finish, we opt for two desserts – one indulgent and the other experimental. The double chocolate lava cake arrives undercooked and gooey, lacking the consistency you would expect from a molten dessert. I attempt another bite with some vanilla ice cream but there's no saving this dish. The Katsuya Napoleon is a crispy kataifi filo filled with bland sesame cream mixed with blueberry and peach 'caviar', and drizzled with an overpowering caramel and raspberry sauce, leaving the dish feeling unintentionally deconstructed.
Starters average AED60, mains AED175 and desserts AED45 – making a three-course bill per person AED280 excluding alcohol reasonable for a licensed Dubai restaurant in a high-end location. However, if you start ordering more, which is easy to do with this type of concept, please be mindful of your wallet.
With only four out of ten dishes impressing, the food is mediocre, which, sadly, matches the lacklustre interior and atmosphere. Location aside, Katsuya's saving grace is the efficient service and quick recovery with the wagyu main course. With all this in mind, I am giving Katsuya an average FooDiva rating of three out of five knives.
How do you feel Katsuya compares to other modern Japanese restaurants in Dubai? Does it offer more than location, location, location?
Eat well,
Lolly. x
Who is guest reviewer Lolly? A self-proclaimed dayeater, longstanding PR girl and F&B marketeer with a background in hospitality. When she's not working she shares her tales of wondrous food and drink on her Instagram page.