Peyote Dubai: a flirtation or a relationship with Mexican cuisine?
Dubai loves to flirt with Mexican cuisine, luring us in with the promise of authentic food, but what typically transpires is Tex-Mex overload with an original Mexican dish thrown in for good flavour. There are some exceptions, notably unlicensed Dubai restaurants. And we may now have a licensed exception in the form of Peyote, a London restaurant import serving modern Mexican fare that has opened at Dubai International Financial Centre in the former Wheeler's location.
When I call on a Friday morning to make a booking for that evening, Peyote is full, so I opt for a Saturday dinner reservation instead. Despite reserving under another name, I am recognised by two different staff members – the second review in a trot my cover is blown, so perhaps I need to retire…or don a wig. At least I am able to pay the bill.
For an 8pm booking Peyote is initially quiet, but by the time we leave, a couple of hours later, is near full. The layout, needless to say, mimics Wheeler's, with the bar lounge on arrival, and a few steps down, the dining room, segregated by a communal high table. The kitchen pass has been brought forward, overlooking one section of the dining room making it integral to the experience. The lighting is ambient and the DJ music discreet enough to not interrupt conversations. All these factors combined create a vibrant restaurant with plenty of atmosphere.
I order the tamarind margarita from an AED60 cocktail list because I love tangy flavours, but it disappoints with its sweet rather than sour taste, partly due to a slice of orange. The passion fruit margarita is more appealing. Four different salsas and crispy tacos arrive with varying degrees of chilli spice, including a delicious peanut butter flavour, and the habanero that rips my tongue off.
The menu limits each of the ten sections to a handful of choices making it easy to navigate. However, it's the kind of menu that can tempt diners to over-order by wanting to try one dish from each section – but I refrain by sticking to three courses. I purposely avoid the ceviche selection because of Peruvian overload, but we are explained these are prevalent in Mexico too with a lighter marinade than the luscious Peruvian leche de tigre.
I am drawn to the nopales cactus salad for two reasons – because Peyote is named after a small spineless Mexican cactus – and I am just desperate to try cactus! It's served two ways – char-grilled and salt-cured – similar in texture and density to a green pepper but with an earthy robust flavour. The salad is tossed with a Mexican 'queso fresco', a tangy, crumbly cow's milk cheese, and dressed with a cherry tomato and oregano vinaigrette that all together impart a wonderful umami flavour. My only qualm is I want more.
From the taco section, we order the grilled sea bass filling, which arrives nestled on two soft corn tacos. A squeeze of lime and we roll them up. Pickled red onions and a tangy salsa verde offset the meaty, buttery fish making this choice particularly moreish.
The barbacoa de Cordero from the meat mains is the star dish of the night. A shoulder of lamb braised for 24 hours in banana leaf – so tender, it falls apart with a gentle table-side carving by our waiter. Served with a stash of soft tacos, little gem lettuce leaves and another salsa concoction, our waiter explains that all ingredients should be layered and rolled together. Like with Peking duck 😉 The charred and smokey salsa combined with the soft, succulent lamb is a perfect match.
Arroz a la tumbada is a traditional Mexican dish from the state of Veracruz. Peyote's interpretation is a refined, lighter version of paella that is much more al dente. The base is tomato and the seafood comprises lobster, king crab and langoustine. The latter is not shelled, and because the langoustine is partially hidden amongst the rice you can't tell until the first bite – most odd, but upon researching, is typical of this dish. That aside, the intense flavours are sublime.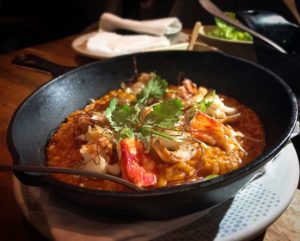 Churros, the world-famous ridged doughnuts may be of Spanish origin, but pre-revolution, Mexicans were descendants of either Spanish or Indian. You'll therefore find them on every street corner in Mexico, and here they don't disappoint. Warm, crispy and crunchy on the outside, and soft and smooth on the inside. Aside from a decadent chocolate dip, these are served with cajeta, a goat's milk version of dulce de leche. The plate boasts an intricate iced sugar interpretation of the Peyote logo – beautiful.
Our second dessert, vacherin de mango y yoghurt is a lighter and refreshing option. Thick creamy Greek yoghurt, a mango sorbet, a stone fruit compote, grated lime and slivers of meringue that are too brittle. Each ingredient on its own is a little boring, but when mixed together makes for a delicious ending. In contrast, the presentation of this dessert is a little messy.
Looking out across the dining room, the waiters are over-run; there's simply not enough staff to keep up with a busy service, so at times is a little slow. I expect Peyote didn't anticipate to be so frantic in the first month of operation. Overall, the menu knowledge is forthcoming from an engaging waiter, however he does have to check on one of my questions (the cheese in the cactus salad), and also recommends two desserts that he claims are not yet on the menu, but in fact have been added.
Stick to three courses each like we do which will fill you up nicely, and expect to pay AED315 per person without alcohol, which is reasonable for a plush licensed restaurant in DIFC. The cuisine is a far cry from the typical Tex-Mex fare prevalent in Dubai restaurants. I am so glad we now have a high-end modern Mexican restaurant in Dubai that serves just what it says on the tin. Peyote is more than a spicy flirtation, but an operation built on a strong relationship with well-executed, contemporary Mexican cooking. Perhaps with thanks to the support from its two London restaurants? Location, atmosphere and value for money are also key attributes, however service requires some fine tuning. Here's to a four out of five FooDiva knife rating.
Have you eaten at Peyote here or in London? What are your thoughts on Dubai's 'Mexican' restaurant scene?
A bientôt.
FooDiva. x