Is Le Cirque a classy New York restaurant import?
It's a date night and restaurant review all rolled into one – a first for me. My destination is New York French restaurant import Le Cirque, which opened its doors at the Ritz-Carlton DIFC last month. With just one companion for dinner I am worried about tasting fewer dishes! But FooDiva is right – one does not need to try too many items to form a better opinion of a restaurant. A clever and concise selection from the menu, alongside some focused interaction with the waiters gives a stronger and more realistic feel of a dining experience.
On a late Saturday evening, the restaurant is substantially empty. We walk through the elegant sections of the dining area, with contemporary paintings, starched white table linen and charming lamp shades adding character to the restaurant. The staff is a mix of French and Italian, with one Arabic speaker to complete the language offering. What stands out from the outset is their expertise, and the substantial time and attention they give to diners – but the sparse population that night helps. Our waitress immediately connects with my wife in French sympathising with her pet peeve of minimal vegetarian items on many French menus, and points out that such is not the case at Le Cirque. In fact, a third of the starters and first courses are vegetarian, but none of the mains are.
Le Cirque's cuisine is summed up in the menu correctly I would say – "French cuisine inspired by the Italian influences of its renowned creator Sirio Maccioni." It's easy to navigate with about six each of starters, first courses and mains. Descriptors are all in French, but organised in the seemingly Italian manner of insalata, primi and secondi.
From the cocktail list, we follow the sommelier's suggestions of Latin Quarter for me – a big old-fashioned whiskey concoction – and Le Cirque Club, a delicious gin-based drink for my wife. Both are good, but the latter is a cocktail I would order again.
Another first is the detailed guidance I receive, with questions from the maître'd around how hungry we are, and the suggestion that a starter and first course, or a starter and a second, is perhaps the way to go. But a combination of indecision and gluttony makes me order the lobster risotto and the rack of lamb from the first and second courses respectively, whilst my more restrained wife opts for a seasonal salad and spinach ravioli from the starter and first course sections.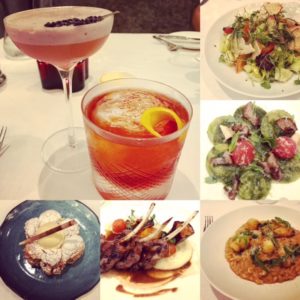 The salad de saison is visually fresh, but the flavour of the grilled peppers and caramelised onions borders on disappointment in what could elevate a regular seasonal salad. The ravioli epinards is well crafted, with moist spinach and ricotta in a subtly al dente ravioli. Most raviolis overwhelm me with the cheese, but here the spinach dominates, mellowed somewhat with modest portions of ricotta.
I am pleased with my choice of the risotto au homard – what I consider, classy comfort food. A luscious risotto with generous portions of crispy lobster meat topped with rocket leaves and gremolata (a chopped Italian herb condiment made from lemon zest, parsley, garlic and anchovies). Though a small portion, the richness leaves me heavy and I gingerly leave a little uneaten to save some space for the lamb. I take a break and with the sommelier's suggestion order a glass of Chianti Ricasoli to bridge the transition.
The carre d'agneau is a classic delight. When asked how I would like it cooked, I ask if medium here means 'Dubai medium', which, in my opinion, is rarer than what is internationally recognised as medium. The waitress assures me of the latter. What arrives is perfectly executed medium cooked meat, on a bed of grilled Mediterranean vegetables, mashed potatoes and laced with red pepper coulis. I dig in and between sips of my Chianti I close my eyes, letting the juices play on my palate.
I am very full – clearly the waitress reads my mind and is indeed hesitant to even offer a dessert. But I am reviewing, so we go with her suggestion of Paris-Brest. The dessert, quite aptly, looks like a rather elaborate arrangement of choux-pastry profiteroles topped with a lemon and almond ice cream scoop. The filling is salty caramel cream. The interplay of sweet, sour and salty is delicate yet lavish, and I wish I have space left for more than one spoonful. We have to order macchiatos to wash down the dessert.
At AED270 per head based on three courses each for food only, Le Cirque is correctly priced. The ambiance is classy yet comfortable, which matches the simple and delicious food. Above all, the service scores highly. I do build up a big appetite for this night, with both food and service exceeding my expectations. I would be restraining myself by giving Le Cirque 4 out of 5 FooDiva knives. So impressed am I, that I return for a business lunch the following week, and try the tuna tartare. I will not give away the surprise that accompanies this dish – you must taste it for yourself. This time round, Le Cirque is busy, but not as much as the likes of Zuma and La Petite Maison. Nonetheless, attentive and warm service continues to impress me.
Are you happy to dine out on simple yet classy fare, or do you prefer to spend money on an unusual and innovative experience?
AK
Who is FooDiva's guest reviewer? AK is an avid gastronaut who thinks that a day without a good meal is a day wasted. He has travelled the world exploring culinary delights, including a treasured dinner at El Bulli. He works as an investment banker in Dubai.