A peek into Zahira with chef Greg Malouf
I have been very vocal that for Dubai's restaurant scene to be taken seriously on the global stage, we need to see high-end, home grown licensed establishments serve modern interpretations of cuisine from the Arab world. Only then, will Dubai pave the way towards a maturing dining scene, one possibly worthy of a Michelin guide (and let's add World's 50 Best into the pot given Dubai dropped off the ranking this year). Dubai did have Q'bara, which sadly closed down, and of course Australian-Lebanese chef Greg Malouf had his own first restaurant here, Cle, which also shut shop – each for differing reasons. After a sabbatical of guest chef cooking appearances, Greg's back with new investors and operators to open independently-managed Zahira (not his choice of name) at the H Hotel, in the former location of Ruth's Chris steakhouse, on the 15th May, promising modern Middle Eastern cuisine.
Zahira has the prospect to be a real game changer for Dubai. I'm a little concerned about the location though. Chef Reif's Play has helped create a dining destination, but it has also taken custom away from Okku, who is leaving (relocating to Fairmont Palm apparently). On a positive note, Zahira won't compete with Play's target market so perhaps the two are complementary – and perhaps Greg will win over the GCC guests that make up a large proportion of the hotel's customer base. Furthermore, Zahira's affordable price point at AED260 per person without alcohol is a unique selling point. Having spent 48 hours with Greg in Lebanon on a food and MMI wine tasting trip last month, as well as having sampled his fare at his abode in Dubai, what I am convinced about, is that his culinary approach and flavours are just what this emirate needs. I hope he gets it right this time. Proof will be in the review.
In the meantime, here's an honest, and sometimes controversial interview with Greg previewing Zahira's cuisine. If you're after something a little bit more personal on the man himself, here is a link to a short and sweet Q&A for South Africa's Taste magazine that I wrote in the build-up to the opening of Cle.
How do you feel about your upcoming opening, Zahira? Dubai's a really tough place to be cooking Middle Eastern food. Middle Easterners have not embraced anything modern about their cuisine or any adaptation, so this is a major challenge. You can't just jump into it and throw molecular cuisine at them because they'd freak out, and I'd freak out too! So I've realised over the last four years you have to tread gently. I am currently focusing on dishes that I'm so familiar with, and that I know will put a smile on most of the toughest crowds, because they have been accepted. They're mostly dishes from my childhood or from my travels, cook books and research. It's just me being a little more mature about how I approach Arabic food and how not to make it too inaccessible. And the other thing is restraint. I've done all the Michelin stuff, and now I just want to eat, or feed people with the honesty of ingredients and all the other things that go with it, but with not too many smears and splodges. But Arabs and a lot of other races eat with their eyes. And that's fine, but you know it needs to taste like something and you need to show some technique. You can't just get an eggplant, grill it and put it on a plate. I mean the Italians are great at that and they get away with it, but when you're in a decent restaurant the chef needs to show something!
According to Zahira's Instagram account, you will serve modern Middle Eastern cuisine. That's quite all encompassing. Can you be more specific? It's Arabic or Lebanese food seen through my eyes because of my Lebanese heritage. But it's actually a broader stroke than that – Levantine; Persian who don't like to be associated with Arabic; Turkish, again the same thing; North African with Egypt in the mix; and a bit of Moorish stuff going on with southern Spanish. I guess Lebanon has tidied things up but they haven't pushed their cuisine further. They're just too scared too. My dream is to open a restaurant in Beirut [when we visited Lebanon, he showed us the type of site he had in mind].
How have you engineered the menu? It's all obviously based on sharing. There are a number of sections – 'art of mezze' [starters]; 'art of sharing' [main courses]; 'art of sweet design' [desserts]; 'art of feasting' [tasting menu]; and an 'art of the garden' menu which is a vegetarian menu available on request. We have many vegetarian dishes on the regular menu. In the lounge, we have another menu of about ten dishes in bite-size portions – where I would like to be with a negroni! I don't like to have a section in the kitchen, as I get too distracted roaming round. I want to be able to pop into the restaurant and chat to guests. And I also want to be able to write my own menu on the spot for people I know, or if someone wants me to.
Where are you sourcing produce from? We're trying to focus on Italian, French, British, Lebanese, as well as some Turkish produce. Anything local you kind of get a bit nervous about. I can't use local seafood – once it's out of the warm water, the bacteria just hits it, and it's less than 12 hours before it starts to disintegrate. But the fish we get from Europe is immaculate. I use Scottish salmon for the kibbeh nayyeh, which is super, sushi fresh quality. We got our first delivery of food today, and I had to send half of it back – it's just not right. We're trying different suppliers. For instance there are different grades of saffron…and I use Iranian saffron only. They brought Iranian saffron but it's not the grade that I wanted so back it goes!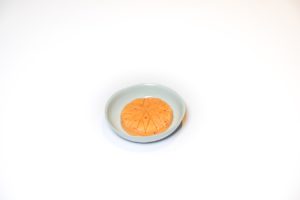 Talk me through some of your favourite dishes (not necessarily signatures), their origins and how you have adapted them.

The whole kibbeh family is important to me but kibbeh al nayyeh in particular. I grew up on that. Whether it's a simple kibbeh nayyeh or salmon kibbeh nayyeh (pictured first row on the left), which I have on my menu here, to me, they're both equally as good.  I kind of proved that to myself because I always take my family as my biggest critic. Mum used to frown upon what I was doing. Finally, after many years, she realised there was some substance to what I was doing. I presented this salmon kibbeh nayyeh to her and she fell in love with it! In fact that was her deathbed wish, probably one of her last meals I think.
 The spring tabbouleh with baby lentils (first row on right) is a great example because there are a couple of ingredients that I've changed, but if you close your eyes, you pretty much think you're eating tabbouleh. It's such an earthy, homely dish, but with the right ingredients it can be masterful.
My take on hummus with meat is with shredded wagyu sautéed with some spices and fried almonds. It's made with decent chickpeas and Lebanese tahini and lemons. You'd be surprised at how much citric acid is used in the kitchens of Lebanese restaurants. Real lemons, sea salt, and good quality olive oil. It's all about balance anyway. Smooth, silky, creamy and nutty. It should have a slight hint of garlic and the flavours should linger as well.
There's Fatima's fingers, which are almost like spring rolls – super crispy and stuffed with kashkaval cheese and blanched rocket. They're little sticks and one end is open, so it looks like a fingernail.
Quail…I love quail. When the Lebanese eat quail, they'll barbeque it, but I've pan-fried it with kunafeh crumbs, which is that shredded pastry. Almost like a schnitzel. Super crispy with a lovely texture. It's served with a purslane salad. I surprised myself because I'd never made it before.
We make basturma with Wagyu beef. It's served with shankleesh, which is like a stinky strong cheese, but ours is more mellow and a bit creamier.
A rich, smokey moutabbal with yoghurt put through it – we'll serve it with cheesy naan bread, because we have a tandoori oven. It's stuffed with manchego cheese…really good!
There's an Egyptian-inspired pigeon dish (second row left), which I'm busting to put out. It's a whole pigeon and not that expensive either – AED105 for this dish! And these are French pigeons stuffed with diced liver and herbs – poached for about 40 minutes and then fried. Then we just sprinkle a little bit of cumin salt.
We have the Turkish imam bayildi with a melting whole eggplant [his chef de cuisine Troy brings one out], plum tomatoes and goat's cheese.
What about desserts? We're kind of rearranging the hand of Fatima so that the base is made with kanafeh pastry, and then topped with sweet cheese and rose syrup. Then there's this pavlova action going on. Ours has turrets of flowers. I whip labneh with crème fraiche, and lightly flavour it with organic rose blossom – peaches and apricots go on the top.
Given your experience with Michelin in London [at Petersham Nurseries], do you think Dubai is ready for Michelin? Oh that's just rubbish. It will never be ready. They need to change the planets or the seasons or the weather or build a big dome and grow food.
Anything else you'd like to add for FooDiva readers? At the start of our chat it was about the Middle East and that it's not embracing anything that's slightly innovative about their food culture. I just hope it doesn't take another generation to change that. One thing that's in my favour is that Lebanese customers have a bit of respect for me, firstly for the fact my name is 'Malouf', and secondly, my family is from Zahlé, the centre of Lebanon for kibbeh and arak amongst other things. But it's still a tough crowd! And I would assume that 70-80% of our crowd is going to be Arab. It's not just the quality of the food though – it's the front of house team selling it – that's probably the glue that's going to hold it all. And as you know, there are a lot of other things that combine to make this formula work – whether that's location; the way you're first greeted; the atmosphere; and the price point.
What do you think the Dubai restaurant scene lacks? Does it need top-end home grown licensed restaurants that serve a modern twist on Middle Eastern cuisine?
Read the review of Zahira here.
A bientôt.
FooDiva. x