A maiden dining journey that is all style and no substance
A new homegrown Chinese restaurant, Maiden Shanghai at the Viceroy Palm Jumeirah, is a classic example of a Dubai restaurant that is all style and no substance.
It officially opened on the 4th May, but first piqued my interest in early April, when my Instagram timeline started to clutter with photos from 'influencers' and media personalities raving about their invited experience. It always worries me when captions shower praise only, with no sign of negativity. But it must be ready for review, surely, if so many people are being invited? So I make a dinner reservation for the 11th May.
My all style reference pays homage to a gorgeous and inviting interior that is far from traditional Chinese, but more colonial with a neutral yet warm colour palette. Think vintage-like chandeliers and decorative lanterns. Built on four levels; the first as we enter is the bar, which is too smokey to enjoy an aperitif. How I wish smoking laws would change here. Upstairs is a split-level roof terrace with beautiful panoramic views of the Dubai Marina skyline  – great for sundowners when the weather cools down. In the 'basement', down some steep (ladies, beware with high heels) but photogenic stairs (noted on an Instagram snap) is the dining room and a small lounge – an intimate, cosy space with sultry lighting. Maiden Shanghai, even when empty oozes atmosphere; something many restaurants struggle to achieve here.
We are shown to a table sandwiched between two others, yet only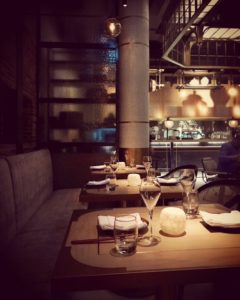 a couple of tables are occupied at this stage (filling up nicely later). I point to another, more private table with a column for company instead and we are 'permitted' to swop. This is a Dubai pet peeve of mine; restaurants like to save the 'better' tables for walk-in VIPs or, in this case, perhaps the invited elite.
The cocktail list, which we have to ask for, is one of Dubai's most inspiring, with a carefully crafted selection boasting quirky names starting at AED60. It's a shame the team does not actively sell it. I opt for a tequila (Herradura Reposado) concoction by the name of Five-clawed Dragon – with passion fruit, fresh lime, goji berries, and my all-time favourite cocktail ingredient, egg white. So good I order seconds. My dining companion chooses a bourbon-based Peking Sour, followed by the Nine-tailed Fox with gin – both excellent mixes. We ignore the prohibitively expensive wine list.
Our waiter explains that the menu takes inspiration from four types of Chinese cuisine – the most prolific is Cantonese (southern Guandong region), followed by Sichuan (west), as well as dishes from the cities of Shanghai and Beijing (think Peking duck priced at an extortionate AED580 for a whole duck, and AED380 for half). Instead of identifying the regional origins of each dish which would be educational, they are all mixed together in the menu engineering.
Our two starters from the hot section arrive pretty quickly. The salt and pepper squid whilst tender and punchy is more greasy than crispy. The turnip puffs with its crisp, shredded pastry and a sprinkling of sugar is the only star (and moreish) dish of the night. And subsequently our meal starts to go downhill, lacking any substance to reflect the stylish decor.
Stir-fried kai lan and egg fried rice are served as accompaniments to our two main courses which fail to arrive at the same time. Half an hour later, after we have eaten these two dishes, I complain not once, but twice, and only then is a mistake acknowledged, despite the fact that plenty of waiters are hanging round, ignoring us. The dishes eventually arrive. Braised chicken thigh with Tai Diao (rice) wine sauce is swimming with ginger, garlic and shallots, but we can count the morsels of chicken. Shocking considering the AED186 price tag. A steamed deboned snapper with black bean sauce, and an after-taste is the size of a quarter of a fillet – another pricey dish at AED180. Note, these are two of the cheapest mains on the menu.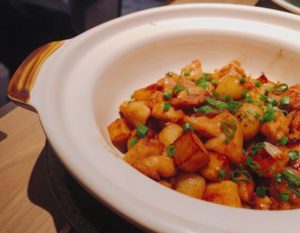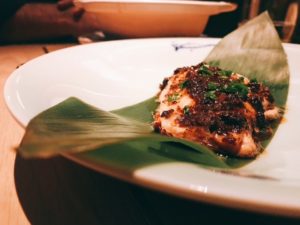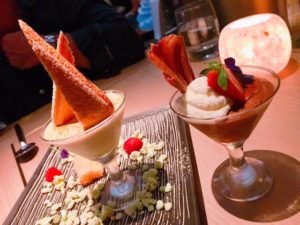 It gets worse. There's no dessert menu, we are told, because the kitchen is still fine tuning it, but they can serve some dessert specials. Why open if you're not ready then? We are offered two on the house – a matcha tea tiramisu and a mandarin mousse exemplify Maiden Shanghai's 'fridge to table' principle. The former inedible; the latter not bad, partly because we're hungry.
Eventually the customer service recovery kicks in with one head waiter and, separately, the restaurant manager popping over to apologise profusely and acknowledge the mistakes, recognising the small portions and the over-priced dishes. Our food bill, but oddly bar one pricey AED70 (!) kai lan dish (we order a second to mop up our mains) is not charged. We pay for the cocktails – fair enough.
I post a snippet on social media (Instagram and Facebook) a couple of days later, as I normally do after reviewing restaurants – and this generates an influx of comments including one from Maiden Shanghai who respond in text-book fashion, pointing out that both the portion sizes and prices are being addressed.
Based on the current menu (and an estimate for the price of desserts), expect to pay a minimum of AED350 per person without alcohol, which makes Maiden Shanghai one of Dubai's most expensive restaurants. Even though I think Dubai seriously needs to drop its restaurant prices to bring it on par with major global cities, in the meantime, if I have to pay top whack, I expect excellence across the whole dining experience. But at Maiden Shanghai, both food and service seriously disappoint. The only things going for it are the décor, atmosphere and cocktail list. A maiden dining journey that is all style and no substance.
It feels like we're dining on a trial run. We leave disappointed…and hungry. I appreciate everyone makes mistakes, but when you see so many people raving about a restaurant online, it leaves a rather sour taste. What's crystal clear is that Maiden Shanghai is not ready, yet the operators are forced to open, by the owners I expect, who are itching to see a return on investment. Well I hope this review acts as a reminder that such a short-sighted strategy simply does not work. Here's to a poor 2 out of 5 FooDiva knife rating.
Do you think restaurants should invite guests for dinner in exchange for social media coverage before officially opening?
A bientôt.
FooDiva. x