Mama Matto: another Italian restaurant in Dubai?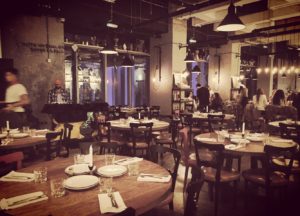 From the creators of Iris and Indie, comes a home-grown Italian restaurant in Dubai, Matto in the Oberoi. Replacing Umai, the hotel's Far-Eastern concept, Matto translates to 'crazy',  aptly named given this is the first restaurant foray from bar and lounge masterminds. Can these guys pull off a dedicated dining concept, especially with a cuisine that is so saturated in Dubai? A sure-fire recipe for failure? Crazy? Or absolute genius?
The team skillfully incorporates a play of elements usually associated with bar concepts – dim lights, disorganised bustle, colourful and creative cocktails, and a designated smoking corner – to create a restaurant that is charming and endearing. It's both your neighborhood bar and favourite childhood Italian restaurant. Packed on a Tuesday evening a month into opening (without any ladies night offers), the vibe is rocking. Attracting both a well-heeled and casual crowd, the atmosphere smacks of convivial camaraderie and homely Italian warmth.
On to the service, I'm reminded of the theme song from 90's hit series Cheers – sometimes you want to go where everybody wants to know your name and they're always glad you came. I leave Matto feeling like I know everyone and they know me. Italian waiters greet guests with open arms and hand gestures; "ciao" and "buonasera" is thrown at you from every direction from a sea of Lucas and Giuseppes (the floor staff have their names printed on the back of their shirts). The only pet peeve I have is with the hostess who sits me in a corner, next to another couple, in a row of empty tables for two. How disappointing. Nevertheless, she lights the candle on our table and I feel like a scene out of Lady and the Tramp especially as our waiter passionately recommends his favourites from the menu. There is sanctity to food and you can trust the waiters here to put it across the table.
Matto's interior is well designed. Staying true to its mischievous personality, playful details such as low-hanging Edison light bulbs, unfinished tiles, and exposed ceilings resurface throughout the restaurant. And whilst familiar considering their ubiquity in Dubai, you have to admire the effort behind the restaurant's bespoke elements. To name a few, the message board decorated with postcards from guests, a mural painting of a man kissing a fish, and hanging copper kitchenware to up the restaurant's hip quotient.
The menu however, unlike its playful interior, is traditional and rustic yet covers a multitude of influences from across Italy. Spearheading the dishes is a selection of antipasti featuring Italian favourites such as parmigiana and manzo tartare, which we order following the recommendations of our waiter. The parmigiana (sliced eggplant layered with mozzarella, tomato sauce, basil and parmesan cheese) is quick to arrive. Every bite is nostalgic and transports me back to my days in Italy – definitely a must-try. Our second starter, the hand-cut manzo tartare, is simple yet satisfying and although accompanied by various condiments such as capers and rosemary mayonnaise, is good enough to enjoy on its own. Plump and firm, the top grade beef from Fassona cattle in Piedmont distills a rich and savoury umami flavour.
For mains, we opt for the patatosa pizza with a crisp Roman crust from the wood-fired oven. Mushrooms and potatoes are mashed together with the pecorino cream and mozzarella. The beef bacon (no pork licence at Matto) though seems over-cured and disrupts the ratio of flavours. However, the homemade porcini and truffle ravioli that we order has me salivating. The ravioli skin is thin yet firm and perfectly al dente. The Parmesan cream that oozes out is velvety and luscious. The complexity of textures and flavours, with hints of black truffle that don't overwhelm, has me craving more.
On to desserts, the airy tiramisu and Sicilian cannoli stuffed with ricotta cheese and pistachios are both excellent and light choices to round off our meal, with just the right amount of sugary sweetness to offset a tangy limoncello. Special mention to the restaurant manager, who after hearing of my dining partner's nut allergy, advises against our order of cannoli for the fear of traces of nut oil. I still order the dessert for the sake of the review, while my dining partner enjoys the complimentary digestif on the house. Service recovery on point.
The most impressive aspects of Matto are the atmosphere and service. It's a restaurant perfect for any occasion, one of those rare places you can recommend to anyone, safe in the knowledge that whichever direction they take they will be in good hands. A charming, hip and beguiling 'hole-in-the-wall' restaurant, Matto transports you back to mama's Italian kitchen, evident with the strong Italian following who attest to the authenticity of its menu. For a reasonable AED190 for a three-course meal, I give Matto 4 out of 5 FooDiva knives. As the Italians would say, that's amore.
Have you recently dined in a Dubai restaurant that made you feel nostalgic?
Until next time,
JEC.
Who is FooDiva's guest reviewer? JEC has lived in some of the world's best culinary destinations including Paris, Hong Kong, Singapore, Bangkok and Switzerland, working as a marketing and PR professional in the hospitality industry. On the weekends, JEC offsets her Dubai dining by teaching indoor cycling classes and practising yoga.