3 Fils: does the food sing as much as the setting?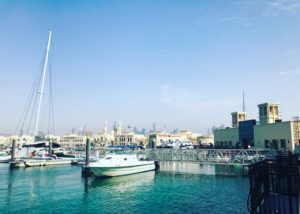 Akmal Anuar was the opening chef of Zengo at Royal Meridien, a Dubai restaurant that suffered from fusion confusion when I reviewed. He subsequently changed the menu, and later departed to resurface with his own concept, the bizarrely named 3 Fils (expect to pay more) at Jumeirah Fishing Harbour, in the same development as Silvena Rowe's Omnia Gourmet.
The selling point on a Friday lunchtime with Dubai's weather at an optimum is the charming, al fresco, fishing harbour setting and the gorgeous view pictured here. There are only a couple of large trestle tables outside and we nab one. 3 Fils does provide an indoor dining area for the hot summer months, or should you wish to see the chefs in action.
Akmal's one page website states 3 Fils serves "modern Asian cuisine with Japanese influence." However the one-page menu appears to incorporate many fusion elements. It also boasts the annoying Dubai norm of a sharing concept, with dishes divided into six sections. I love the odd-ball descriptors of "use them hands" and "brain food", but wish he had continued the theme by creatively naming the other sections of starters, sliders, sushi rolls and hot plates for consistency. I purposely steer away from ordering sliders and sushi rolls which you can practically get anywhere in Dubai, as I really want to test the kitchen on the more intriguing dishes.
A yellowtail (amberjack fish) dish is served raw, carpaccio-style. Akmal has torched the sliver thin fish which brings out the juices and therefore flavours – enhanced by a zingy ginger and sumac dressing.
I am a bit of a purist when it comes to beef tartare believing that one should let the rich meaty flavours shine on their own – but here it's served spiced with some shredded pickled lime skin – atop sour dough toast. The strong flavours are balanced however, and it works.
The menu has two dishes listed as brain food. One, the charcoal fry, is served on an aluminium plate – real charcoal is interspersed with edible pieces of squid ink tempura-fried aubergine. For dipping, we are served a spicy aji-like pepper sauce. Clever and delicious. The vegetable changes regularly to retain a level of mystery. Smart thinking. Gaggan thinks so too, given he mentions my Instagram photo at his pop-up dinner to highlight the similarity with one of his dishes.
A sole yet plump octopus tentacle (Australian Fremantle) is char-grilled and dotted with gremolata – super tender. A smooth base of potato and leek puree is mild enough to complement, yet not overpower the strong octopus flavours. Pretty presentation too.
A so-called 'ru-gyu' dish is, oddly, Russian (explains our waitress) skirt steak I think, served beautifully rare with an umami-laden bone marrow sauce, and grated horseradish. Moreishly good. One thing that stands out from the menu is the lack of veggies as side dishes, or even as an inclusion with the protein. They are almost an after-thought.
For dessert, we order the aptly named African powerhouse – a slice of velvety dark chocolate cake (from Ghana) with vanilla ice cream (from Madagascar). A dusting of dark chocolate makes this sweet ending even richer and more decadent.
3 Fils has no booze licence sadly, but the mocktails are creative concoctions. My yellow bird for instance is a mix of agave, lime and passion fruit.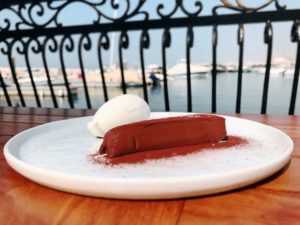 Akmal's description of the cuisine, as "modern Asian with Japanese flavours" is not necessarily apt. A Japanese-cum-Far-Eastern cooking style is evident, but he does incorporate some fusion elements. Luckily there's no confusion though – the ingredients pair favourably, the flavours are complementary and the dishes are well executed. I was reticent to dine here given my previous lacklustre experience of his food, but left to his own devices without the restrictions imposed by a hotel operation, he seems to have found his own 'voice', and the food sings as much as the setting.
Furthermore, the Kenyan staff is full of character, knowledge and efficiency. At AED145 per person based on three courses, 3 Fils lives up to its affordable name, providing more than value for money. For want of a much over-used descriptor, this 'hidden gem' is just what Dubai needs more of – an independent chef-owned concept with top notch food in a casual environment. The only thing missing is a glass of vino. Make sure to pay 3 Fils a visit.
Have you tried 3 Fils? Where's your go-to spot for an al fresco weekend lunch?
A bientôt.
FooDiva. x