Fish Beach Taverna: what's the catch?
When gorgeous photos of a new Dubai restaurant, Fish Beach Taverna, located at Le Meridien Mina Al Seyahi, start to appear on my Instagram feed, I can't help but get excited about what promises to be an "Aegean" culinary experience. Memories from my recent travels to Istanbul and Izmir come rushing back. The Aegean sea is flanked by both Turkey and Greece, so perhaps that explains the mismatch between a Turkish seafood menu and a white-washed Greek island setting.
I call six days ahead to make a reservation for a late Saturday lunch, only to be told Fish is fully booked. My first thought is 'impressive', but with a little probing, I manage to sway the reservations agent to take my booking for a small table of two. Fast forward to my lunch, and only half the tables are occupied, leaving me less than impressed.
A short walk from the hotel entrance, we're greeted with a white-washed narrow entryway and pebbled cobbled path, adorned with potted plants that lead to a beautiful open-air taverna with unobstructed views of the beach. Bursts of cobalt blue decorative accents glisten in the sun. With the weather cooling down it carries a breeze that mimics a Greek island vibe. The setting induces happiness, and I find myself relaxing.
The menu captures the vibrant world of Turkish cuisine with its mix of cold and hot meze, casseroles and a fresh fish display. However, it's riddled with typos and confused dishes. With the temperature hitting 34C, it's still a little too hot for a casserole lunch eliminating most of our options for mains – so I decide to order a meze mix and grilled fish. As we settle in, barely taking a sip of our cold Coronas, the waiter tells us that two of the starters are not available. We ask for a third and are told, that too, isn't available. Disappointed, we opt for a fourth, in the hope this would be our final choice.
Meze is the true highlight of Turkish cuisine capturing the rich culinary taste borrowed from Mediterranean, Slavic and Middle Eastern countries. Gavurdagli is essentially a chopped farmers' salad topped with walnuts and pomegranate molasses. There's a clear element of prep involved and lacks the citrusy punch you expect which leaves our palates underwhelmed. The atom, which comes with smoky charred aubergine stirred into a buttery garlic yoghurt, topped with chopped walnuts, and finished off with a drizzle of sweet chilli oil, is delicious. The cool creaminess and sweet yet spicy undertones are comforting. A dish of kabak is equally creamy but less exciting. The zucchini (mixed with yoghurt and fresh dill) is julienned, but grated too thinly leaving it limp and unrecognisable.
Manca is a simple Moorish dish – here it's a mix of grilled aubergine, tomatoes and green peppers, flavoured with chilli and garlic, and finished with a sharp splash of vinegar. The ahtapot, although misspelled on the menu, is tender and full of flavour, a juicy chunk of spice-dusted octopus marinated in a citrus vinaigrette, served grilled on a terracotta clay pot. It is the best of the starters and goes down a treat. As Turks are known for their cheese, I order ezme – while traditionally known as a paste made from crushed tomatoes and hot peppers, at Fish it's a mix of four cheeses including a white cheese from Ezine, a cottage cheese, Bryndza made of sheep's milk, and finally a goat's cheese – all scooped up and served like ice cream. A velvety smooth texture and a pungent flavour make it an ideal accompaniment to our warm, freshly baked bread.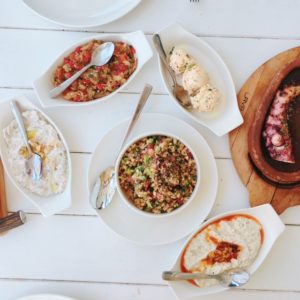 We inspect the fresh fish on display and opt for a whole sea bream simply grilled for our main course. The waiter weighs it up and informs us it will cost a whopping AED245, quite hefty for a medium sized 700g fish that's just thrown on the grill and served, for all intents and purposes, with a decorative garnish. The fish arrives overcooked and slightly dry, but retains its sweet well-rounded flavour.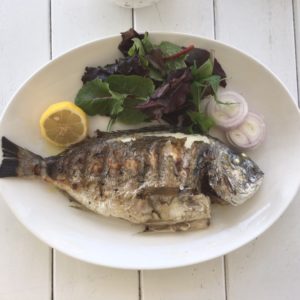 Service definitely requires some fine-tuning. Fresh plates between the starter and main course should be offered – ours are bathing in salad dressing and creamy smudges. Some proper serving utensils would help – when the fish arrives and I ask the waiter to debone it, he seems genuinely confused. Disappointed, I ask for a serving fork and fish knife, only to receive a set of eating utensils making it that much harder to scoop up and serve, let alone enjoy. This is, in my opinion, a real faux pas for a seafood restaurant at a five star hotel. In this setting, a relaxed dining vibe is ideal, but the service shouldn't be – at least not overtly!
At this point, I'm hoping the desserts will steal the show. There are three to choose from, two of which include mastic ice cream, so much for variation… The incir consists of baked figs stuffed with walnuts and topped with fresh cream. The flavours are subtle and earthy, but I would replace the dried figs with fresh ones to balance the texture with the nuts. The laz borek, a baked filo pastry stuffed with semolina cream, is just about average. The trick is getting the final notes right with a flavoured syrup or custard – in this instance a rose or orange blossom would have been perfect.
All in all, the chic interior and beachside setting reel us in, but the catch is in the food and service, leaving us craving a little more finesse from the culinary execution and the customer service. With a hefty AED320 price point per head, some attentive tweaking would go a long way in turning this taverna into something quite spectacular – and not just for the view. For this reason, I'm giving Fish an average FooDiva rating of three out of five knives.
Have you tried Fish? What was your experience like?
Eat well,
Lolly. x
Who is guest reviewer Lolly? A self-proclaimed dayeater, longstanding PR girl and F&B marketeer with a background in hospitality. When she's not working she shares her tales of wondrous food and drink on her Instagram page.
Fish Beach Taverna @LMMinaSeyahi – what's the catch? Guest writer Lolly reviews for #FooDiva https://t.co/hl4sMdvSDm #fishdubai

— FooDiva (@FooDivaWorld) November 14, 2016