Tour de fromage: a French cheese guide from buying and serving to eating and pairing
France's love affair with cheese is world renowned, evident in the 2,000 cheeses it boasts across 13 regions. 46 of these cheeses are PDO stamped – a European protected designation of origin status, which essentially is a quality and geographical guarantee – only slightly surpassed by Italy's cheese makers who boast 49. Over 300 dairies, the majority of which are family-run to this day, produce mostly cow's milk cheeses, with, interestingly, only a few goat and ewe's milk types.
Cheese can be classified into eight types based on the production process – soft cheeses with bloomy rind; soft cheeses with washed rind; pressed, cooked cheeses; pressed cheeses; goat and ewe cheeses; blue cheeses; fresh cheeses; and last but not least, glorious melted cheeses. Most are named after their hometown.
I learnt all this and more on a tour de fromage last month with Sopexa, who markets CNIEL (the French Dairy Association) and European Cheeses Arabia. Our guide was the charmant Francois Robin, who holds the 'best cheese monger' Meilleur Ouvrier de France, a lifetime accolade. I, along with six journalists, toured three regions in France (plus a night in a fourth to see belle Paris!) munching our way through twenty or so cheeses.
So what else did I soak up? Here's a French cheese guide covering:
Top 10 cheeses complete with tasting notes, drink pairings and brands worth seeking out
Storage, serving and cutting etiquette
Restaurants in France that we tried (and serve cheese)
Cheese retailers in Dubai
An insight into how cheese is made
HOW IS CHEESE MADE?
Making cheese isn't as simple as you might think and involves, cheese type dependent, up to a ten-part process that starts with milking. We spotted Normandy, Montbeliarde and Simmental cow breeds on our journey. For some reason, when I read our itinerary which included a morning milking cows, I had a romantic notion that I would find cows grazing in a field, and I would saunter over with my pail, perch on a low stool and start milking, like Heidi I guess. When in fact the environment is much more controlled.
One particular farm that we visited in Normandy boasts 80 cows that each produce 22 litres of milk per day – with my idealistic views, it would take forever to milk them all! Instead they use automated machines that mimic the human hand gesture, making the process more efficient and swifter. After collection, the milk is stored in refrigerated tanks. The farmers disinfect the premises and equipment after each milking, of which there are two a day.
If the production is for pasteurised cheeses, milk is then heated to 72C and held at this temperature for 15 seconds. But the best, more flavoursome cheeses, are those that are unpasteurised, i.e. made from raw milk.
Rennet, an enzyme from the stomach of young mammals, is added to the milk, which traps fat and water in the developing curd. More water is removed which compresses the curd and a solid cheese begins to form.
The curd is then cut into small pieces with knife blades or wires. The size is dependent on the type of cheese. It is then poured into moulds (the shape is reflected in the type of cheese) with the liquid whey left to drain in a warm room, which allows the cultures to breathe.
Aside from adding flavour, salt also draws out moisture from the cheese, creating a smoother texture and protecting it from bacterial contamination. Again cheese variety dependent, salt can either be sprinkled during processing or by immersing the curd in a brine solution.
The salted curd pieces are placed into cheese hoops and pressed into blocks to form cheese.
Some cheese types are then washed in an alcohol solution such as beer, wine or brandy to create a bacteria that inhibits mould growth, whilst also giving a strong aroma and flavour.
Blue vein cheeses are innoculated with the Penicillium fungus, which makes the cheese softer, runny and blue!
The blue moulds are added to the milk before coagulation and then pierced, which allows the oxygen to penetrate and the mould to grow.
The last phase, the ripening, is when the cheese is matured at different temperatures, times and humidity to make each cheese distinct in flavour, body and texture –  and this is in fact the prime role of a cheese affineur aka 'refiner' – and where good craftsmanship can elevate an ordinary cheese to an exceptional one.
TOP 10 FRENCH COW'S MILK CHEESES
Normandy:
Camembert de Normandy (PDO): The differentiator to normal Camembert is that the Normandy version (pictured right) is made from raw cow's milk, is moulded by ladle and refined for a minimum of three weeks, with an additional six weeks for aging. Basically a more premium product. A soft cheese with a bloomy rind. Slightly salty with the sweet aroma of hot milk, and mushroom on the rind. There's also a version with Calvados (native to Normandy) – currently in my fridge waiting to be eaten! Pairing: a brut Champagne; Chardonnay white wine; apple cider; Chinese black tea.
Pont-L'Évêque (PDO): A soft-rind washed cheese from cow's milk. Strong-smelling with farm and yeast aromas, but its taste is less intense than the smell. Think hot milk and chestnuts. Pairing: Champagne; medium-bodied white wines; cider; apple brandy; rooibos tea.
Livarot (PDO): A soft-rind washed cylindrical cow's milk cheese with an orange moist and sticky surface – wrapped with natural reed. The rind smells of farmland (stinky!) and the heart of hot milk. Pairing: Riesling or Gewurztraminer white wine; cider; Cognac; brandy; rooibos tea.
Neufchâtel (PDO): A soft surface-ripened cheese with a bloomy rind made from cow's milk. Legend says that local women fell in love with English soldiers during the Hundred Years' War and started making the cheese heart-shaped to show their love. The flavour is robust and salty, with the aromas becoming more powerful as it ages. Pairing: different strengths of apple cider work really well.
Mimolette: A native French pressed cow's milk cheese that can be made anywhere in France (not PDO protected). It was first created at the request of Louis XIV to mimic the very popular Dutch Edam cheese – however it was seasoned with natural annatto to give it a sweet, nutty flavour and a distinct orange colour. The grey crust is in fact cheese mites intentionally added to give flavour. As this cheese matures, it takes on hazelnut notes. Pairing: port, sweet dessert wines, rooibos tea.
Dairies/ brands to seek out: Isigny-Sainte-Mere Cooperative (also globally known for its decadent butter and cream); Graindorge.
Burgundy
Époisses (PDO): The stinky cheese! First made by monks in the 16th century, Époisses is a soft-ripened, washed-rind cow's milk cheese. It is washed several times with a special brine containing Marc de Bourgogne, a local spirit distilled from Burgundy grapes – which brings a wonderful creaminess combined with a warm sensation. The aroma is distinctive, but its taste is not as sharp as one might think. Pairing: a sweet Sauternes wine; a Pinot Noir or Tempranillo blend red wine; rooibos tea.
Comté (PDO): The most widely produced PDO cheese. A hard-pressed alpine cheese produced from raw cow's milk up high in the Jura mountains of the eastern Burgundy region (bordering Switzerland). It takes 500 litres of concentrated milk to produce just one wheel of this cheese! The cheeses we tried were ripened in caves for a minimum of four up to 36 months. Its flavour is relatively mild and sweet with notes of fruit, butter and wood that are enhanced with ripening. Here's a handy tip when buying Comte – brown labelling indicates the entry-level cheese, with a green label as the more premium choice. Pairing: a dry white wine like Cote du Jura with the Savagnin grape; Sauvignon-Blanc; Chardonnay; piping hot Chinese oolong tea. If you prefer a red wine, your best bet is a Gamay grape from Beaujolais.
Morbier (PDO): Another pressed cow's milk cheese from Jura with its signature stripe of vegetable charcoal ash – not blue mould as widely perceived. Typically ripened for five months. Creamy and fruity. Pairing: a local Chardonnay white wine from the Jura mountains.
Mont D'Or (PDO): A raw cow's milk that is so soft and creamy, it requires serving with a spoon. Highly seasonal, Mont D'Or (or Vacherin as it's sometimes referred to) can only be produced from the 15th August to the 15th March, and may be sold between 10th September to 10th May. A woody aroma makes for an intense smell, yet is wonderfully delicate and smooth to taste. Pairing: Cotes du Jura or any refreshing, zesty white wine.
Dairies/ brands: Gaugry (the only cheese maker to produce raw milk Epoisses); Fromagerie Janin (Cave Champagnole) pictured above left; Fort des Rousses (France's second largest fortress converted into maturing cellars that house over 100,000 rounds of Comte!) pictured above right.
Rhones-Alpes:
This region is also home to Comte, Mont D'Or and Morbier, plus…
Fourme D'Ambert (PDO): France's answer to Stilton! A cow's milk cheese that is made both pasteurised and with raw milk – and aged for up to 40 days (pictured right). Rich and creamy, it boasts a buttery flavour, and is less salty or bitter than other blue cheeses. Pairing: Tawny port, Chardonnay white wine; Sangiovese red wine.
Dairies/ brands/ cheese shops: Cave Mons with its Tunnel de la Collonge (a disused railway tunnel converted into a cheese cave in Ambierle); Pont de la Pierre; Les Halles de Lyon Paul Bocuse (a gourmet food hall that will have you eating there all day long).
CHEESE SERVING ETIQUETTE
In France and throughout Europe, the cheese course is the link between the main course and dessert, however in Britain cheese is often served at the end of the meal. So the choice is yours!
Storage: take cheese out of its store packaging and rewrap each cheese in grease proof or double wax paper. Line a tupperware box with a slightly dampened (and clean!) blue jay cloth. Place the cheeses side by side in the box. Remember to keep your blue cheeses separate because of their moulds. Add three sugar cubes. Close the box and pop into the fridge for your own little cheese room! The humidity is controlled by the sugar cubes, which absorb the air, whilst also releasing enough humidity to keep the cheeses fresh. Hard cheese can keep for three weeks if stored this way, soft cheese for less. Remove cheese from the fridge up to one hour before serving for optimal flavour.
Selection and presentation: quality not quantity! A cheese board should showcase three to five cheeses, from creamy soft to hard and blue – across different milk types. Present clockwise from the mildest to the most pungent. Position them in a circle with some space in between to make slicing easy.
Cutting: here are two brilliant illustrations from the #CheeseOfEurope folks that show how each type of cheese should be cut, along with the ideal knife.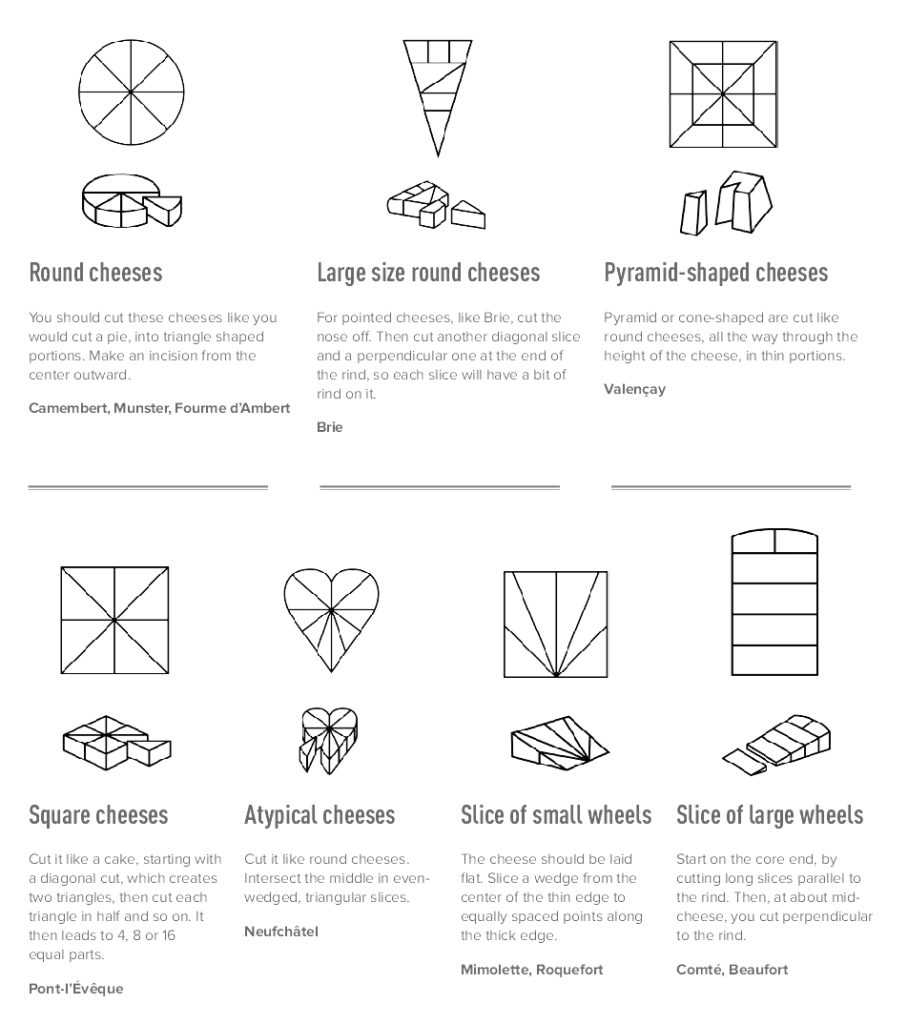 Food pairing:
Apples; pears; figs; blackberries; golden raisins; dried apricots.
Nuts; quince paste; plum chutney.
Drizzle a little honey on pungent cheeses for some sweetness.
Toast; crostini; thinly sliced baguette; mild crackers.
Drink pairing: see individual cheeses above for pairing recommendations. Take into account that a mild cheese should be paired with a milder wine, and a strong cheese with a bolder wine. Beer, cider, liqueurs, coffee, tea and apple/ orange juices can also complement cheese well.
RESTAURANT DINING IN FRANCE
Needless to say every restaurant in France serves cheese – here are some that we tried:
From left: no these aren't Yorkshire puds but giant gougeres made with Comté cheese!; a cheese pie with Comté, Beaufort, Emmenthal and Abondance.
From left clockwise: skate rillettes and a Gamay grape demi-sec rose fizz at a cooking class in Les Halles de Lyon Paul Bocuse; cupped Asnelles oysters from the Calvadosienne farm in Normandy for dinner at Le Lion D'Or restaurant; lemon meringue in Le Manoir des Montagnes in the Jura mountains; steak tartare et frites at Le Chardenoux bistro by chef Cyril Lignac in Paris.
WHERE TO BUY FRENCH CHEESE IN DUBAI
For the most comprehensive selection of French cheese in Dubai, here's where to shop:
If you're after cheese and wine nights in Dubai, here's a FooDiva round-up from earlier this year.
And some scenic shots to prove the trip wasn't all about cheese 😉
From left: Bayeux's gothic cathedral in Normandy; the chocolate box village of Beaune in Burgundy; Lyon by night and by day.
I'll leave you with a humourous quote from American novelist Richard Condon, "Cheese. The adult form of milk." So true. Mind you, even as a baby I adored cheese.
How about you? What's your favourite cheese? As part of a multi-course meal, when would you serve it?
A bientôt.
FooDiva. x
Disclosure – with my consultancy hat on, I assisted the folks at Sopexa with the media invitations for this trip.
Tour de fromage: a #FooDiva guide to all things cheese, French in particular 🙂 https://t.co/LNHdKbw3YD #CheeseOfEurope #CheeseDiva

— FooDiva (@FooDivaWorld) October 4, 2016