Nathan Outlaw at Al Mahara: does the expensive price tag serve quality?
When I looked at the online menu for chef Nathan Outlaw's new seafood restaurant in Dubai at the Burj Al Arab, the 'cheapest' dining option was an AED450 three-course lunch menu (dinner menus are AED650 and 850). This price point is in keeping with what Nathan mentioned when I interviewed him in March, but what he did not specify, was that one could not just dine on one or two courses – therefore forcing guests to spend a minimum of AED450 per person. In stark contrast, a four-course lunch menu at his two Michelin star UK restaurant costs £59 (AED265) – admittedly thanks to a plummeting pound.
He also claimed, "we've looked around at other restaurants and I think that we will be more competitive to what's on in other hotels." Hmmm…I don't think so. Given the minimum spend, Nathan Outlaw at Al Mahara is Dubai's most expensive restaurant, in my opinion – beating the likes of Atmosphere, Billionaire Mansion, Ossiano and Reflets (the latter sadly closing down this weekend) – where you can just order a la carte or a more reasonably priced set menu. So if I am going to eat such an expensive meal, I want to see value for money with the utmost quality and perfection across all levels of the dining experience. But, do I?
Contrary to perception, Al Mahara is not an undersea restaurant, but sits on the ground floor (on the same level as the new imported deck in fact). It has been slightly revamped – with a new terrace, but sadly you can't enjoy your meal outside. It's reserved for pre and post dinner drinks, or the oyster and caviar menu – thereby forcing you to spend even more money should you like a side of sea breeze with your order. I ask if we can have our desserts outside, to which I am firmly told, no.
Inside, the aquarium still stands, but our waiter informs us the coral has been replaced. The white tablecloths have been removed to show off new Japanese-style lacquered tables, plush velvet chairs, and a new, rather kitsch, carpet. White linen aside, I can't tell the difference – the décor is just as dated. Al Mahara is at a push, a third-full for a Friday lunch, and we are clearly the only residents. Unsurprisingly, the other diners are mostly Far-Eastern tourists instagramming every moment.
We order small bottles of still (local) and sparkling water. Large bottles of imported Aquafina and San Pellegrino arrive – to which I object. There then follows much confusion between different waiters as to whether Al Mahara stocks local water (even though our waiter initially confirms they do). Twenty minutes later, they confirm no local water is available and return with two small bottles of imported water (each priced at AED40). Note, larger bottles are AED55 – shocking. Needless to say, by that stage we have decided on our order.
The AED450 set menu comprises of seven starter choices, six mains and another six desserts – which makes for a decent selection. All of Nathan's seafood is sustainably sourced from the UK in keeping with his ethos, but there's no local fish on the menu, as of now. If you're not a seafood fan, allowances are made with carnivore and vegetarian dishes. Nathan's signature appetiser from the UK, a lobster risotto boasts an AED50 supplement, as does the cheese course, and side dishes are priced AED30. Really, can you not throw in a few sides?! A wine pairing option of two glasses for AED175 is available – a reasonable price given the rest of the wine list (a coupe of Louis Roederer Brut Champagne will set you back AED195!). It's just a shame they can't throw in three glasses to match each course. The sommelier is a service highlight – slick and knowledgeable. When we place our order at the start, our waiter asks us for our dessert choice. For a restaurant of this calibre, especially one that isn't particularly busy, surely we can wait to choose our dessert at the end? Which we do, but only after asking.
Our lunch begins to show signs of improvement with the arrival of freshly baked warm rolls – one is speckled with fennel seeds and another with a sharp hard cheese. But the highlight is a delightfully bold smoked cod roe dip dusted with paprika – a clever twist on Greek tarama.
We're in a restaurant named after an oyster shell (Al Mahara), so it would be remiss of me not to try these gorgeous bi-valves. Three lightly pickled Gallagher Irish oysters topped with sliced jalapenos and gherkins have a refreshing yet slighty tangy taste (thanks to the pickling) and a plump, juicy texture. No 2s – at least the Burj does not skimp on portion size. Our favourite dish of the day. I question the waiter on the origin and the size, but he has to check with the kitchen before confirming – unacceptable for the high price point. Interestingly, a half dozen of these oysters from the oyster and caviar menu is priced at AED100 which is a good deal – that's only slightly more than Market & Platters' retail price. Our second starter disappoints – a pan-fried fillet of sea bream is bland and over-cooked, whilst the chicory tart that it sits on is messy and oily.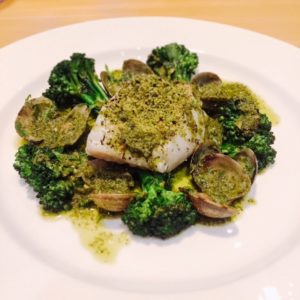 Moving onto main courses, the baked cod is perfectly flakey, whilst accompanying carpet shell clams doused in a herbal butter sauce are moreishly good. The broccoli florets the fish sits on are a little over-charred though. My Dover sole arrives sliced into four fillets, and, sadly, like with the sea bream is overcooked – slightly redeemed by a delicious combination of two plump oysters in a decadent seaweed butter sauce. Some green asparagus spears are wonderfully al dente. In fact, neither of our main courses really require any additional side orders.
It's a similar mixed bag with our desserts. A scoop of strawberry and Champagne sorbet perches on a bed of dense vanilla ice cream and is dotted with sliced strawberries and mini meringues. There's nothing wrong with it, but there's nothing wow either – a forgettable dessert. In contrast, the sticky toffee pudding topped with caramelised dates (a welcome nod to our region) and a scoop of clotted cream are excellent. In fact, we end up scooping the vanilla ice cream from our first dessert to the sticky toffee pudding, and polishing it off.
I am surprised not to see an amuse bouche served for this type of experience, at this price – however petit fours are offered. Some dishes excel and others are poorly executed, so the food, overall, is average. It's a similar situation with the hit and miss service, and for this level of dining, all staff should be slick and knowledgeable. The location may be one of the world's most iconic, but the drab interior is far from inviting, and, aquarium aside, is not reflective of a light and refreshing seafood concept. The terrace is a missed opportunity – imagine what the Burj could have done with a high-end seafood concept on that deck, with that view. To top it all off, the atmosphere is stiff and formal. I had high expectations when I interviewed Nathan that the Burj Al Arab would be able to turn round its F&B with the 'revamp' of Al Mahara, but sadly, for a minimum spend of AED450 per person (without alcohol) you're better off spending your money elsewhere. Here's to a 2.5 out of 5 FooDiva knife rating.
What do you think is a reasonable price point for a high-end licensed restaurant in Dubai?
A bientôt.
FooDiva. x
Does the expensive price tag of @Nathanoutlaw at Al Mahara in @BurjAlArab serve quality? #FooDiva reviews https://t.co/uaV2MfNIdx

— FooDiva (@FooDivaWorld) October 31, 2016