Does Muchachas have to be a true Mexican cantina?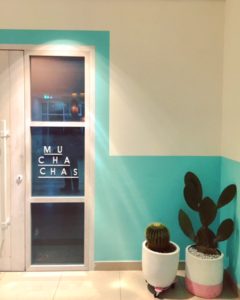 I had nearly given up on reviewing Muchachas, the new 'Mexican cantina' in Dubai by the Tom and Serg lads. Third time lucky (or unlucky perhaps), I scored a reservation. If I wasn't reviewing, I wouldn't have persisted. Not because it was full (or so the reservations chica claimed on my first two attempts) – but for her arrogant attitude. Perhaps asking customers whether they would like to book for another date wouldn't go amiss – instead of hanging up. It's not like Muchachas is a Michelin star restaurant. This isn't the first time I have faced rude reservations behaviour with restaurants in Dubai. So, needless to say, when I did eventually dine at Muchachas, I was juggling sky high expectations and the prospect of a disappointing experience.
This new casual and licensed joint is located in the Holiday Inn Express in the middle of nowhere, sandwiched between Sheikh Zayed and Safa Park. Other than a breakfast restaurant in the hotel, there are no other F&B outlets in the vicinity, so remember that when planning your night out. On the plus side, the décor, in what is an intimate restaurant and bar is hugely welcoming and refreshing with a fun and playful tropical vibe in a candy colour theme – reflected in the quirky crockery design too. Unless you're dining a deux, be prepared to share long trestle tables though.
Our waitress with her chirpy, can-do attitude and excellent menu knowledge is the highlight of our evening – along with the buzzing atmosphere and excellent playlist. One thing's for sure, these guys know how to create novel concepts (even if not always consistently executed). They also know how to make a novel margarita – the avocado concoction is a genius idea – with only a hint of avocado detected, this cocktail is creamy and smooth. However the salting of the rims of both the avocado and the regular margaritas is messy. And for a pricey AED59 a pop they should be perfect.
Muchachas' menu printed on simple pastel-coloured paper placemats is concise and claims to offer a contemporary take on Mexican cuisine, steering away from the more popular Tex-Mex dishes prevalent in Dubai. It's divided into six easy-to-navigate sections – small plates; quesadillas and sopes; fresh seafood; tacos; large plates; and desserts.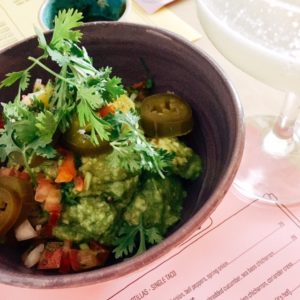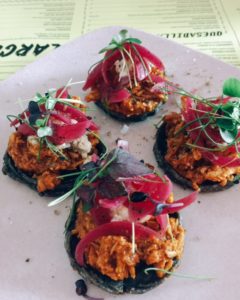 Starting with the first 'small plates' section, Muchachas' guacamole is one of the best I have tasted in a Dubai restaurant – chunky, zesty and fresh with a good dose of pico de gallo and jalapenos. However multi-coloured nachos are not really authentic Mexican, are they? The sopes from the next section of the menu are mini, round and dense corn flour (masa) tortillas (imagine the Mexican equivalent of a blini!). We choose a topping of marinated shredded chicken, fetta dotted with dried black lime, and pickled onions. A delicious, well balanced dish that turns out to be the favourite of the night. We could have eaten more than the four sopes presented to us.
From the seafood section, I pick a salmon ceviche – clearly Peruvian though – and almost too pretty to eat with edible flowers for garnishing. Whilst I love the contrasting flavours of fennel and avocado, the salmon is cured to the point of being near-cooked. It should be a little pinker. A confit lamb leg dish from the large plates is a huge disappointment – tough and stringy – with no sign of any slow-cooked goodness. Had I not been reviewing, it would have been sent back to the kitchen. I order it for the savoury chocolate mole sauce sprinkled with ground sesame – a traditional Mexican side accompaniment – but I expect more than the portion served in a teeny bowl.
The menu only offers a limited choice of three desserts. The only option that appeals is the churros (strictly speaking Spanish) – but the descriptor states these are 'liquorice sugared'. Neither of us is a fan of liquorice, but the waitress insists that the flavour is so mild we won't detect it – and she is spot on. It's actually the ingredient in the dark chocolate sauce. The churros are warm and freshly baked – topped with candy floss (hardly Mexican) but makes for an impressive presentation even if it hides the doughnuty delights. Generous dollops of velvety cream cheese custard turn this into a rich sweet ending. The edible flower theme continues here. I would order this dessert again in heartbeat – mind you doesn't look like I have much choice!
Muchachas may strive to serve a modern take on Mexican cuisine, but from what we order and from comments on social media, along with feedback from Mexicans who have tried it, only our sopes are truly authentic. Now in my opinion (and also UK food critic Jay Rayner's here), I have no issue with chefs putting a spin on traditional dishes if cleverly executed – otherwise creativity will die and we'll be eating the same food generations later. How boring would life be. But the issue here, is much of the menu takes influence from outside Mexico, and also throws in Tex-Mex dishes. Where are the birria stews, Oaxacan cheeses and pan dulce desserts? So perhaps the guys should change the positioning to better manage expectations.
Expect to pay AED170 – 200 per person based on three courses each without alcohol, making Muchachas' food well priced – so I am a little surprised to read comments on my Instagram post on how expensive it is. However, the cocktails are definitely overpriced for a casual restaurant in an odd location.
So how does Muchachas score? Well it's nailed a casual concept that oozes atmosphere and slick service on the floor – however the telephone customer service needs addressing. The out-of-way location is far from convenient though. Bar the lamb dish that most definitely needs binning or revisiting, the food is well executed, even if not true to Mexican cuisine – and reasonably priced. But watch the cocktail bill. With all this in mind, here's to an average 3 out of 5 FooDiva knife rating.
Have you tried and tasted Muchachas? Do you think the food has to be authentic Mexican?
A bientôt.
FooDiva. x
Does #Muchachas have to be a true Mexican cantina? #FooDiva reviews https://t.co/85wnPxDvuG #dubairestaurants #restaurantreviews

— FooDiva (@FooDivaWorld) October 10, 2016