What and where to eat and drink in Northern Ireland
It's the year of food and drink in Northern Ireland making it a very tasty time to visit. That's no surprise given this sector is the country's biggest manufacturer, contributing US$6.5 billion to the economy, with most of the produce on restaurant menus locally, sustainably sourced – thanks to 30,000 farms, many of which are family-owned.
Northern Ireland is relatively small with breath-taking cliff-top scenery and an excellent road network – handy when planning a culinary road trip. What struck me about the food over a whistle-stop three day trip last month was the high number of ingredients indigenous to Northern Ireland, including a few that are PGI protected. That's the status awarded by the EC to protect named regional produce that have characteristics specific to that area. Like Champagne is to France!
Following a whistle-stop three day trip last month, here's what to eat and drink in the northern Emerald Isle based on my tried and tasted favourites, along with recommendations of restaurants that showcase this produce. We did not tuck into as many restaurants as I normally would on a trip like this, so I have added in some suggestions that FooDiva followers shared on social media.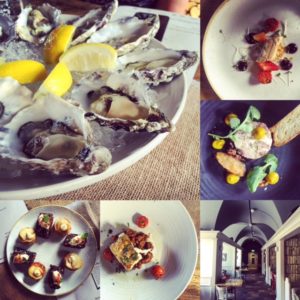 Lough Neah eels – don't worry, these eels taste like mackerel! Before this trip, I had only ever eaten eel atop a sushi roll. If you can forego thoughts of its perceived slimy texture, I am pretty sure you will enjoy eel, especially when in season from May to the end of the year. Lough Neah Fishermen's Co-operative to the west of Belfast is the largest producer of wild-caught eels in Europe from its freshwater lake, sustainably producing around 400 tonnes annually. And it is PGI protected. I tasted their eel as a starter atop a large soda bread crouton dotted with cherry tomatoes and beetroot – delicious.
Armagh Bramley apples – the only apple available today for the sole purpose of cooking. Even as a lover of the most sour Granny Smith apples I can only stomach one raw slice of Bramley – eaten in a beautiful orchard in the county of Armagh run by the McCann family. About a third of the world's supply of Bramley apples are grown in Ireland, and again another ingredient that is PGI protected. Makes excellent apple pie and crumble – oh and cider!
Potato bread – also known as fadge or colloquially as tatie bread, it's a form of unleavened bread where potato replaces a large portion of wheat flour – typically baked on a hot griddle. The texture resembles a pancake, and is extremely moreish. Great dipped into rapeseed oil, which is produced in Northern Ireland. Soda bread, prolific around the world, is also an Irish 19th century invention.
Boxty – translates to 'poorhouse bread', but in essence is mashed potatoes cooked on the griddle. Very similar to Swiss 'rosti' which is made with grated potatoes. Mine was served with smoked salmon, spinach and hollandaise as a breakfast dish.
Dulse – a red algae, aka seaweed, which grows along the Northern coasts of the Atlantic and Pacific oceans. Served fried, the texture is very similar to Chinese 'seaweed', i.e. cabbage, and adds an umami flavour.
Young Buck blue cheese – young entrepreneur Mike Thomson's crowd-funded Fancy Cheese Company craft a raw cow's milk blue cheese, similar in style to English Stilton, but a little sharper, using a traditional ageing process.
Ulster fry – by way of geography, Ulster is a province in Northern Ireland (that borders the south), but is also used politically as a reference to the country as a whole. Ulster fry is a traditional breakfast fry-up of fried eggs, browned potato and soda breads, pork sausages, crispy bacon, tomatoes, and black and white pudding – all cooked in one saucepan. Black pudding is an acquired taste, typically made from pig's blood, pork skin and seasoning, even though beef is often used. White pudding is a version without the blood and with the addition of various cereals.
Oysters – there's a reason for the phrase 'Ulster is your oyster'. I tasted what I would rate as the best live oysters ever in Northern Ireland – Mill Bay's Pacific (the Crassostrea gigas species), harvested by seafood producer Rooney, a family run business. The no 1s are fleshy, near-sweet and nutty with only a hint of salinity – thanks to a mix of the mineral-rich seawater and larger than normal wooden farming cages. So damn good that famous French farms like Gillardeau buy their oysters from Northern Ireland, and then finish them in traditional claires (basins) in France for a few weeks before selling them off as French!
Smoked salmon – the organic, sustainable salmon from Glenarm that I tried is fished from the clean and cool coastal Irish Sea waters. Smoking on beechwood by local fishmonger, Walter Ewing, gives it a delicate natural flavour.
Beef and lamb – we visited the charming and humble ex-vet Maurice Kettlye's 'atelier' and development kitchen in the county of Fermanagh, where he produces grass-fed beef and lamb that has been dry-aged for 28 days in sea salt moss caves, intensifying the flavour. His tomahawk, in particular, is exceptional. He also sells a halal range for the Middle East – in Dubai it is available at restaurants like The Hide, with Spinney's selling the burgers.
Whiskey – we sipped whiskey for brekkie! In the small village of Bushmills on the banks of the river in County Antrim, sits the world's oldest working distillery founded in 1608. Not only do they craft and bottle their own Bushmills single malt and blended whiskey, but they bottle southern rival Jameson's! Unsmoked, it's smoother than Scotch. The major difference lies in that Irish whiskey is typically distilled three times, and Scottish twice. Also note the spelling –  in Ireland (and America), whiskey is spelt with an e, and in Scotland without. The distillery runs fascinating tours that are open to the public.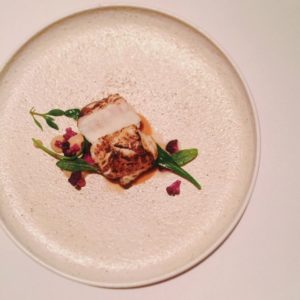 RESTAURANT RECOMMENDATIONS:
The capital Belfast has a couple of one Michelin star restaurants – Eipic and Ox. I dined in the former, chef-cum-restaurateur Michael Deane's flagship, with its rather austere, white-tablecloth ambiance. Very affordable £40 (US$54) for a four-course tasting menu – but the portions are teeny so, like me, you may want to order cheese for dessert to fill you up.
Chef Niall McKenna's James Street South establishment in Belfast. Restaurant aside, sign up to a cooking class to both cook and eat your dinner! See my smoked salmon and pea risotto above. Feel free to critique me for a change!
He also owns the uber-casual Cast & Crew opposite the Titanic museum in Belfast with an excellent selection of burgers and hot dogs. Try the pulled pork shoulder burger.
The Moody Boar in Armagh has a stunning location in converted stables on the grounds of Palace Demesne. Run by an Irish chef and French manageress couple, they serve rustic dishes with style.
The serene Lough Erne Resort in Enniskillen boasts spectacular lake view sunsets and fishing. Its Catalina restaurant dishes up contemporary cooking with top-notch ingredients.
If you're after a food tour, try Taste of Belfast. The co-owner Caroline shares her encyclopaedic knowledge of all things food, with an enthusiasm for Irish produce that is infectious.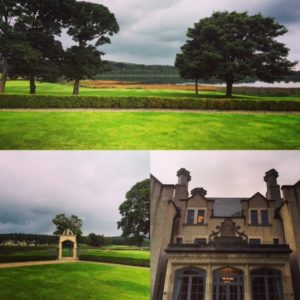 Other dining and drinking recommendations on social media:
MORE READING:
For a calendar of food festivals in Northern Ireland see here.
A brilliant food map showcases the country's artisan producers here.
The highlight of our trip was our funny and endearing guide-cum-driver Billy Scott (how he managed to juggle both at the same time I don't know!). He regaled us with many a factual and mythical tale – quite what was true, is still a mystery to me! More info here if you'd like to book him.
And before I sign-off, here's a glimpse of some of the sights to prove we didn't just eat!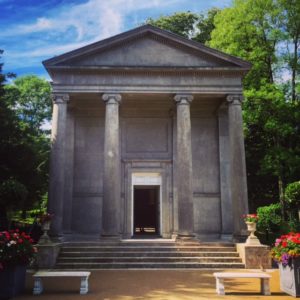 From top left clockwise: Belfast's performance venue dating back to 1862; the original tender (Nomadic) to the Titanic and its museum in the background; Palace Demesne's chapel in Armagh; Giant's Causeway, a UNESCO World Heritage Site on the north-east coast – sadly on a rainy day.
Any other dining recommendations for Northern Ireland you'd like to share?
A bientôt.
FooDiva. x
Disclosure – I was a guest of Invest Northern Ireland as part of a UAE press trip. I may have been plied with oysters and whiskey, but the opinions expressed here are mine alone.
What and where to drink in Northern Ireland. A #FooDiva culinary guide https://t.co/OCmkOH7un4 @buynifood @InvestNI @InvestNI_MEast

— FooDiva (@FooDivaWorld) September 7, 2016