Ting Irie: is everything all right?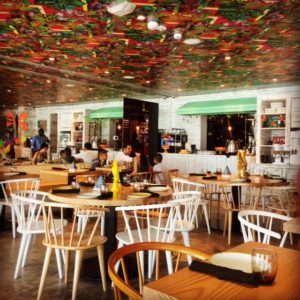 I have been waiting for a new home-grown Jamaican restaurant concept, Ting Irie, to get its alcohol licence, but nearly four months into opening, it's sadly for some, still, booze-free. So I settle for a Saturday lunch. Ting Irie is located in Souk Al Manzil, where Fume Downtown also sits (another restaurant without a booze licence) and Nezesaussi, which does serve alcohol.
The cuisine promises modern Jamaican, with broader Caribbean influences under the helm of a chef with Jamaican heritage. The menu descriptors throw in a bit of fun with the native Patois lingo, as do the waiters, many of who have been recruited from Jamaica. The reggae playlist even has staff doing the odd jig. The team is friendly and well trained, whilst the manageress does the rounds chatting to all diners. A tropical design scheme adds to the colourful island vibe. On arrival it's quiet, but by the time we leave, the place is buzzing.
Our choice of starter is designed for two – a duo of croquettes with lobster and jumbo lump, the latter is the juiciest and most decadent part of the crab. The croquettes are plump with a crunchy bread coating, almost bursting with the seafood mix, which I am pretty sure also includes salmon as a filler. They sit on iceberg lettuce leaves for rolling into a wrap, but it's tricky to do so without dripping seafood. Nice idea, but we end up just dipping the croquettes into a slightly sweetened sriracha, basically a sweet chilli sauce.
One of our two main courses is Mediterranean sea bass rundown, a traditional Jamaican fish stew that is thoroughly cooked until it 'runs down'. At Ting Irie, they serve the fish wrapped in a banana leaf, which does nothing for presentation as you can see from this snap here – something that needs reconsidering. What it lacks in presentation, it makes up for in flavour with a delightful tomato and coconut fish marinade that has the fish falling off the fork. But the real highlight, oddly, is the accompanying steamed coconut rice. Now I am not normally a fan of coconut-infused dishes as I often find the intense taste of coconut drowns out other ingredients. You will never find me on the coconut oil diet for sure! But, digressing, here it adds a delicate and fragrant flavour to the rice – exceptionally moreish.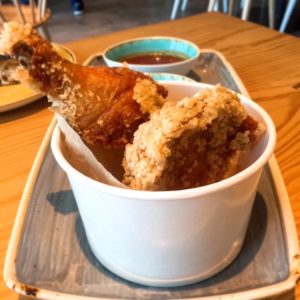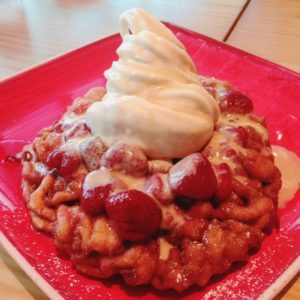 Next up is the quirkily named 'original gangsta' fried chicken. Finger licking deep-fried chicken leg and breast – that is brined before frying making the batter light and crunchy. My only regret is not ordering the larger half-portion. The chicken is so deliciously good, a sweet and sour dip and some pickled escabeche are almost redundant. But a couple of other side orders – Jamaican coleslaw and triple-fried chips are far from redundant. The coleslaw is light and refreshing thanks, I believe, to yoghurt substituting the mayo. As for the chips, crunchy on the outside, and mushy to the bite – that extra fry or two is hard to beat.
Ting Irie's signature dessert is one designed for sharing, not just for two, but four people please note. The Carnival funnel cake is a recipe for a heart attack. At least you'll go with a smile on your face. The 'funnel' base is a decadent doughnut mix, and the best part of the cake, in my opinion. It's topped with a Madagascan vanilla soft serve ice cream and strawberry sorrel compote, whilst lashings of caramelised white chocolate sauce are poured at the table – all very rich ingredients that all compete for my palate. Quite how anyone can eat this after a meal is beyond me. It's not my cup of tea, but I expect given Dubai's dessert-hungry Instagrammers, it has many fans. Note a glitch with the menu – dishes do have gluten-free ratings (GF) where applicable, bar desserts, so don't be fooled because they all proudly boast gluten.
Ting Irie serves Jamaican Blue Mountain coffee – medium-roasted and super smooth – one of the best I have tasted in Dubai. Cappuccinos are served in traditional quaint enamel crockery on mini trays – such a lovely homely touch. Quite how true the food is to Jamaican cuisine, I am not quite sure. I did spend five years as a child growing up in four Caribbean islands (but not Jamaica), and all I can recall, is jerk and sugar cane!
At AED220 per person based on three courses each, this new Jamaican addition to Dubai's casual restaurant scene is expensive. They would do well to adjust the prices and change the concept to a café given the lack of booze. Now Ting Irie may not serve Jamaican rum, and who knows, it may never receive its licence, but it does get a thumbs up for delicious, home-cooked fare in a vibrant setting matched with excellent service. It does live up to its name – 'ting irie' in Patois translates to 'everything is all right' – but it could be more than all right.
Sadly it seems to be the norm now in Dubai. Restaurants open with the view that they will get their alcohol licence, but it never materialises. Perhaps they should not open until the licence is guaranteed?
With Miss Lily's and Ting Irie now open, do you think we are seeing the start of a Jamaican craze in Dubai? How authentically Jamaican is Ting Irie?
Likkle more (goodbye)
FooDiva. x
Is everything all right at new Jamaican restaurant @TingIrieDXB ? #FooDiva reviews https://t.co/Hrowf67xkH #dubairestaurants #food #jamaican

— FooDiva (@FooDivaWorld) September 5, 2016