Miss Lily's? Yes I already do
I am struggling to leave this new restaurant in Dubai. I first find myself at the bar where I down a cocktail. I then head to the dining room for a heartwarming meal, only to find myself back at the bar for a nightcap or two. Miss Lily's is a New York import serving Jamaican and broader Caribbean cuisine, located in the Sheraton Grand hotel.
The slightly dark entrance boasts a visual of a shipping container. As you step in, we're welcomed with groovy reggae music, vibrant colours, a lively crowd and bench seating with a beach shack feel. We sit at the bar and go through a compact list of exotic sounding cocktails like Natural Mystic, Tempted to Touch, Rude Boy – and I choose the bourbon-based Lily Mule. The friendly bartenders are chatting with guests as they mix the drinks. At the far corner I see a draft beer tap handle – am told that they serve their own Miss Lily's draft beer.
For a weekday this place is quite packed. Past the lounge area, the dining room has circular banquette seats which are a little too cosy for my liking. Behind the bar is a casual and colourful private dining room. Our cheery waiter is quick to explain the menu and the ever popular Jamaican jerk marinade that captures the confluence of tastes from various cultures including the natives, as well as the British, Spanish, Indians, French, Africans and Asians. The menu is short and easy to navigate, with family-sized portions available for main courses should you wish.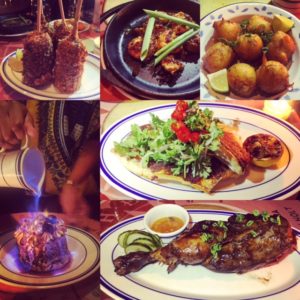 We start with our waiter's recommended jerk corn, grilled corn-on-the-cob, with, you guessed it, a jerk marination. While I am skeptical of the appearance, a basic ingredient turns out to be a stunner. I taste peppers and thyme alongside the tart vinegary jerk marinade, well balanced by a topping of toasted grated coconut. The corn is moist and the jerk is prominent throughout. So good, we order seconds.
Cod fritters arrive as deep-fried balls filled with cod. I find the filling glutinous with no real cod flavour. A piquant sauce that accompanies the fritters is commendable though. A portion of pepper shrimp is delicious, presented in a heavy skillet with a dark marinade and garnished with scallions. Well cooked, yet juicy, and the tangy peppery sauce tingles my taste buds.
The starters fill us up and we need a break – so we order another round of cocktails – repeating the Lily Mule and the Natural Mystic. We sample a wide spectrum of drinks and close in on these two as the more exciting options. However, the bartenders are a tad tight on the alcohol to mixers ratio. The ambience is building up, and the colourful walls with gramophone records, as well as photos of the rap and reggae maestros all add to the vibe.
On to our main courses. A pan-roasted sea bass appears more fine dining than most of the other dishes. A generous fillet with crispy skin, and garnished with cilantro, sliced cherry tomatoes and onions is seared to perfection. A glazed half lemon on the side with yet another sensational sauce accompanying the fish. Jerk chicken is a classic Jamaican dish. A small-size chicken would have done better justice to the jerk flavours – instead a sizeable thigh and leg from a two and a half kilo chicken left the meat on the bone sans flavour. Other interesting recommendations like the curry goat and oxtail will have to wait for another visit.
We are really full so we share a dessert – the baked Jamaica, recommended by our waiter. With a creamy exterior and a tiramisu-like moist and fluffy interior, the waiter flambés it with rum. We settle the bill and find a spot at the bar again, which is rocking like a beach party. The staff is showing a flare of dance moves with eager diners joining in. The DJ is revving the music up, mixing golden oldies with contemporary numbers. All this contributes to a fabulous feel good vibe.
At AED225 per head for food only Miss Lily's is a little steep for casual dining. And so is AED60-70 a pop for the cocktails, especially given the limited alcohol content. But I don't blame them, it's a cost that a licensed restaurant in Dubai needs to pass on to its customers – fine dining or not. But for the freshness, life and soul that Miss Lily's has to offer, I would say my experience is rightly priced. The seating is a little impractical where you end up sitting very close to the next diner when the restaurant is at full capacity. Service from the bartenders and the waiters is very good. The restaurant is conveniently located and the atmosphere is off the charts. On the balance and with the view that I can't wait to return (note my pun in the headline!), I would give Miss Lily's a 3.5 out of 5 FooDiva knives.
If you are fed up with yet another Peruvian restaurant opening in Dubai and are seeking change, an honest and refreshing Jamaican concept now awaits you. Do you like trying new foods at restaurants that also let you party?
AK.
Who is FooDiva's guest reviewer? AK works as an investment banker in Dubai and is an avid gastronaut who thinks that a day without a good meal is a day wasted. He has travelled the world exploring culinary delights including a treasured dinner at El Bulli.
Miss Lily's? I already do, says guest reviewer AK. Excuse the pun. Review now live on #FooDiva https://t.co/G5ElTUd6N0 #dubairestaurants

— FooDiva (@FooDivaWorld) August 29, 2016