It's more than just meat and fish
Whether you prefer mezze, tapas, pintxo, cicchetti or petisco, the concept of small dishes served sharing style is the same across southern Europe. And that's what a new casual Mediterranean restaurant in Dubai's Jumeirah district serves with a menu that blends Greek, Italian, Spanish and Portuguese influences – under the helm of a Greek chef de cuisine, and an Italian sous chef. The menu at the mundanely named Meat 'N Fish in Boxpark overflows with a staggering choice of 35 cold and hot appetisers, actually 36 if you add the soup! Plus another eight salads, four pasta dishes, and 24 meat and seafood main courses. It's hard to see how a small kitchen can pull of seamless execution with such a mammoth menu – especially when some dishes are made at the table. Can they?
A generous portion of a broad bean dip is rich and dense, and makes a quirky alternative to hummus (in fact at Meat 'N Fish the latter is mixed with avocado). We don't often see the elongated and tapered Romano peppers on Dubai menus, and here the sweeter, fuller flavoured single red pepper is stuffed with fetta and dill. To my surprise it's served cold, but it works with the slight sweetness of the pepper offset by the savoury umami flavours of a well-rounded fetta. A delightful presentation too.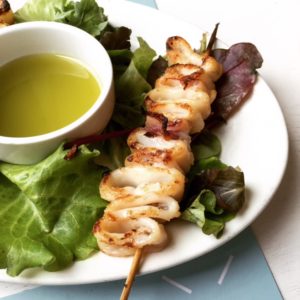 Onto the hot dishes. A Greek unpasteurised sheep's milk cheese, kasseri, is pan-seared with lemon zest and served in the saucepan, topped with non-alcoholic ouzo poured at the table. It's best described as a Greek version of raclette – so decadently sublime – whilst the ouzo adds a delicate hint of anise, just enough to elevate this dish from simple to outstanding without overpowering the luscious, cheese-y flavours. An eggplant 'salad' with chopped peppers and tomatoes is prepared at the table. A dash of olive oil helps thin the puree. Expect a warm decadent dip, rather than a salad though – with a wonderful intense smokiness. The grilled calamari skewers are super tender, as our waitress promises. All seafood, on display in a glass chiller, is imported from Europe – but sadly nothing that is locally fished. That's one area for improvement.
A main course of char-grilled sea bass 'kebabs' is cooked medium as I request. Delicate and flaky, it is filleted, wrapped and only then skewered, before grilling, which I expect allows the fish to retain more of its moisture. It arrives interspersed with chopped peppers and lemon wedges – served on a wooden board with dainty pan-fried new potatoes, a green salad and a beautifully mellow virgin olive oil – incidentally the latter also accompanying the squid.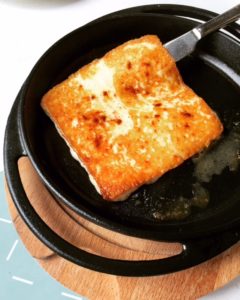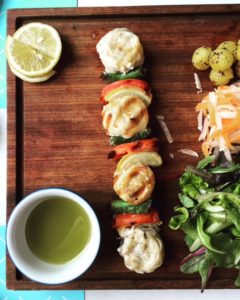 After six dishes between two of us, over what's meant to be a light mid-week lunch, we call it a day with some jasmine tea and Greek coffee. Dessert (a choice of nine!) will have to wait for another visit. And another visit, there will be. The doukissa cake, a reminder of my childhood, catches my eye – Meat 'N Fish calls it chocolate 'salami'! The food marries high quality ingredients with a simple and perfectly executed approach. It's fascinating to see many dishes prepared or finished off at the table, something not often seen in high-end licensed restaurants nowadays, let alone small casual eateries. For instance, a baked sea salt-crusted sea bass is filleted for the neighbouring table. Given the enormity of the menu, you could return time and time again, and always try out new dishes.
Our waiter and waitress know their way around the menu, happily recommending signature dishes. I'd like a little less upselling though. In addition to a regular printed menu, they show us the menu from their website on an i-pad, complete with photos to help narrow down our choice. And the functionality works better than those dreadful i-pad menus! The food arrives in a timely manner.
The restaurant is relatively quiet but I hope it will get busier when the weather cools down enough to enjoy the al fresco seating. Free parking is available just outside. Note, Meat 'N Fish has been converted from a Turkish concept by the same owners, Belhasa. To top it all off, the price point is affordable at AED175 per person. Needless to say you won't get vino here. And that perhaps, local fish aside, is my only qualm. A refreshing glass of rose, cava, prosecco or vinho verde wouldn't go amiss 😉
Would you agree? Where do you head to for a casual Mediterranean meal?
A bientôt.
FooDiva. x
It's more than just meat and fish. #FooDiva reviews new Mediterranean eatery Meat 'N Fish https://t.co/f8DX5DnvgO #dubairestaurants

— FooDiva (@FooDivaWorld) August 15, 2016