Totora: it's all about that waitress
I am dining in a new Peruvian restaurant in Dubai (yes another one) at DIFC (yes…again). There's no sign of any Peruvian waiters or Spanish-speaking staff for that matter, but a waitress from Burma who turns out to be the highlight of my evening. This young lady has mastered the art of service that many of her peers have failed to grasp. Her menu knowledge is commendable – she explains with such enthusiasm the ingredients and cooking techniques of every single dish I quiz her on, without stumbling once. She's not memorised them from a script, but has eaten these dishes and undergone extensive training, rigorously posing questions. That's put to the test when another waitress fails to explain an ingredient (lucuma fruit) like she does. Her command of the English language is excellent, albeit with a strong Burmese accent. She smiles and boasts a sense of humour. She balances attentiveness without an inch of obtrusiveness.
Totora Cebicheria Peruana (named after a local plant) is a new home-grown concept that opened early last month at DIFC, joining another seven Peruvian restaurants in Dubai, including one within walking distance. The walkway as you enter mimics an Inca rope bridge, with Machu Picchu style stone walls and vibrant turquoise seating. An intimate two-tiered restaurant sits atop a lounge bar where an excellent DJ plays 90s remixes that emanate upstairs. It's quiet on arrival for a mid-week dinner, but soon picks up bringing a lovely, relaxed vibe.
The menu, like with most Peruvian restaurants, is pretty mammoth encompassing ceviches, tiraditos, causas (cold mashed potato dishes), makis (oddly), classic Peruvian appetisers, salads, anticucho skewers, wok-fried dishes, main courses, grills and sides. Phew…that's a mouthful. We choose a selection from across the menu, which are all served sharing style, but in the correct order.
The Nikkei tuna and avocado ceviche is on point with the lime juice and soy marination slightly and nicely spiced with Peruvian chilli.
An octopus tiradito (Peruvian sashimi) is my favourite dish of the night. Slivers of octopus are cured in a traditional leche de tigre marinade and interestingly, drizzled with an olive dressing, whilst some fried aji limo (chilli) gives a killer punch. The combination of flavours works wonderfully. I can't get enough of this dish.
The maki rolls are described as 'sushi style rolls with traditional Peruvian sauces', but our choice of a red snapper, tempura shrimp and avocado roll (with leche de tigre sauce) is super disappointing. The sushi rice is too sticky and cold, with the maki clearly prepped well in advance, refrigerated and popped straight onto the plate. When I spot the makis, I have visions of this clever delight in Lisbon. Makis should be left to the expertise of Japanese restaurants. After all, the Japanese influenced Peruvian cuisine (i.e Nikkei), not the reverse.
From the selection of anticuchos, I set my heart on the beef heart (excuse the pun) to see if it can match Coya's, but it's not available so I pick the rib-eye instead which arrives as glorious, succulent skewers of meat – the grilled potato is a little under-cooked though, whilst the classic Peruvian and bland choclo corn does nothing for me. I don't understand the fascination with corn.
A duck two ways from the main courses is up next – a leg, thigh and sliced breast all cooked sous vide, with the breast and thigh then pan-fried making for a deliciously crisp skin. The risotto is cooked in beer, which gives it an earthy, malty taste that works well with the richness of the duck meat. What it lacks in presentation it makes up for in flavour and texture. A side of Peruvian asparagus is grilled al dente.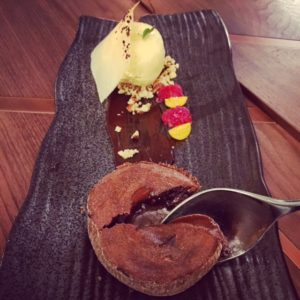 A chocolate fondant is always a good way to test a kitchen. The rocoto chilli spiced version at Totoro is just not molten and gooey enough. It comes out of the kitchen too quickly which makes me think it's pre-prepared and heated. The accompanying lucuma ice cream, a sub-tropical Peruvian fruit with a nutty and slightly tangy flavour is worth trying as an ice cream alone.
The classic pisco sours are excellent and rather lethal concoctions. The wine list is well priced, with entry level Taittinger Brut at just over AED500 – bargain for Dubai! And it's this price point that makes Totora so compelling. At AED250 per person based on three courses each without alcohol including DIFC taxes (we actually order seven dishes between two of us), it's one of Dubai's more affordable licensed Peruvian restaurants. The service is top notch; the location one of Dubai's best; the interior is inviting; and the atmosphere is in abundance. Five out of the seven dishes impress, but I have a feeling given the reason for the two disappointments a fair part of Totora's cuisine may be prepped in advance. All in all, I am dishing out 3.5 out of 5 FooDiva knives.
Yes we have Peruvian overload in Dubai at the moment, but at least we are spoilt for choice. I will return to Totora for the delightful and efficient Burmese waitress who goes by the name of Zin Phyu. And if she's not around, whoever's poached her, please tell me where I can find her.
Would you dine at a restaurant because of a particular waiter or waitress who has impressed you?
A bientôt.
FooDiva. x
It's all about that waitress. #FooDiva reviews another new Peruvian restaurant @TotoraDubai https://t.co/ClsCmdnRKP #dubairestaurants

— FooDiva (@FooDivaWorld) July 25, 2016