To burger or to lobster? That is the question
Is it going to be a burger or a lobster kind of day? Now that's a tough decision for a burger aficionado with a newfound love for lobster rolls. Thankfully, Burger & Lobster made that choice easy. With only both these items served at all their restaurants in the US, UK, Sweden, Kuwait and now in Dubai's Burj Daman building in the DIFC district, feasting on both could only be the laudable way to go, right? Having eaten at their flagship London outpost a couple of times (and loved it), I was looking forward to a good, casual and filling meal.
The restaurant was almost packed on a Friday night. The décor at the entrance screams lobster – with wooden lobster pots lining the walls and corridor halls, to giant lobster tanks, one could tell that Burger & Lobster is serious about offering fresh lobster fare. The main dining area is modern with an industrial vibe, yet quite dark and somewhat gloomy for a casual and family-friendly concept. Reddish hues emanating from plush leather booths gave way to large high tables next to an open kitchen. The crowd was quite eclectic and the atmosphere vibrant, thanks partly to the (very loud) upbeat background music.
While the hostesses at the entrance were warm and welcoming, the rest of the staff were disengaged with a snotty attitude – quite a contrast to my two London experiences where they were bright, delightful, and very friendly. Our waiter, perhaps eager to get our order in quickly, was not at all talkative. My friends and I were familiar with the Burger & Lobster concept but even so, he made no attempt to explain it. On the drinks menu, I found a nice selection of milkshakes that, with a dash of your preferred alcohol and an added AED40, can be whisked into a 'hardshake'. My question on what spirit he would recommend was met with silence and a smirk, which was really rather rude. So I made my own decision and settled for a popcorn shake infused with Bourbon – a great combination, by the way.
Burger & Lobster offers three 'meals' – a beef burger, a lobster roll, or a full lobster that could either be steamed or grilled -each priced at AED127 – and served with French fries, a side salad, and their signature lemon and butter sauce. Between us, we ordered two grilled lobsters, one lobster roll and a burger.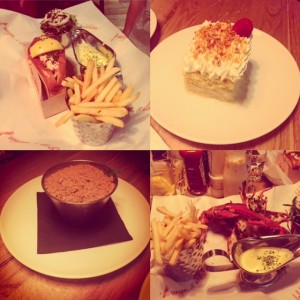 The food in Dubai was as good as London. The chefs have mastered the recipes quite well and maintained a good quality consistency, with generous and filling portions. My grilled lobster was tender, juicy, and quite flavourful on its own. The silky lemon, garlic and butter sauce was equally delicious and a great dip for the lobster, and the crispy French fries. A mesclun salad of spinach, arugula, scallions and parmesan with a vinaigrette dressing was fresh and crunchy.
The lobster roll, despite being small, was my favourite. Packed in a warm, soft, buttery brioche and filled with a creamy lobster salad, the sandwich was refreshingly delectable with hints of lemon coming through the small chunks of lobster. What the roll lacked in texture, it made up for in fresh, zingy flavours.
Contrary to the compact roll, the Australian beef burger was quite large. Cooked to the diner's preference, it was served with the usual burger trimmings of cheese, lettuce, tomatoes and optional veal bacon. The burger bun was soft and fresh, and the patty quite juicy, thanks in part, to an accompanying house-made sauce. Was it the best burger we ever tasted in Dubai? Hardly so, but it was still tasty.
Even though we were quite full, for the sake of the review, we tried the only two desserts on offer – a lemon cheesecake mousse and a tres leches cake. The latter was my favourite – airy, light, and sweet, the cake was made with three types of milk, and topped with a delicious whipping cream and caramelised nuts. Thick and luscious, the cheesecake mousse was more of an upside-down cheesecake and was my dining companions' top choice.
Taking into account food and ambiance, Burger & Lobster lives up to its London sibling. Yet service was a letdown and felt forced, despite the casual and friendly vibe that is the essence of the concept. Major fine tuning is required on that front.
A second glaring difference was – you guessed it – pricing. At AED127 per 'meal', one could make the argument that the price point is decent for premium, fresh Canadian imported lobster. Add to that a 10% DIFC tax and AED35 per dessert, one can expect to pay approximately AED180 per person, sans alcohol. Compared to other casual eateries in DIFC, Burger & Lobster offers good value for money. And yet, with the same imported products, meals abroad cost considerably less – in New York City, a meal is AED74 and in London, AED105. I can understand a slightly higher price in Dubai given the produce has to travel much further than for its siblings, but why so inflated? It's a typical example of a restaurant here choosing to hike the prices just because it's Dubai.
Burger & Lobster's food is good and well executed, with a casual and vibrant vibe. Yet the lamentable service and my uneasiness at paying more than I should for food that tastes the same elsewhere, leads me to give Dubai's latest import an average 3 out of 5 FooDiva knife rating. Would I return? Probably. Or I might just wait for a trip to London to enjoy a burger AND a lobster without a side order of guilt.
Tell me, do you think the AED180 price point is fair?
Till next time!
SJ
Who is FooDiva's guest reviewer SJ? By day, she is a professor of political science. By night, she shares her cooking, travelling and dining out adventures on Instagram here.
To burger to to lobster? That is the question. SJ reviews Burger & Lobster @LobsterDXB for #FooDiva https://t.co/ZMdOOZV50u #restaurants

— FooDiva (@FooDivaWorld) April 27, 2016