Top 10 dining and drinking haunts in Milan
Every time I hear of Milan, the restaurant Giannino crops up in my thoughts with my review of the Milanese import in Dubai that went viral over three years ago. The Dubai restaurant has since closed and the original Milan location is no longer as popular apparently. Even so, it was with a strange mix of trepidation and anticipation that I jetted off to check out Milan's food scene. What can you expect?
Firstly, Milan in Lombardy, Italy's most northerly of its 20 regions, is closer to London than to parts of Sicily, and boasts dishes brimming with rice, polenta, butter and gorgonzola – a vastly different cuisine to its southern siblings. It may not be as pretty as Rome, Venice and Florence, but the Milanese still know how to eat well (and keep trim despite the high-carb intake). After a near-three days digesting the city's cucina, here's FooDiva's shortlist of 10 dining and drinking haunts in Milano covering breakfast, lunch, aperitivo and dinner, plus a few additional recommendations on my wish list.
BREAKFAST
Pasticceria Marchesi – established in 1824, Pasticceria Marchesi is one of Milan's oldest pastry shops, famous for its antique window display. Despite new ownership by Prada, it still retains an old-world charm. We stop here for a cappuccino at the bar with rich, frothy milk that goes by the name of schiuma – don't expect seating. One of the best I have tasted (along with Pavè's below), beating the lukewarm and diluted cappuccinos I had over my two-week Italian road trip in the summer. A spot also known for its sweet pasticinni. My savoury tooth however steers me to a mini prosciutto brioche roll.
Pavè – another café known for its pasticinni over a more leisurely colazione but this one is a cute, shabby-chic affair with plenty of comfy seating. Their bread made with stoneground flour is baked every day by 3pm ready for those returning home from work. Oddly enough the croissants are referred to as brioche, not cornetto – but the owners are three Italian friends – not French. Brimming with local residents, without a tourist (except us) in sight.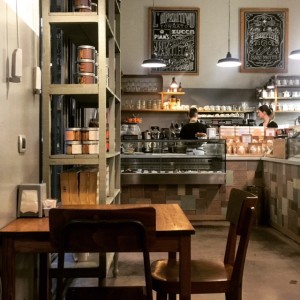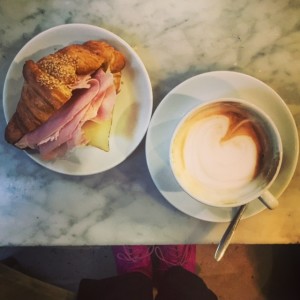 LUNCH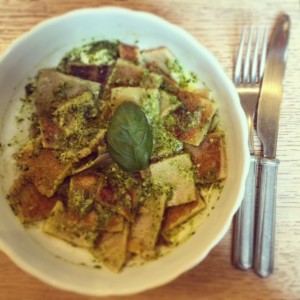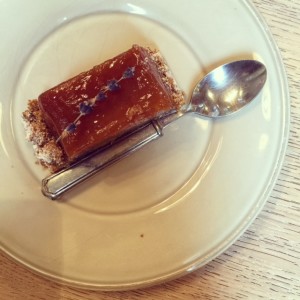 OM Food – after an interesting and fragrant morning visiting artisan perfumeries with Mariangela Rossi, a journalist and personal perfume advisor, we lunch at OM (Officinali di Montauto) Food, a bistro and shop dedicated to organic food, essential oils and cosmetics with ingredients sourced from their own Tuscan farm. Set in a beautiful courtyard of a historical palace, the white-washed interior transports you back to rolling lavender hills. I tuck into a hearty, wholesome bowl of testaroli, a Liguria pancake pasta whose prime ingredient is chestnut flour and is served tossed with pesto – sans the garlic though as the Milanese don't like garlic breath during the working week, the owner explains. A tarte tatin delicately flavoured with lavender makes for a sweet ending.
Ratana – this restaurant that resembles a posh gastro-pub is worthy of one Michelin star. Set in a converted 19th century industrial building in the middle of a park, chef Cesare Battisti serves a clever spin on traditional Milanese fare. Known for his saffron risotto, served here garnished with osso bucco (bone marrow) is exceptional – but the dish that really wows me is a radicchio (chicory) salad dusted with raspberry powder and Parmesan crisp. Excellent wine list too.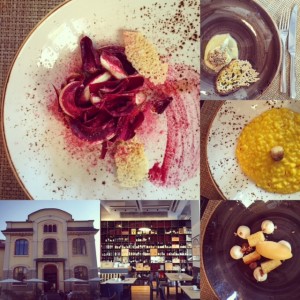 APERITIVO AND DINNER
Terrazza Aperol – the owners of this aperitivo establishment that overlooks the Duomo cathedral are in fact Autogrill, the restaurant chain splattered across the autostrada. That could put you off, but do head here for your choice of aperitivo, mine is Bellini, and stare in awe at the gothic wonder it overlooks. The complimentary hand-cut crisps served in paper cones are addictively good.
Terrazza Gallia – this terrace bar and restaurant atop the Excelsior Gallia hotel overlooks Milan's stunner of a railway station. With outdoor heaters, we are even able to lounge al fresco in January. My tipple of choice is Ferrari Trento, a spumante made using the classic champagne method that I first tasted last summer. Yes it's just as good as the real French fizz, and cheaper :). I even bring back three bottles. Like with any aperitivo concept in Italy, they throw in canapés. The adjoining restaurant has consultant chefs Enrico and Roberto Cerea of three Michelin star Da Vittorio in Brusaporto fame (whose cuisine I tasted at a cooking demo in Bergamo in June), serving a creative take on Italian dishes. I so wanted to try the veal escalope Milanese for two but no one else shared my enthusiasm. Oh well, an excuse to return with a veal fan. Another good spot for carnaroli risotto dishes.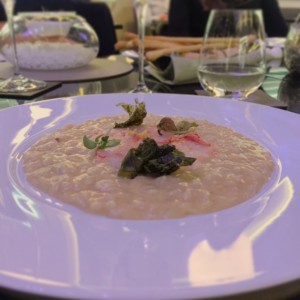 Dry Cocktails & Pizza – seasoned restaurateurs and a chef with a Michelin track record run this plush pizza with cocktail pairing concept in the trendy Solferino food district. A sleek and sexy industrial space that oozes atmosphere. The Neapolitan wood-fired pizzas cover a range of classics and make-your-own options. As a starter, the focaccia with the vitello tonnato topping (a traditional dish from neighbouring Piedmont region) is a must-order. As for cocktails the champagne and gin concoction, plus their twist on a pisco sour are exquisite. Packed like sardines on a Thursday night so do book well in advance.
The Wine Cellar – in the basement of the Excelsior Gallia hotel sits a wine cellar and teeny kitchen-cum-chef's table, which can be booked for intimate, interactive dinners. Exec chef Davide Castoldi, pâtissier Federico Rottigni and a couple more cook a nine-course meal for us. My favourite dish is the simplest of them all – burrata from Puglia with tomatoes from Campagna – whilst a witty F&B manager acts as the MC entertaining us (he worked at Madinat Jumeirah for a number of years).
FOOD GLORIOUS FOOD
Peck – we have a Peck in Dubai at the Armani hotel (I must admit I have never visited, but my curiosity is now spiked). The original gastro-deli and caterers is in Milan, founded in 1883 – complete with a wine cellar boasting 3,000 labels. It's a gourmet grocer's paradise with a price-point that matches Harrods, and much more expensive than its competitor Eataly. Eating in is frowned upon. I walk out with some rolled anchovies – one of the more reasonably priced items.
Sauce Milan – the best way to discover a city's edible haunts is via a food tour, and that's what food writer and Milanese Sara Porro of Sauce Milan offers. Some of the recommendations in this round-up are in fact on her walking tours, which also soak up some of the city's architectural sights.
ADDITIONAL RECOMMENDATIONS ON MY WISH LIST
Oddly but perhaps interestingly, Milan has no restaurants on the World's 50 Best list or any three Michelin star establishments – instead it boasts 12 one star restaurants, and only three with two stars, including one on my wish list – chef Claudio Sadler's namesake ristorante Sadler whose cooking I have tasted in Dubai for his guest appearance at Bice, and last summer in Italy at the same cooking demo as Chicco Cerea. His desserts in particular are exceptional, and that's high praise given I don't have a sweet tooth.
STAY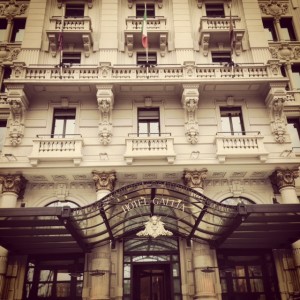 I stay at the newly-renovated Excelsior Hotel Gallia, owned by Qataris, Katara Hospitality, and operated by Starwood's top-tier Luxury Collection brand. The exterior of the imposing building is very much a pristine Belle Epoque grande dame, which has been completely gutted and modernised to reflect a sleek yet warm Art Deco-inspired interior. I love the floor sensors that discretely light up my room should you need to get up in the middle of the night…oh and the massage in the Shiseido urban spa, complete with the softest bathrobes ever that I am so tempted to steal. Room rates start at €350 per night, VAT and breakfast included, but excluding city tax.
I managed to resist not visiting Giannino, even though it was near my hotel. A fleeting drive past in the rain on my last morning was enough to placate me, especially as it looked so drab.
If you're after Italian restaurant recommendations in Dubai, check out my round-up of FooDiva's 35 favourite restaurants in Dubai which includes some Italian establishments – including one that serves a wonderful veal escalope Milanese 🙂
That's all from me for now. I had better get back to my #lowcarbdiva regime.
How do you rate Milan's restaurant scene in comparison to other Italian cities? Any other Milanese food recommendations to add to this bucket list?
A bientôt.
FooDiva. x
Disclosure – I was flown to Milan by Starwood (on Emirates business class) as part of an influencers trip with Sally of My Custard Pie and Naomi D'Souza. They may have plied me with pasta and prosecco (and a bed) but the opinions expressed here are mine alone.
Top 10 dining + drinking haunts in Milan – #FooDiva culinary guide https://t.co/Nuwv4LY1RI #milandiva #excelsiorgallia #theluxurycollection

— FooDiva SamanthaWood (@FooDivaWorld) February 9, 2016