Champagne tips and rosé recommendations for Valentine's Day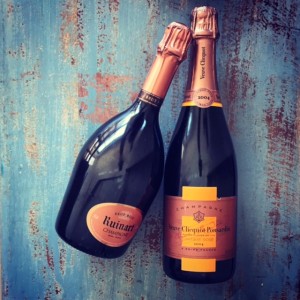 I get that you are stressed – the day that your loved one has long been anticipating is obviously extremely important to ensure continued enrollment in the world of relationships. But let's forget for a second about whether to play Barry White or not (but don't) or how many candles to light. Forget about how to place the rose petals so it looks like you casually threw them up in the air and they landed in the shape of a heart because the energy of your love is streaming through the apartment. If you haven't secured a good (over-priced) table at your favourite romantic restaurant, forget spilling the beans.
The trick to succeeding on Valentine's day is to get your loved one in the right mood from the outset and what better way than to serve what invariably is considered the world's most romantic drink – rosé champagne.
But before we get on to talk about which champagne to drink, let's think about the glasses – because now it has to be perfect. The classic coupe glass, as beautiful as it is, has a large surface exposed to the air and thus the bubbles dissipate quickly. Also bearing in mind that they supposedly were modelled after Louis XV's chief mistress Madame de Pompadour the contradicting themes of "another woman's cleavage" and "chief mistress" may on this particular day be perilous. Use instead the more curved form of the tulip glass or just a regular white wine glass – not the popular flute.
Make sure you have it cooled down to 10C (50F), not more, not less. With a temperature below 10C the flavours hide and you miss out on a significant part of enjoyment.
When you open the champagne bottle, don't shake it first and let some of it shoot out – that's just tacky. Instead gently take the foil off just to where the cork sits (to make the bottle look nice), then unwind the muzzle and keep it on the cork. Holding the bottle at its base with one hand and fixating the cork and muzzle with the other, gently twist the bottle, slowly releasing the cork so that it just gives a soft 'fzzzzzh' sound when opened.
We tried four champagnes across different price points readily available to purchase at MMI and A&E liquor stores in the UAE. There are a few more alternative booze-buying options listed here. If you're running late don't fret, they have bottles chilled and ready for you.
And if this year for you is short on love, remember Coco Chanel's wise words "I only drink champagne when I'm in love, and when I'm not".
Bubbly wishes for a happy Valentine's day 🙂
Mathias
Who is Mathias Kahn? A long-time avid champagne lover, he resides in the UAE where he is establishing the distribution for Champagne HATT et SÖNER that he co-founded in 2009. He also doubles as the Swedish National Champion of the Art of Sabrage – how to open champagne bottles with a sword. Watch him in action at FooDiva's next #DineAroundDubai. What he doesn't know about champagne is not worth knowing.