Can Barfly succeed as a restaurant?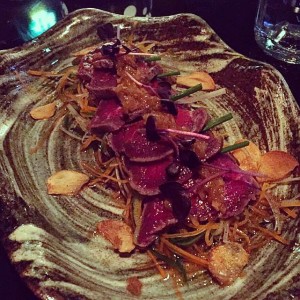 Impressive interior? Check. Delightful staff? Check. Atmosphere and food? Well…not so much. My dining partner and I were excited to try Barfly in the Ritz-Carlton Abu Dhabi's Venetian Village. This Buddha Bar spinoff, described as an "edgy restaurant and supper club", operates under the same management with locations originally in Los Angeles and Paris – but those Barfly locations have since closed. Will Abu Dhabi succeed?
On a cool Saturday evening, past the velvet ropes, cabanas and outdoor seating on the expansive terrace, we opted to sit inside the cavernous and dark interior. Splashed in deep reds, large graphic media, soaring chandeliers, romantic candlelight and leather seating, the vibe felt like a modern French bordello. A brightly lit faux Winged Victory statue stands proudly behind the hostess stand and near the red neon lit staircase, which leads up to an additional open level for dining.
As the only patrons in the main dining room, we were well looked after by not only our waiter, but also from the manager, whilst bartenders delivered cocktails to our table. We were delighted with the presentation of the Fly Old Fashioned, complete with smoke and a glass skull. But we were then inexplicably given bread (with nearly frozen butter). While I like carbs as much as the next gal, I couldn't understand what a loaf of bread was doing in front of me at a Far-Eastern inspired restaurant.
For appetisers, I chose the deep fried spicy calamari, while my dining companion ordered the wagyu beef tataki (Kobe style). I expected a punchier calamari, whilst a pinch of sea salt would have also helped boost flavour. As underwhelming as the calamari was, the tataki was a dish of beauty, and easily one of my new favourite starters. In a sauce that delightfully blended soy and ginger, the beef was perfectly paired with a small bed of shredded vegetables, complete with toasted garlic. At AED75, go ahead and place two orders – you will not be disappointed.
Our main courses, tropical miso black cod Barfly-style and baby corn-fed chicken were served within 15 minutes as our waiter had promised. Points for perfect Instagram worthy presentation? Absolutely. The taste however…in a country where we are absolutely spoiled for delicious black cod, I have to admit, I was very disappointed. Allegedly marinated in miso for three days, the cod struck me as a bit, dare I say, bland. In comparison to Zuma (where, in my mind, the bar is set), I can say there are easily better options in the Emirates. While the accompanying creamy, buttery sauce with a delicate crunch of passion fruit seeds elevated the dish slightly, the garnish of broccolini was served cool – not at all warm. Additionally, at AED225, even if it had been well executed, the dish was extremely overpriced. As we traded bites, I tried the baby chicken from my partner's plate, complete with a collection of bell peppers and haricot verts. He thought the near-smothering sauce was over-salted, and I wanted more of anything – spice, sweetness, depth of flavour. Finishing our dishes, we looked on in envy as one table was presented with a glorious platter of sushi and sashimi – a design of fire (with a large, blazing candle) and ice (literally, some sort of sculpture).
"Maybe next time?" I suggested. He took a long sip and declined to answer.
Encouraged by our attentive waiter, we shared the mascarpone cheesecake – not overtly sweet, thankfully, but wonderfully creamy, and accompanied by just the right amount of tart berries and coulis.
At a total of AED570 (inclusive of food and posh water, without alcohol) I couldn't help but feel disappointed. When a lively crowd is missing, all that remains is overpaying for a mediocre meal. We asked our waiter if Barfly ever got busy, and after 11pm on Fridays, it does, so he claimed. Perhaps Barfly Abu Dhabi has the potential over time to become a hip and happening bar, but I doubt very much it will succeed as an "edgy restaurant and supper club". With that in mind, the experience only warrants a blunt two out of five FooDiva knives, leaving me to wonder, had the restaurant been full, would I have felt differently, despite the below-average food? Would you?
Cheers,
AB.
Who is our new guest reviewer? Ann Benjamin (Life After Joe, Room 702) is an American author living in Abu Dhabi. When she's not working on a novel, she enjoys travelling to new countries and sabering champagne with kitchen knives. Follow her on Twitter @ABenjaminAuthor
Can #Barfly in #AbuDhabi succeed as a restaurant? Guest reviewer @ABenjaminAuthor reviews for #FooDiva https://t.co/AVaCcdMLHS

— FooDiva SamanthaWood (@FooDivaWorld) February 1, 2016