La Tablita: a new Mexican or Tex-Mex restaurant for Dubai?
I call to make a reservation for a Wednesday evening at Mexican-cum-Tex-Mex restaurant La Tablita in the new Hyatt Regency at Dubai Healthcare City.
"Have you dined here before?" asks the reservations clerk.

"No," I respond.

"Well we don't take reservations; walk-ins only."

"OK – are you expected to be busy tonight?"

"Yes we always are."

"How long would we have to wait?"

"Not more than 20 minutes."
We walk in around 8pm to find the restaurant practically empty.
"Do you have a reservation?" asks the hostess.

"Erm…no I was told you do not accept reservations."

"Yes that's correct," and she shows us to a table that I am not too keen on. When I ask to be moved to one of two tables by the window, I am politely told that they are reserved.

"Agh so you do take reservations then," I say.

"Not really. These are just reserved for social media bookings and for the GM."
My dining companions and I quietly snigger. Little does she know. Fast forward to the end of the evening, and both these tables remain unoccupied. La Tablita, in this highly competitive town, you really cannot afford arrogance in your restaurant reservations behaviour. Anyhow, this start to our experience is, thankfully, the only glitch in the service. The staff is predominantly Mexican oozing personality with their bolshy yet friendly attitude, whilst their menu knowledge is commendable. Clearly they eat at La Tablita.
Onto the food. A bowl of corn tacos arrives at the table with three dips offering a range of spiciness. I order some guacamole to tide us over whilst we peruse the menu, and it really is excellent with chunks of avocado peeking through and just a hint of spice. The tamarind margaritas are delightful…and lethal.
One differentiator of La Tablita's dining experience is the tick-box menu approach to the taco and ceviche selection, in principle appetisers – a staggering choice of 16 and eight respectively. Kudos to our waitress who encourages us to wait and order our mains after we finish our starters – not an inch of upselling throughout our meal. Each taco is an individual portion and is priced at AED15 (even though we are charged AED12???) The 'al pastor' is a soft corn taco filled with chicken and marinated in a Mexican annatto spice, which along with pineapple makes for a nutty, sweet and peppery flavour – wonderful. The 'pescadillas' is a delicious and moreish crispy fried taco with a white fish filling.
Our choice of ceviche goes by the name of 'vuelve a la vida', a hangover cure in Mexico (the name translates to 'return to life'), and I can see why because the sauce is more of a seafood cocktail brimming with a dressing whose flavour and texture resembles a spicy ketchup-cum-Bloody Mary mix, which douses the tender prawns, octopus, scallops, oysters – and a few slices of avocado. A hearty concoction.
For our first main we order a sharing dish of queso con chorizo – fondue-like melted cheese spiced with diced beef chorizo (no pork licence here). Pure comfort food, we polish it off in a few spoonfuls. A teeny portion though considering it's designed for sharing. At our waitress' recommendation we order a mix of beef and chicken fajitas (this is where the menu starts to veer from Mexican to Tex-Mex) – the meat strips succulent and well seasoned, whilst the flour tortillas are warm and fresh.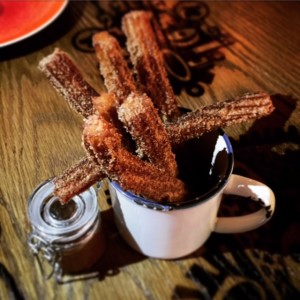 Somehow we manage to squeeze in a sweet ending of churros for the sake of reviewing – a typically Spanish finger doughnut – which here is sprinkled with sugar and just a touch of cinnamon, thankfully, that does not overpower the crunchy well-baked dough or the chocolate dip. The presentation in a retro metal mug is cute and quirky. In fact each dish is presented differently, and is clearly well considered. What I love about the food is that in most parts La Tablita and its chef Carlos Hannon (ex-Tortuga) are really trying to showcase authentic Mexican, albeit street food, unlike the majority of its counterparts, with some Tex-Mex dishes thrown in for those who refuse to broaden their palate.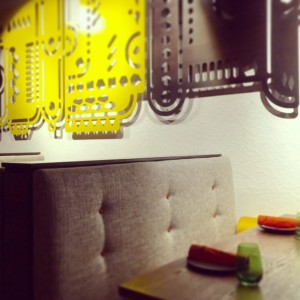 So whilst the food impresses, the atmosphere is seriously lacking across an expansive restaurant and bar set on two levels with only a handful of tables occupied. Bizarrely one corner houses Mexican soap operas on silent projection – most odd and ill-fitting for this type of concept.  The seating is a mix of private booths and tables, whilst some funky modern art and murals grace the walls.
Perhaps with time La Tablita will get busier, but only if the reservations clerks start to encourage custom with a friendlier and more accommodating attitude. If so, given an extremely reasonable price point of AED195 for three courses per person without alcohol, La Tablita could corner the casual Mexican-cum-Tex Mex dining scene in Dubai. Our waitress even throws in a bottle of native hot sauce, Valentina (Mexico's answer to Thai sriracha) because we adore it so much. For now, here's to an average 3 out of 5 FooDiva knife rating.
Have you tried La Tablita? Where do you head to for a Mexican fix in Dubai?
A bientôt.
FooDiva. x
Is La Tablita at the new Hyatt Regency a #Mexican or Tex-Mex #restaurant? #FooDiva reviews https://t.co/9phiDpXoGk #dubairestaurants

— FooDiva SamanthaWood (@FooDivaWorld) January 19, 2016