Pearls by Michael Caines: a rebrand hit or miss?
The most talked about restaurant in Abu Dhabi this year has finally opened its doors. Chef Michael Caines who has a two Michelin star restaurant in the UK amongst others, has taken over the breathtaking location of what was previously Scott's at Jumeirah Etihad Towers with a rebrand to Pearls. Is this transformation from an English seafood concept, to, according to the marketing blurb, a casual European restaurant, a success?
Apart from signage, uniforms and slight modifications to the interior and floor plan, at first glance not much has changed from its predecessor. The 360-degree view of the water and Abu Dhabi city though was, as always, something to marvel at. The restaurant was fairly quiet for a Thursday evening at 8:30pm, the music was subtle; a clear mix of oldies and the interior still held its modern classic charm. However it was a bit unsuited to be surrounded by such luxury in a subpar atmosphere. We sat outside with this perfect weather, to enjoy an unexpectedly casual affair.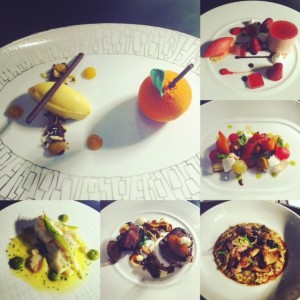 The menu was a collaboration of traditional anchor items prepared with modern techniques and unusual pairings. As we browsed the menu, the amuse bouche arrived – duck terrine with pickled onions and apple sauce. A delightful start, yet not one that would draw me back. Although the combination was great, I felt the terrine was a little too grainy and bland. Luckily our appetisers were a different story. A smoked watermelon and smoked tomato dish was incredibly executed; a simple variety of smoked tomatoes paired with watermelon, olive tomato jelly, basil and burrata over a tart vinaigrette dressing. A perfect marriage of fresh ingredients and relishes that left us wanting more. Our second starter was another hit. Creamy earthy mushroom risotto, topped with crispy-skinned yet very moist slices of quail and finally a quail egg. A classic dish well done, that despite the generous portion was still very light.
For our main courses, the braised turbot, the one dish I was looking forward to the most, was over cooked. The melange could have been such a success with succulent scallops, tangy artichokes, crunchy baby leeks and fragrant chive butter sauce, but was let down with the execution of the fish. A fillet of beef with braised beef cheek was another faux pas, with the fillet unevenly cooked. My partner requested medium, but it was mostly well done, and only medium towards the centre. The grouping of ingredients however was very interesting starting with the tender beef cheek, nutty celeriac purée, sweet roasted shallots, juicy wild mushrooms and aromatic red wine sauce. Conversely, all this beauty was slightly overpowered by the horseradish and shallot confit. A dish that requires rethinking.
Pearls' saving grace was its desserts. A strawberry mousse was served with basil and sweet olive purée and poached strawberries; an absolute delight of subtle sweet freshness. The chocolate orange confit mousse was a stunner in taste and presentation; simple yet fascinating in flavour profile and technique.
Service was inconsistent throughout the evening and the service staff appeared generally inert. At times attentive and sharp, but there were many moments where we felt forgotten. One would expect more passion and excitement for such a new restaurant opening.
Given Pearls' casual positioning, a price point of AED370 per person without alcohol, verges on the high side. And for that, one would expect every element of the dining experience to be ticked with zero discrepancies. However with both our main courses, as well as service disappointing, and the lacklustre atmosphere on a weekend, Pearls will need fine tuning to become a hit and to capture a repeat clientele. With that in mind, I give it a FooDiva knife rating of a very average 3 out of 5.
Have you dined here or at any of Michael Caines' restaurants in the UK and if so, how did the experience fare for you? How does Pearls compare to Scott's?
LS.
Who is our guest reviewer? LS is a life-long gastronome who has traded more than a decade of hospitality adventures for the finer things in life. "Follow your passion and maintain balance" is her mantra. After living in many different countries across the world, she is happy to have settled in Abu Dhabi which she calls home.