Is Olives worth a taste?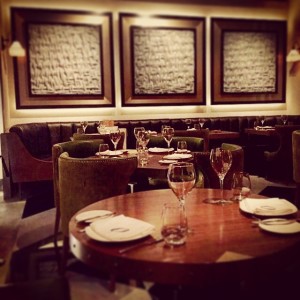 American author, restaurateur, TV personality and chef Todd English has transplanted his contemporary Mediterranean restaurant concept Olives to the capital at the Ritz-Carlton Abu Dhabi's Venetian Village.
Getting there we had to navigate a construction site as the Venetian village is not yet complete – not ideal when I was in my favourite high heels, but a charming sea front view made up for the strenuous walk. The restaurant's focal point is a fresh pasta bar flanked by a dining room on either side; one is decorated in dominant crimson with a full view of the main kitchen and has an energetic, modern and casual feel. The second room is adorned in dark emerald with a hindered view of the bar, but makes for a cosy, intimate and classic affair. The bar radiates old Hollywood charm. Lighting is subtle, and music is current. The fittings are a combination of traditional furniture made modern by size variation and upholstery. Floor-to-ceiling arched windows crown both rooms giving a subdued Mediterranean vibe.
After a brief yet informative chat with our waiter, choices were made, drinks were poured and we were minutes away from commencing our feast. First to arrive was the yellow fin tuna tartare. A cylinder full of textures and flavours, the succulent fish tartare sat on a layer of crunchy fried rock shrimp and a salad of marinated cucumbers topped with a quenelle of caviar. The magnificent transition between aromas and consistencies in every bite left me rather disheartened when the dish was wiped clean…I craved more. Our second starter was a Boston bibb salad – a nod to Todd English's first Olives restaurant in Boston which has since closed down. The crunch of the butter lettuce was accompanied by shreds of spicy sweet onions and complemented by a 'shower', as it was described on the menu, of pungent creamy blue cheese, finished off with a tangy walnut dressing. A guilt-free and superbly flavoured dish.
I am a huge fan of chops so I ordered the herb-crusted lamb chops. Two generous and beautifully cooked racks of lamb with velvety pink meat coated in a crisp and fragrant crust arrived, accompanied with a savoury minted demi-glace. Brilliantly executed. A couple of side orders of vegetable ratatouille and a Mediterranean salad were of humble, pleasant and fresh ingredients, yet overshadowed by the glorious lamb chops.
Spaghetti polpettini was our second main course choice, and a signature dish as our waiter emphasised. The pasta was made in-house with a spiced bolognaise sauce glazed with a mascarpone fondue and topped with two coarsely textured aromatic meatballs. The sauce was infused with prominent Mediterranean spices; the taste of cinnamon for instance was present in every bite. Although it paired well with the sweetness of mascarpone fondue, the sauce was too intense. This dish was hearty and filling, yet this interesting spin on a renowned classic was more of a miss than a hit.
For desserts we chose the cannoli and tiramisu. A deconstructed cannoli arrived – round biscuits topped with a tiers of vanilla cream, chocolate cream, and a peanut praline. The biscuits were slightly over caramelised though. The vanilla filling was delicate, but the chocolate cream was shockingly intense. The peanut praline was lustrous and rich with nuttiness, but would be best offered solo. All-in-all, a traditional cannoli would have worked better. On the other hand, the tiramisu was timeless with silky cream and fluffy sponge in every bite, beautifully complemented with espresso ice cream.
Throughout our meal and at the turn of a head, staff were always in view; discrete, pleasantly engaging and accommodating requests. As one example, the sommelier happily changed our wine when we were not enamoured with our first choice. A couple of dishes need rethinking, but overall the flavours were delicious, the portions generous, and all at a very reasonable price tag of AED 250 for three courses per person (without alcohol). With only five tables occupied on a Thursday evening and an empty bar, it really lacked atmosphere. However, if you're after a fascinating and affordable hearty meal in an opulent yet relaxed setting, coupled with sophisticated service, Olives epitomises casual dining at its finest in Abu Dhabi. So here's to an above-average FooDiva knife rating of 3.5 out of 5.
Have you dined at any of Todd English's restaurants? How does this one compare?
Cheers,
LS
Who is our new guest reviewer? LS is a life-long gastronome who has traded more than a decade of hospitality adventures for the finer things in life. "Follow your passion and maintain balance" is her mantra. After living in many different countries across the world, she is happy to have settled in Abu Dhabi which she calls home.