Din Tai Fung: much ado about nothing?
I tried the Taiwanese steamed dumpling restaurant chain Din Tai Fung for the first time in Singapore less than a year ago. Packed and popular among locals and tourists, I had a memorable and delicious meal at the posh Marina Bay Sands branch. A bustling Din Tai Fung has now opened in Dubai at Mall of the Emirates' new extension, right next to chef Silvena Rowe's Omnia Baharat, a Vox cinema complex and a host of new restaurants including Tom and Serg's Common Grounds.
Founded in Taiwan in 1972, Din Tai Fung has over 100 branches in East Asia, the US and the UK including a one Michelin-starred Hong Kong restaurant, with Mall of the Emirates their first in the Middle East, and another outpost rumoured to open at Al Ghurair Centre in Deira.
After a 30-minute wait on a Wednesday night, which I am told is typical and fairly short compared to the hour-long queue on weekends, we were finally seated and started sipping on our Chinese Oolong tea – with free refills throughout the evening. Our meal started on a high note but then went downhill dashing my hopes of repeating my wonderful Singaporean experience. Our selection of dumplings included the chicken xialongbao (soup dumplings), the vegetable and mushroom dumplings, and the shrimp and chicken pot stickers. Consisting of six dumplings each served in steamed bamboo baskets, the chicken xialongbao and the pot stickers were warm and juicy with hints of onion, garlic and ginger on point. The vegetarian dim sum lacked seasoning but the vegetables were crunchy enough. I also tried the dry beef dumplings – a somewhat disappointing rendition.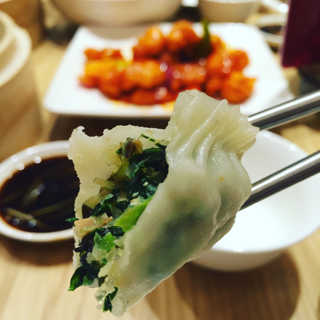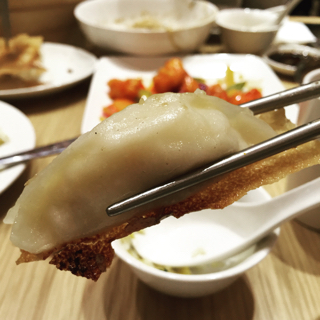 We also ordered many other dishes, the majority of which were disappointing. With the exception of stir-fried morning glory, a water spinach prevalent in East Asian cuisine (described on the menu as spinach), which was delicious, garlicky and crunchy, all other dishes were mediocre at best. The sesame peanut sauce in the Majian (sesame) noodles tasted like water with only a very subtle nutty hint; the chicken in a sweet and sour dish was dry and chewy; and shrimp egg fried rice lacked seasoning. On a second visit, I was once again disheartened – a house seaweed salad (cabbage in fact) had a soapy and bitter aftertaste and the beef chow mein was very greasy. However a simple dish of vegetable egg fried rice was tasty and well seasoned with fresh veggies – but you can get excellent renditions of this dish (and morning glory) in most Chinese restaurants.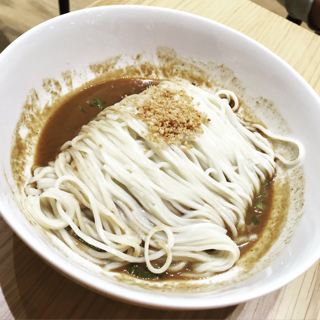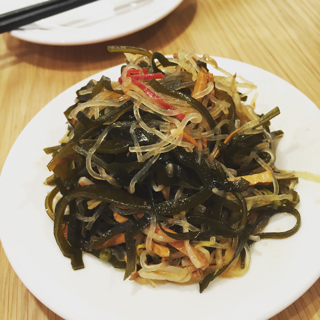 Our desserts on both occasions consisted of mini taro buns and Din Tai Fung's famous sweet red bean sticky rice. The taro buns consisted of a purple sweet potato paste locked inside a warm bun – spongey and moreish. The red bean sticky rice dessert was a favourite – soft, subtly sweet and airy.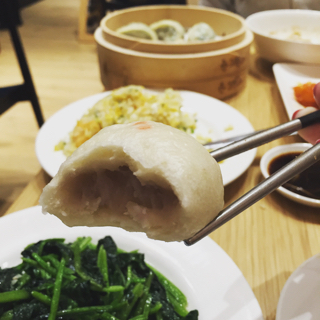 All in all, the savoury dumplings championed over the other dishes. Still, when compared to those we ate in Singapore, something seemed to have been lost in translation. New restaurant aside, a major difference here is pork. Din Tai Fung Dubai does not have a pork licence while its Singaporean counterpart boasts a very large selection of pork dumplings – which is what we mostly ate. Pork is a meat that marries well with the delicate aromas, spices and texture of dumplings and is a major ingredient in East Asian cooking. It's obviously missing in Dubai, which would have been fine if the other meat dishes were better executed. Another issue is that all of Dubai's meat is imported frozen from Taiwan in slabs (ugh!) and is then defrosted and cooked on site – another reason perhaps why our chicken and red meat dishes were not stellar.
A note on service: our waitresses were friendly and swift. We managed to order, eat and pay in an hour! As for looks, expect a canteen; Din Tai Fung is never going to win any interior design awards, which is not really an issue for a casual mall restaurant. It's a sharing concept and food was quickly served to the table when ready. At AED285 for nine dishes and two refills of tea, Din Tai Fung is fine and reasonably priced for a quick bite before a movie or whilst shopping, but don't bother veering off the dumplings track. Apart from two dim sum dishes, morning glory and vegetable fried rice, whatever else we ordered over TWO visits was well below average. Din Tai Fung is sadly much ado about nothing – another hyped up Dubai restaurant opening.
Tell me, have you tried Din Tai Fung abroad? How does it compare to the Dubai restaurant?
Till next time!
SJ
Who is FooDiva's guest reviewer SJ? By day, she is a professor of political science. By night, she shares her cooking, travelling and dining out adventures on Instagram here.