The Croft – can fine dining be casual?
Chef Darren Velvick's new Dubai restaurant is a brave effort to bring together a minimalist menu of very carefully selected British and broader European dishes, a simple open kitchen, with a casual yet classy ambiance. Located in the slightly drab Dubai Marriott Harbour Hotel & Suites, The Croft replaces the erstwhile Azur restaurant. Darren (ex-Table 9 Hilton Dubai Creek, head chef at Gordon Ramsay's Petrus, and close associate of Gordon's protégé Marcus Wareing) took on this project with a shoestring budget to redo the earlier kitchen. For more on this Marriott initiative, read FooDiva's review of sister, Peruvian restaurant Garden. In Darren's own words, he sticks to Gordon's principle of creating a menu that takes into account the constraints of the kitchen and builds on popular cooking styles and ingredients from the UK and Europe that both residents and visitors can relate to.
The first thing that attracts my attention is the kitchen as the restaurant's centrepiece. Hidden behind is a small area with about five tables and French windows overlooking a terrace which will boast a gin garden once the weather cools down. Pillars and walls are embellished with witty graffiti and menu specials. To the right is the main, larger dining room. As we are ushered to our table by a friendly waiter, my attention goes to Darren at the kitchen counter. He appears very hands-on as he plates each dish. The kitchen counter looks lively with an assortment of potted herbs and bottled spices. A selection of craft beers is on display. So I decide to do something that I do not often do – pair my courses with different beers.
The table has a charming, casual feel with napkins and cutlery arranged in a pot, but the lighting was too dim. The menu is presented on a simple, folded flyer, while specials are listed on the wall, simplifying the decision-making process. The waitress serves us a selection of breads with small jars of yellow and brown butter. The brown butter, interestingly, is regular butter that is heated, infused with lemon juice and herbs, and cooled to a normal butter texture.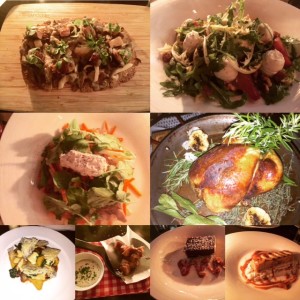 We begin with a baked flatbread with caramelised onions, fois gras, truffles and mushrooms. While the ingredients sound exciting, the taste is surprisingly 'flat' making for an average start to our dinner. My wife sticks to her vegetarian regime and a beets and cheese appetiser. She loves the freshness of the salad leaves with crunchy beet; the creaminess of the goat cheese somewhat dominates the walnut dressing. I go for the local mackerel as my next dig – marinated slices of mackerel hidden between julienne strips of fresh apple and carrots, salad leaves and a dollop of crème fraiche. A charming dish that combines a subtle interplay of lime and cream, with the mild acidity of the apple, and the intensity of mackerel. I think the hot chicken drumsticks will go well with the beer (I have moved on from a light draft English lager to a slightly more challenging, bottled craft pale ale), but it turns out to be rather disappointing. Boneless chunks of chicken – are these from the drumsticks or is the presentation on the skewer meant to look like a drumstick? The taste fades away quickly from memory.
My wife's main course is fried polenta – a balanced marriage of sautéed mushrooms, artichoke and spinach in a parmesan cheese sauce with thin parmesan crisps on top. We finally come to the absolute show stopper – the Croft chicken – a lot of thought, experimentation, love and care must have gone into making this masterpiece from something as basic as a roasted chicken – which happens to be a dish he adapted from his own Table 9 menu. It takes 20 minutes to roast we are told. The waiter arrives with the whole roasted chicken on a bed of herbs – visibly rosemary and thyme – and I would guess stuffed with truffle and foie gras (not visible) and then takes it back to carve, dress and plate. The chicken returns on a creamy bed of corn and barley with crispy chicken skin on top. The sweetcorn with the trimmings of foie gras and the pearly barley is a tasty meal in itself. This dish reminds me of the festive season and of family; and yet the stately aromas of foie gras and truffle set this a class apart from any roast chicken I have ever tasted – not to speak of the quality and succulence of the fresh spring chicken that is sourced from a farm in Al Ain. And that's where it differentiates from La Petite Maison and La Serre's roast chicken dishes imported from France. Much of The Croft's produce is locally sourced, with even more expected once the harvesting season starts. The plate is for two but our party of four struggle to finish it – so I ask for the leftovers to be packed for the kids!
For dessert, we select the peanut chocolate ice cream that looks like a chocolate bar and tastes like Snickers with its strong peanut flavour. I wonder how it compares to Fume's snickers dessert. The banana cake is an epitome of comfort food – a pudding base topped by banana cake and caramelised banana slices surrounded by a toffee sauce.
We feel we have eaten a generous, wholesome and home-cooked meal, yet we have dined in style. Within the brief menu there is enough to satisfy an omnivore, a pescatarian, a vegetarian and a pure chicken eater. The mains and the desserts are top notch, but some of the starters need tweaking. Service is very friendly, eloquent and knowledgeable. The restaurant is well located, particularly with the terraced option for when the weather cools down. Expect to pay a very reasonable and maximum of AED220 for three courses per person (without alcohol), so in terms of value for money, The Croft is off the charts and really epitomises what I define as 'casual fine dining'. I am giving it four out of five FooDiva knives.
Have you dined at any restaurant in Dubai that you would describe as casual fine dining?
Until next time,
AK.
Who is FooDiva's guest reviewer? AK works as an investment banker in Dubai and is an avid gastronaut who thinks that a day without a good meal is a day wasted. He has travelled the world exploring culinary delights including a treasured dinner at El Bulli.