Does Spirito reflect the spirit of Brazil in Dubai?
"Do we really need another Brazilian restaurant in Dubai?" – this was my initial, admittedly skeptical, reaction when I first heard about the opening of Spirito Lounge & Kitchen. Remember the flurry of Brazilian churrascaria openings in Dubai a couple of years ago?
Spirito sits on the ninth floor of the funky Media One hotel, which seems to be going through something of a culinary renaissance, with the opening of multiple new concepts including Crab Tavern, after years of only offering a great party atmosphere to compensate for mediocre food. This new opening is yet another example of the fortunate trend in Dubai's hospitality industry; that of independent restaurateurs taking over the F&B spaces within hotels, and bringing in home-grown concepts.
Luckily, this isn't yet another all-you-can-eat rodizio-style restaurant, but rather, a contemporary, upbeat venue aiming to bring a dash of Brazilian vigour into Dubai's dining scene. The sprawling space exudes a hip, industrial vibe and is separated into a bar/lounge area, with thumping music, and a slightly quieter, smaller dining area with an interesting suspended wood ceiling. The décor, with accents of bright blue, rustic wicker light fixtures, carefully mismatched chairs and wall graffiti aim to transport you straight to the favelas of Rio – and, well, they sort of manage to do so. A couple of clusters of crystal chandeliers look incongruous in this setting however. But I'm sure Dubai's trendy young things with whom this place was heaving on a Thursday night, didn't mind one bit!
My first touch-point with the brand didn't get off to a smooth start – on my first attempt at making a reservation, I was told they were fully booked at the time I requested, but that they would double check and get back to me. No one did. I did manage to re-book though, and was relieved to see the place was indeed crowded when we arrived (another habit of many restaurants here I simply don't understand is pretending to be busier than they are).
After being seated in the dining room, we opted to order a couple of the 'small plates' to share which are perfect as bar bites for those who don't want a full-on meal. In a bid to keep things authentic, caipirinhas were my drink of choice for the evening – the acai mix was interesting (hey, I got some antioxidants in the process!), but I preferred the original version.
Unfortunately, our first choices of coxinha (smoked chicken croquettes), and pao de queijo (a quintessential Brazilian specialty cheese bread made of tapioca flour) were both unavailable. I was quite disappointed, as I'd been on the hunt for a really good pao de queijo in Dubai, ever since falling in love with this ubiquitous street food in Brazil.
We settled for the pastel de carne, another signature dish, deep fried pastry stuffed with meat, and pastel de quiejo – similar, but with a mozzarella stuffing – and a portion of frango e passarinho, crispy chicken wings. The pastries were both delicious – but then, what version of deep fried meat or cheese isn't? – with the flaky braised beef filling doing a little flavour dance in the mouth with each bite. The chicken wings, on the other hand, while not bad, weren't anything to write home about. Crispy, but only really enjoyable when dipped generously into the guacamole served on the side.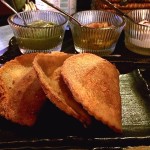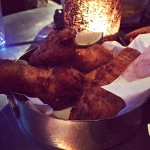 A note on the service here – the sauces arrived first, and were just dumped on our table with no introduction to what's what (it was a platter of guacamole, a fiery hot sauce, plus regular mayonnaise, and ketchup). Apart from that, overall, the staff were friendly, even if they looked a bit rushed off their feet.
Already well on our way to satiation, we chose to share the main course (and didn't manage to finish it either) – the frango asado com limao, a lime-marinated roast baby chicken. Served on a rustic-style wooden board, with a side of roast baby potatoes and generously sprinkled over with chives, it was perfect. The chicken was crisp on the outside, and tender and juicy on the inside, with a side of jus adding just the right amount of flavour. I'd have preferred a less European style of sauce though, a chimichurri perhaps? We really didn't need the tanchagem side we ordered – a rich, cheesy gratin layered with spinach, mushrooms and plantain, but it added an interesting dimension to the meal; particularly the hit of subtle sweetness from the plantain.
By now, we really were far too full for dessert – the meal so far was quite rich and heavy – but in the name of research, decided to go with our waiter's strong recommendation to try the torta de sonho de valsa. Desribed as a Brazilian chocolate bon bon cake, the layered chocolate-y concoction with a biscuit base, nuts, and light-as-air whipped cream topping was utterly more-ish, and in spite of being full, we managed to polish off most of it between us.
Price per head for three courses starts at AED200, which makes it more kind on the wallet than neighbouring Crab Tavern. I am glad to see a locally developed concept showcase Brazilian cuisine in a different light to the other churrascarias. We rolled home full and happy, although I'm not sure I'd go back there for a dinner date anytime soon (maybe only to try the pao de queijo!). But, for a spirited evening of cocktails and, in most parts, good food and service, with friends and colleagues in a lively atmosphere, Spirito definitely ticks these boxes, so I am giving it a 3.5 out of 5 FooDiva knife rating.
Tell us, which restaurant in Dubai serves the best Brazilian food?
Until next time,
Sudeshna. x
Sudeshna Ghosh is a seasoned food and lifestyle editor, having most recently moved on from her role as senior editor of BBC Good Food Middle East in a bid to trade the hamster wheel, for, well, wheels (or wings) of any other kind! This 'experience collector', who loves discovering new cuisines and cultures, lives in Dubai with her husband and two daschunds, and works as an editorial consultant, freelance writer and lifestyle blogger on Style Now Me.