Is Jean-Georges Dining Room worth the price?
Launched in June at the Four Seasons Resort in Jumeirah to much fanfare and celebrity sightings, Jean-Georges Dubai is US-based French chef Jean-Georges Vongerichten's first venture in the UAE. JG Dubai boasts two dining concepts; the casual, open-plan Jean-Georges Kitchen which diners first see upon entering the large restaurant, and the more upscale Jean-Georges Dining Room, a curvy, intimate space serving chef JG's contemporary French dishes from his flagship three Michelin-starred New York City spot. At the helm of both kitchens is executive chef Colin Clague of ex-Q'bara fame.
On a Friday night, JG Kitchen is buzzing with diners, and waiters running around to the upbeat sounds of a live DJ station. The modern, mirror-clad bar connecting the two restaurants is just as lively. As we walk towards JG Dining Room, it gets considerably quieter and remains so throughout the entire evening, yet the soft lounge music and background chatter make for a classy and elegant ambience.
Our friendly hostess takes us to our table next to an open kitchen area and marble bar. Looking around, the décor is modern, with large, much-coveted round tables and elegant glass tube chandeliers. It's a sobre yet sophisticated venue, with the furniture's neutral colour hues made vibrant by pink rose displays on the table, and a green kitchen wall. In the back-of-house, four chefs move around under the watchful eye of chef de cuisine Daniel Everts.
As explained by our waitress, the menu concentrates on a prix fixe formula. For AED480 per person, a flexible choice of three savoury dishes from a list of fourteen appetisers and seven mains, plus dessert is offered, which is what we choose. Other options are the set AED880 seven-course tasting menu or a seven-course seasonal menu. Caviar dishes are also available, at a hefty price. To my delight (read my review of Em Sherif to see why), and in contrast with Jean Georges in NYC, our waitress informs us that an à-la-carte option is also available.
First to arrive are warm buttermilk biscuits, followed by three amuse-bouches; a cold and spicy cucumber gazpacho, a gooey cheese and jalapeño croquette, and a roasted yellow carrot with a dollop of yogurt – four little, exquisite preludes.
A foie gras brûlé appetiser is served as a round of foie gras terrine mixed with strawberries atop a crunchy brioche. Brittle at the top, smooth from within, and crunchy at the bottom, the mélange of textures is perfectly complemented by the tartness of the strawberries, the subtle sweetness of the brioche and the acidity of the balsamic jus. A harmonious and delicious first course. The soft diver scallops do not disappoint either; married with three florets of caramelised cauliflower in a rich, tangy caper and raisin sauce. Simple, earthy, light and equally delectable.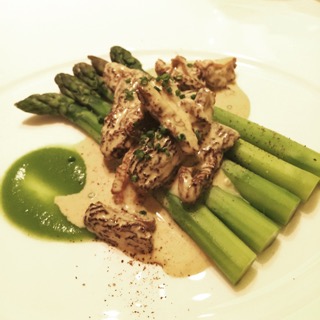 Next up, my order of green asparagus with morels arrives sprinkled with black pepper, a smooth asparagus purée and a rich jus. The blanched asparagus stalks are cooked al dente – crunchy and extremely flavourful. The morels bring a chewy and earthy dimension. Despite the richness of the sauce, it is light and the execution excellent. My husband orders the Scottish salmon fillet which is served along a fresh cherry tomato juice and a crispy, deep-fried salmon skin. The fish is flaky, soft and tasty but the fried skin is too oily, leaving visible traces of oil droplets along the rim of the plate. The highlight of the dish is the side of Middle Eastern couscous cooked with cockles in a kaffir lime broth making it aromatic, zingy and oh so delicious – I crave more.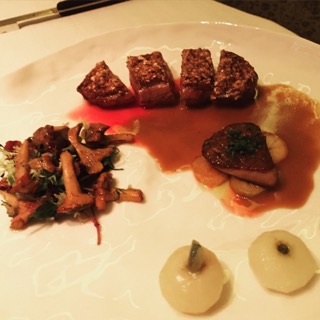 My lobster tartine main course consists of four chunks of poached lobster sitting on two slices of baguette. Our waitress then pours a delightfully, aromatic lemongrass and fenugreek broth. The sugar snap peas, cooked al dente, add sweetness and crunch to the warm, citrusy sauce. The tartines are so refined, they make even the best lobster roll appear grotesque. My husband is served a large plate with generous slices of Muscovy duck breast crusted with almonds, around which our waitress pours a miso and soy-based jus. A side of foie gras, roasted potatoes, baby turnips and chanterelle mushroom salad makes the dish very hearty. The perfect example of fine AND comfort dining.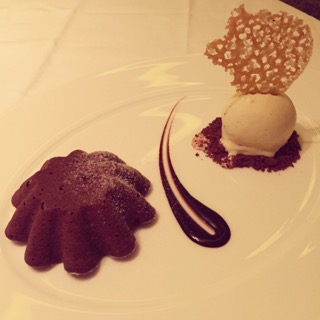 Desserts are the creation of pâtissier Jeremiah Gichia, ex-Toko with seven options that are all original and inviting. Chef JG's famous chocolate molten cake is of course included, so my husband, a fellow Frenchman, and stickler to good, old French traditions, opts for what is a truly moist and fluffy creation. Intrigued, I choose the peach pavlova with olive oil ice cream. A round and crunchy meringue holds a plump and juicy poached peach. The subtle hints of olive oil in the ice cream and the ginger gelée made the dessert whimsical, lively, and vibrant. Again here, the flavours are fresh and the execution brilliant.
A note on service; from beginning to end, the staff are unwaveringly attentive and intuitive, discretely refilling our water glasses, cleaning our table and answering our questions before we even speak. Our waitress is also very patient as she waits for us to narrow down our choices. Elegant, poised and friendly, everyone, from the manager to the waiters, inquire about our meal, and answer our queries on cooking techniques, spices and the restaurant as a whole. Dubai service, take note, the staff at JG Dubai are clearly well-trained.
At the end of our dinner, we are very full thanks to generous portions, but satisfied and sad that our culinary journey has finished. Oily salmon skin aside, our six dishes are brilliantly executed, delectable, and aromatic. The flavour combinations are deep and harmonious. The broths are all tasty and rich, yet not heavy. The desserts are creative and equally delicious. Our meal is truly a treat for the senses thanks to beautiful presentation, consistently delicious flavours, impeccable service, elegant interiors and an upscale, lounge vibe making JG Dining Room one of Dubai's top restaurants. It's expensive but worth every dirham for a special occasion. Here's to a 4.5 out of 5 FooDiva knife rating.
Tell me, have you tried JG Dubai – the kitchen or the dining room? Or any of Jean-George's restaurants around the world? Do you have a favourite JG dish?
A bientôt!
SJ.
Who is FooDiva's guest reviewer SJ? By day, she is a professor of Political Science. By night, she shares her cooking, travelling and dining out adventures on Instagram here.