La Résidence: French haute cuisine or posh brasserie?
In a previously vacant space at Raffles Dubai, a new French restaurant has emerged on the ground floor, adding another fine dining venue to this old-school side of town. La Résidence Restaurant & Lounge is a home-grown concept developed by the team behind China Grill and Reform, with consultant chef Frederic Vardon whose credentials include a Michelin restaurant in Paris.

The entrance is slightly to the side of the hotel with direct street access, often considered a strategic advantage for third-party concepts who are still tied to hotels in Dubai more for need than desire. Upon entering, two hostesses greet us and as we are early, we happily agree to be seated in the lounge to absorb the ambiance prior to dining in the restaurant. The lounge is large with a well-stocked bar along one side; banquette seating and multiple tables in the centre; and one high long table with bar stools near the restaurant. The latter is where we choose to sip our cocktails as there are no bar stools at the actual bar. A little odd considering their bar is a highlight of their Instagram account. At the time of dining, the restaurant is already a month into opening, but perhaps they have not yet arrived. Dark wood, banquettes, chandeliers and a grand piano in the corner give it that traditional English feel, which is unusual for a French brasserie, but somehow it still works. A DJ box rests casually next to the piano suggesting that the tempo picks up on other nights.
Moving to the restaurant, and the lounge fades into a distant memory as this side of the room oozes a warm personality. Walls are brimming with contemporary art, giving the room an eclectic, interesting vibe, and an open kitchen is tucked in the corner. I start drooling over funkily-designed cover plates placed as table settings, each depicting a different vegetable. It's a simplistic and lovely touch.
The service overall is not a highlight of our night. Our waitress is helpful and attentive, but lacks product knowledge, and does not build enough rapport with us to make her memorable. She is not at ease with the English language which given it is Dubai's business language should be an important criteria for hiring. At one point we explain that we're not a fan of mushrooms, to which she then recommends two dishes containing this exact ingredient. Why is it restaurants don't consider mushrooms an item worthy of highlighting on a menu as an important ingredient? I know many people who don't like the slimy critters but they seem to appear everywhere. Anyway I digress…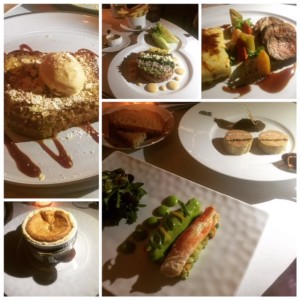 The menu offers a selection of seasonal French favourites you'd expect from this type of restaurant. The Landes duck foie gras may not be a politically correct dish, but this delightful pâté is served as small perfect rounds accompanied by two slices of toasted, country-style bread. Smooth as silk, the pâté's elegant buttery flavour is robust enough to match the accompanying fig jam, making it a tasty, traditional combo. More bread though next time please. My companion is wowed by the Parisienne-style king crab, beautifully presented two ways. Plump, juicy chunks of crabmeat look like pieces of the leg extracted from the shell to form parcels of sweet flesh, with one rolled in a moorish, green (avocado perhaps?) sauce, complemented with tiny diced vegetables and herbs.
One of my favourite dishes to order anywhere is steak tartare. I have very fond memories of my dad and I judging French restaurants in Hong Kong (where I grew up), by the quality of their tartare. L'Atelier de Joel Robouchon at the Landmark Oriental in HK has thus far won the prize for best in the world as per me, and so this remains my benchmark for tonight's beef tartare 'tailleau couteau'. The generous portion of hand-cut beef arrives ready to eat in a large round topped neatly with finely chopped accompaniments (parsley, cooked egg, capers). Once I gleefully blend all the ingredients together, the mix becomes too dry. I guess the proportion of parsley is too high relative to the beef's natural juices. It is still enjoyable, but lacks the juicy zing I normally relish in my tartare. The accompanying frites are long, chunky fingers of piping hot, crispy and delicious potato. My companion chooses the fillet of veal with a 'Comté' macaroni cheese and vegetable stew, stylishly presented but overcrowded with root vegetables. The waitress does not ask how we would like the veal cooked, and it is therefore served medium, which we both feel is overdone for such a delicate flavour. However, the superb mac and cheese makes up for it, with a piquant Comté blaring loudly.
Rounding off dinner we order the Grand Marnier soufflé. This classic ticks all the right boxes; feather light, slightly crisp on top, gooey, hot and delicious down under. May I recommend that the chef adds a cheese soufflé to the appetisers as it's sure to be a best-seller. For a non-traditional second choice, we select French brioche toast with salted caramel. Gosh it is divine – hot, spongy, juicy brioche topped with a drizzle of caramel and vanilla ice cream. Yes traditionally this is a breakfast dish, but it is outstanding as a dessert.
At AED 365 per person for three courses, without alcohol, the price of La Résidence makes it less brasserie and more haute cuisine. Bar the odd cooking method, our meal is very pleasant. However the service needs addressing, and with only a handful of tables occupied in such a large space, the restaurant lacks atmosphere despite the intriguing interior. I hope all this will improve over time. So for now, it's an average three out of five FooDiva knives for La Résidence.
Do you have a favourite food that you always judge a restaurant by, perhaps one linked to fond childhood memories? I'd love to hear your food stories.
DhabiDiva
So who's FooDiva's new anon guest reviewer? DhabiDiva is an Abu Dhabi-based expat brat with a passion for food, service and engaging chefs and restaurateurs. A hotelier by trade, she has been dining in uber five-star luxury since she was knee high to a grasshopper, and has worked and eaten her way across five continents before settling in Dubai and more recently Abu Dhabi. Fine dining may be in her blood, but she still enjoys a good deal which she shares daily on her Instagram account DhabiDiva.