Does Heinz Beck's new casual restaurant in Dubai offer a taste of Italy?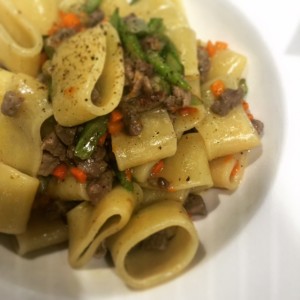 "It's like Eataly," enthuses my dining companion as we meander into Taste of Italy, chef Heinz Beck's first foray into casual dining at Dubai's Galleria mall on Al Wasl road. I nod in agreement, but also in surprise as I am half-expecting a teeny trattoria – not a canteen-style dining area all decked out in utilitarian monochrome, sandwiched between deli-style displays and an open-plan kitchen.
With only a few tables occupied for an early Monday dinner, Taste of Italy lacks soul but in all fairness has only just opened so let's hope it picks up with time. The menu is as expansive as the restaurant with dishes divided into sharing platters; raw; salads; soups and pastas; pizza; seafood; and meat. Our waitress whilst friendly, lacks menu knowledge and is overly attentive requesting to take our order within seconds of being presented with the menu. She is confused as to what a sharing platter of antipasto misto includes, returning twice to the kitchen to check. As it happens, another waiter explains this dish changes daily. In our case, a platter of charcuterie and wedges of goat's cheese arrives, with a side of olives (the fresh variety) and marinated artichoke hearts. Despite no pork licence, the beef salami, bresaola and duck speck manages to fill that gap with excellent, cured fare. Freshly baked sour dough olive bread is quickly replenished, and goes well topped with a strong, velvety goats cheese, and drizzled with extra virgin olive oil.
As soon as our starter is cleared, the mains are served. I realise the kitchen is quiet, but a small respite wouldn't go amiss. A good litmus test for an Italian restaurant is its pasta so I order paccheri which as the menu is quick to point out will, thankfully, be cooked al dente. And it truly is, with a wonderful, bouncy texture. Instead of a traditional beef ragu, Taste of Italy uses a rosemary-infused lamb that is clearly hand-cut and mixed with roasted asparagus spears and diced carrots – an interesting, well-balanced combination. My dining companion opts for a classic Italian dish – a branzino with the sea bass served in parchment paper and oven baked with cherry tomatoes, olives, onions and basil. The tender fish flakes at the touch of a fork as it should be – a rustic, wholesome dish bursting with flavour. Both portions are generous. A side dish of sautéed zucchini, peppers and carrots is well executed.
Onto dessert, we share a passion fruit crème brûlée. It may be a traditional French dessert, but oh my German Heinz Beck's Italian team has mastered this creation – a crispy, caramelised crust that delves into a silky, smooth custard potently flavoured with passion fruit – and one that is elegantly presented as you can see here. Bravo. But service fails again, with our waitress asking if we would like dessert after we have already ordered through another waiter.
Taste of Italy does not come cheap given the casual positioning – expect to pay AED 185 per person for three courses. The quality and execution of the food certainly reflects the price, but sadly the service seriously needs improving before Taste of Italy can be deemed to offer value for money. There's really no excuse for the disappointing service issues given an empty restaurant. Having said that, I do think with time Taste of Italy has the potential to become a good contender in Dubai's casual Italian dining scene…and it's most certainly a more accessible option than Dubai mall's Eataly.
Coincidentally this review is my last before I head off on a delicious two-week food journey across Italy courtesy of Bice Mare, where amongst many dinners, we will indulge in Heinz Beck's three Michelin star restaurant in Rome. Feel free to follow my food adventures on Instagram, Twitter and Facebook. Until next month :).
How do you think Taste of Italy compares to Eataly? Where are you eating this summer? Would love to hear your plans.
A bientôt.
FooDiva. x