Tre: is three times a charm for Roberto Rella?
With Bice and Roberto's on his belt of ventures, Roberto Rella has made quite a (famous and infamous) household name for himself here in Dubai. The friendly and equally eccentric restaurateur who epitomises the mostly long lost tradition of a maître d', has done it again opening his third Italian restaurant in Dubai. Located in the Radisson Royal Hotel on Sheikh Zayed Road, Tre replaces Japanese Icho taking up three (tre) prime floors with stunning views of the city's skyline.
We arrived on a Sunday evening, a little before our 9pm booking, and were greeted by an enthusiastic front house crew before being seated in the main dining room with the lighting perfectly dimmed. It only dawned on us later in the night that we would have much rather sat by the incredible floor-to-ceiling windows; especially since the majority of those tables remained vacant. They should have at least offered us the option.
On the other hand, our Italian waiter knew it all, right off the bat. He represented Italy in his dress, his hand gestures, his thick accent, and confidence in all things food, the way Italians hold themselves best. His knowledge of food, wine, and olive oils almost left us questioning his authenticity – he was that good. On top of that, he was professional, never imposing, yet always there if we had a question about wine pairings or dishes. This added touch really brought me back to a recent visit to Italy, when leaving my judgment behind and allowing the waiter to guide me through the menu, was the best decision I made. At the same time, Roberto himself was entertaining Italian guests at the table next to us dressed in his trademark pin-striped suit, something I feel only he can pull off.
The menu offers an extensive selection of everything from hot to cold antipasti; a raw seafood bar; aged risotto; dry and fresh pastas; to a variety of meats including fish, chicken, veal, lamb, beef, even a pork licence; a trident of pizza options; and classic dessert picks. A basket of freshly made breads brimming with carta di musica, a yeast-based bread, was accompanied by a selection of olive and sundried tomato spreads. The sleek and classic design of the cutlery really complemented the pristine, white table cloth décor. Our waiter brought over a trolley of olive oils to show us the variety, explaining most are aged over a number of years from everyday affordable bottles to upwards of AED 5,000.
For a starter, we chose a signature dish, the Granchio Blue, a cold antipasti with rocket leaves, Atlantic blue crab meat, tomato, and avocado mixed with an olive oil citrus dressing. The ingredients were combined into a tartare – a light and refreshing fusion of flavours in a portion generous for two. I paired this with Valon Bianco, a 2013 Sauvignon Blanc imported specially for Tre from a vineyard in Perugia. It has a light and crisp bite that complemented the crab dish.
Italian cuisine suffers so much from globalisation and I therefore rarely eat pasta out in Dubai for fear of disappointment – but I couldn't help being tempted by the description of the next dish which brought back delicious memories. When I was in Italy, I was invited for countless meals in homes and on one particular night, I tasted home-made pasta cooked and mixed into a pan of garlic and finished off with shavings of black truffles. The simplicity in the dish, with its limited ingredients blew me away. Tre's Tartufo e Punte also did exactly that, right here in Dubai. Fettuccine pasta cooked in a cream sauce and topped with black truffles (from Piedmonte and Umbria as our waiter explained) and asparagus tips was the closest thing to being in the heart of an Italian home. Each bite I took reminded me of the depth in such a light dish. The portion size was enough for two, but I happily enjoyed every last bite.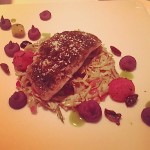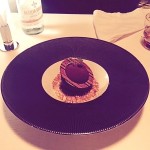 We also ordered the Merluzzo 'in Nero', a generous fillet of black cod with an artichoke base, Taggiasche olives, and purple Indonesian potato. The dish was garnished with bland dollops of potato purée and the fish, which was topped with a thick layer of onion shavings, was too salty to enjoy. A separate side order of steamed spinach made it slightly easier on the palate, but the plate was crowded, making eating hard work.
For dessert, we chose the tiramisu, which arrived as a dark chocolate-dipped sphere of mascarpone mousse oozing black coffee liquid. The dish was presented with a planet-shaped cardboard (yes, paper not chocolate) ring circling the sphere, which downplayed the elegance of the entire night but gave us a good laugh nonetheless. The tiramisu however, was not as entertaining. The lightness of the mousse went well with the dark bitter chocolate, but there was little to no coffee flavour in the filling. It simply did the job of providing a sweet, but not successful ending to our meal.
After dinner, we took the private elevator to the lounge and cigar bar as a nightcap, where the manager shared some interesting facts on their top shelf spirits including a single malt portwood whisky aged in wood casks lined with remnants of port wine. Tre provides great seating and standing room to enjoy Dubai's stunning views, and at night, there's really nothing better to look at here – but when I returned the subsequent weekend, to my prediction, these floors were empty, like they were on a Sunday. Perhaps with time they will get busier.
At AED 400 and upwards for three courses per person (without alcohol), Tre will have you reaching, deeply, into your pockets. Whilst the generous shavings of truffles on a bed of homemade pasta is enough to make me return, as is the crab tartare, the cod and tiramisu won't. But the slick service will, and there are plenty of other appealing dishes to try. I just hope with time Tre can create more of a buzz…and a charm. For now, it's 3 out of 5 FooDiva knifes.
What's your take on Italian restaurants in Dubai? Where's your favourite? Have you eaten at Tre?
RA.
So who is FooDiva's new guest reviewer? By day, RA works in higher education. Her side project, Melting Pot Dubai, is her portal for tasting and sharing the variety of cuisines in Dubai. You can find her on Instagram @meltingpotdubai.