Out at the other Rib Room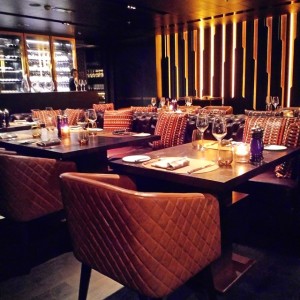 So, here I am reviewing the Rib Room for FooDiva…"But wait, Man in the White Hat", I hear you thinking (don't worry about my mind-reading powers), "the Rib Room at Jumeirah Emirates Towers has been open since 2011 – why would FooDiva review it (again) now?" Ah, well, you see, this is the other Rib Room, The Rib Room at Jumeirah Zabeel Saray, at the far outer western edge of Palm Jumeirah. As it happens, I've never been to the original version at Emirates Towers; shame on me, I know, but this at least means I can review the new version without any preconceptions. A quick advance study of the menus also shows that the differences between the two outlets go beyond different locations. Both restaurants are steakhouses with signature rib dishes, yes, but the dishes – even the types of steak on offer – are distinct. Taking just two examples, the John Stone grass-fed Irish beef that underpins much of the Zabeel Saray menu is absent from the Emirates Towers restaurant, while the new Rib Room lacks the pork licence that allows the original to heavily feature porky goodness. Summed up, some effort's gone into giving the two restaurants a separate identity despite trading off the same quality steakhouse brand. But is the new Zabeel Saray Rib Room any good?
Certainly the new Rib Room has nailed atmosphere. It's a large space, but one subdivided into smaller dining areas, with diners cunningly arranged so that it can seem much busier than it actually is – though on a Friday night it didn't really need the help. The jazz soundtrack and slightly retro, but still contemporary wood panelling and leather sofas give the restaurant a London West End gentleman's club vibe. It works well; this is a restaurant where you can still have a quiet private conversation, that still manages to feel intimate, even when busy. Staff are perhaps the best I've encountered in Dubai. They're superbly professional, showing excellent menu knowledge, accommodating slightly unusual requests with aplomb (such as Mrs White Hat asking if she could just have a scoop of ice cream rather than a formal menu dessert), and avoid the dreaded Dubai table hover. The wine list is expansive and, at its upper reaches, ambitious. But the good news is that you don't have to spend over AED 20,000 on a bottle of Chateau Margaux; a glass of wine can be had for as little as AED 60. The only minor disappointment wasn't the restaurant's fault. Despite the Rib Room being clearly positioned as a reasonably smart occasion restaurant, too many men were turning up in untucked short-sleeved shirts. Alright, so I'm conceivably being a minor snob here, but there was a slight disconnect between the atmosphere and some of the male diners; women tended to be much more appropriately dressed. A different dress code issue to La Cantine du Faubourg.
So the Zabeel Saray Rib Room gets the intangibles it can fully control absolutely right. What about the food? A John Stone steak tartare was excellent, served classically with egg yolk and two sauces, and absolutely perfect in texture with just a hint of chilli warmth. Mrs White Hat's blend of fowl was a duck liver terrine and chicken liver parfait – both beautifully smooth – served with a plum, walnut crumble, and toast that kept its texture throughout. My main from the signature rib section of the menu, John Stone dry-aged short ribs was glorious. It's a single large rib braised in English stout, with red cabbage, cheddar dumplings, and a grilled pearl onion. The waiter had warned me that the dish was quite fatty, which suggested they've had some negative reaction, but the rich layer of melting fat on top of the (cliché warning) falling-off-the bone meat made for a fantastic dish. It was also perfectly proportioned, stopping just short of being too much of a good thing. Mrs White Hat's John Stone dry-aged grass-fed striploin steak was also excellent, a beautifully cooked piece of rare meat. Steaks come with a choice of starch, vegetable and sauce options. The thyme jus offered both flavour and balance, while the only reason the duck fat chips might have been just slightly disappointing is that the usual Dubai overly powerful air-conditioning meant they didn't stay piping hot for as long as I might have wanted; they were very good before being defeated by the climate control. Spinach and beetroot sides were also well-flavoured, with the beetroot in particular offering strong earthiness while avoiding cloying sweetness (Asia Asia, I'm looking at you).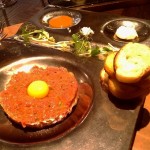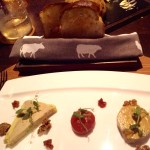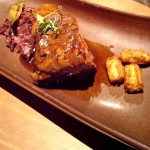 As noted above, Mrs White Hat couldn't quite bring herself to think about a full dessert. I couldn't face the plate of artisanal English cheeses, so I went for the Eton Mess, described on the menu as 'coconut meringue, strawberry, rose sorbet, champagne soup'. Unless the students at Eton are even better off than I thought they were, I'm not sure they're being served 'champagne soup' during the annual cricket match against Harrow. Similarly, the meringue at Eton probably doesn't come in intact wafers. The Rib Room's dish is an excellent light ending to what's a fairly heavy meal even though I'm not wholly convinced that it's really an 'Eton Mess', but it seems churlish to waste too much time deconstructing the name when it's so good.
In a crowded Dubai steakhouse market, the Rib Room really stands out. Yes, it's expensive – you'll be hard-pressed to spend under AED 900 for dinner for two – but it's better than Cut, where for all the quality of the food and service, the setting felt just a little internationally corporate. Any flaws are tiny. Maybe my little toast rounds with my steak tartare weren't quite crisp enough; maybe a lot of the male clientele aren't as bothered as they should be about how they dress; maybe the air conditioning's a little strong. But the first of those seems like going out of my way to find fault, the second isn't wholly in the restaurant's control, and the third is near-universal in Dubai. Jumeirah Zabeel Saray's Rib Room offered the best meal I've had in Dubai, and I'm giving it an unprecedented four and a half FooDiva knives out of five. So it's a shame that it's all the way out on the outermost western fringe of the Palm Jumeirah; that's a very long way to go when the restaurant's highly regarded older sibling is just off Sheikh Zayed Road at Emirates Towers.
If FooDiva will forgive me for running over my word limit to add a personal note, this is my last review of a Dubai restaurant for the site; I'm returning to the UK. I will hopefully write for the site again in the future, but it won't be on Dubai. I'd like to thank FooDiva herself and all readers for a really fantastic time eating my way through Dubai over the last year and a bit.
Would you drive all the way to the outer reaches of the Palm for a really good meal? What's the best meal you've had in Dubai?
The Man in the White Hat.
So who's FooDiva's anon guest reviewer, The Man in the White Hat? He has an abiding interest in both history and food; his holidays tend to combine an intriguing local cuisine with a UNESCO World Heritage site, and he's eaten his way across some 50 countries in Europe, Asia, Africa, North and South America, and Australasia.  He currently lives in Dubai, where he edits a couple of academic publications.