Cove Beach for lunch with a view
A sleek and sexy restaurant sits sheltered in a cove on Dubai's Jumeirah beach with gorgeous views of Burj Al Arab. Newly opened Cove Beach at Jumeirah Beach Hotel is owned by an ex-Buddha Bar investor, but so far, by the looks of it, his new toy is thankfully taking a completely different direction. Let's hope it remains that way.
The minimalist white and slate grey Cove Beach is split along multiple levels; an indoor-outdoor restaurant perched over a small swimming pool (looks more like a pond though); lounge seating where you can order from the same menu; a bar perfect for sundowners; and the beach decked with oversized sun loungers.
We settle for the lounge area; just a few steps from the sand with the wonderful view ahead. Given the beautiful location, I love that the menu focuses on simple, no-frills dishes with a broad European influence. Having said that, I would like to see a larger selection of grilled seafood, other than one king prawn dish.
A beef tartare with quail eggs, cornichons, onions and condiments of Dijon mustard, Worcestershire and Tabasco sauces has a good kick and is prepared a la table. A nice touch – but oddly is neither accompanied by frites (the Belgian way) or toast (a la French). My father requests some toast or bread which we have to chase numerous times.
A trio of sliders arrives with a beef patty and a crispy fried chicken fillet in brioche buns, and lobster in a squid ink roll. This was the one seriously disappointing dish of our lunch with the beef patty overcooked (we are not asked how we would like it served), whilst the chicken and the lobster completely lack flavour. The buns are also a little bit stale.
The tortellini is made in-house – six little al dente parcels filled with spinach and ricotta, and tossed in a silky smooth sage butter sauce. Delightful and well-executed, but the chef should be more generous with the pasta portion given it's a main course.
I choose a roasted marinated corn-fed baby chicken, but what arrives is char-grilled. Despite the change in cooking technique, the meat is tender, succulent and tasty. With just a few cherry tomatoes on the vine as a garnish, the presentation is poor and unappealing, and at a pricey AED170 I expect more than a bit of chicken on a plate.
On the other hand, a trio of side dishes are prettily served in cast-iron skillets. The potato gratin has clearly been prepared in advance and simply reheated, with no sign of the oozy decadence expected with a Dauphinoise and its crème fraiche. A baked sweet potato is sliced into three generous chunks and sprinkled with chives – slightly under-cooked though. Green beans are sautéed wonderfully al dente.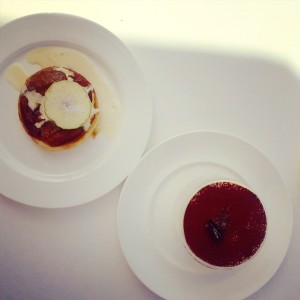 Onto our two desserts and both the apple tatin and tiramisu are exceptional. The layers of puff pastry in the tatin are warm and crisp; the caramelised apples balance tangy with sweet; a simple garnish of an air-dried sliver of apple makes for a pretty presentation; and the smooth vanilla ice cream helps mop it all up. The tiramisu is elegantly presented in a glass bowl. The lightness and freshness of the mascarpone matches the perfect balance of coffee. The liquor can hardly be tasted which in my view is a positive as it can often overpower.
Sadly our lunch goes downhill with the slow and unresponsive service. In addition to the issue with the bread request, the waiter only starts to prep the tartare well after our other dishes arrive, so my father is left waiting whilst we eat. Plan the service to start this dish BEFORE the other mains arrive. A burrata dish is not available, but we are only told so after attempting to order it – you should be informing guests in advance. To top it all off, as with many restaurants, we have to chase the bill a number of times. The odd glitch in service may be acceptable if a restaurant is running at full house, but whilst Cove Beach has a few tables occupied it's far from busy for a Saturday.
For three courses expect to pay on average AED360 per head without alcohol (it is licensed though). Now that's a bloody expensive lunch for a casual day out by the beach especially given the service issues, and with a couple of dishes under par. On the upside though, Cove Beach well and truly ticks the location and atmosphere boxes. Dubai surprisingly lacks licensed restaurants right on the beach and I mean spots where you can literally feel the sand in your toes, so Cove makes for a welcome addition. An added bonus is that it shares the same entrance as 360, so there's no need to enter the main hotel. My recommendation is to visit for a simple one-course lunch, or just a sundowner. But go there before word gets out and Dubai's Buddha Bar crowd ruins it. Here's to a three out of five FooDiva knife rating.
Where do you head to for a bite to eat with a cocktail on the beach?
A bientôt.
FooDiva. x