5 casual Dubai restaurants for your bucket list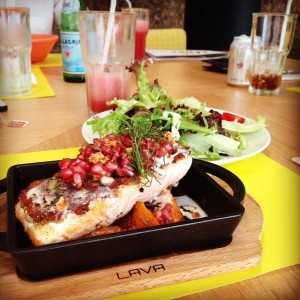 I realise there's a perception that FooDiva is all about fine, fun dining and whilst I can't deny that's a focus, I still love discovering quirky, casual, unlicensed restaurants, or cafes with a difference. So here's a collection of five such Dubai restaurants that I've eaten at recently and will be adding to my bucket list…as should you.
If you're after excellent Moroccan cuisine in Dubai in a casual environment, there's only two restaurants worth dining at in my opinion. Kif Kif is a teeny indoor and al fresco spot next to Kitsch Concept on Jumeirah Beach road. Quirky and retro, it promises 'urban fast food', but trust me, it serves up much more than that. The menu boasts a generous selection of wholesome, tasty fare – from the salads served on a wooden picnic bench – to mini 'tagines' – the merguez sausage concoction in particular is delicious.
The second, a longstanding FooDiva favourite, Momo's (an affectionate nod to its London sibling) has opened another location in Dubai at The Beach on JBR Walk. Whilst the terrace bags a beautiful sea view, the interior doesn't share the hugely atmospheric vibe the Harvey Nic's spot has. The Moroccan and broader North African menu is similar, bar the addition of a few European dishes which I expect are included to appeal to the tourist location.
The ex-chef duo behind Table 9, Nick and Scott, have opened their own chain of cafes starting with Mercato mall. You'll also find them in Bur Dubai on Trade Centre road, and in Silicon Oasis. Hopefully we'll get one in New Dubai soon (Spinney's is the owning company so undoubtedly that's where they will spring up). Salads, soups and mains aside, the menu differentiator are the mason jars brimming with pâtés, and served with chunky toast.
Bursting at the seams with sunshine yellow and funky art, this café-cum-business hub at Dubai Media City is open all day and night for brekkie, lunch and dinner. There's an honesty library brimming with magazines for borrowing, and needless to say, free wi-fi. The must-try dish from a very broad international menu is a baked salmon fillet with falafel crust on a bed of roasted sweet potatoes and drizzled with a walnut, pomegranate and tahini sauce (pictured above).
Normally I am not a fan of restaurants that boast menus with a multitude of cuisines. You can't be all things to all people in my opinion, but I am making an exception with Shogun. Specialising in Korean food, yet Japanese and Thai dishes also abound with dedicated menus. The newish Dubai Internet City location is Shogun's second after Deira where it's garnered a huge following. Here's where to go for your kimchi and bibimbap fix.
Do you have a go-to casual restaurant or café you'd like to add to this round-up?
A bientôt.
FooDiva. x