The evolution of the Kitsch concept
What began as a cupcake store on Dubai's Jumeirah Beach Road, Kitsch Cupcakes, has now evolved into Kitsch Counter, a café offering a wide variety of wholesome eats such as salads, gluten-free breads and spreads, roasted vegetables, many dairy, gluten, wheat and sugar-free, sweet treat options, alongside the initial staples of cupcakes and bakes.
The force behind the Kitsch concept is the businesswoman, cookbook author and fellow food blogger, Dalia. She believes in using high quality ingredients, organic where possible, and leading a balanced lifestyle rather than following trendy diets or cutting out entire food groups. Everything is made from scratch, fresh each day and she has just recently opened a second location in DIFC. A home delivery service is available and depending on the distance, delivery may even be free of charge.
Kitsch on the beach road is a small, one-room venue that appeals more as a roadside pit-stop or take-away, rather than a sit-down dining experience. The interior has a minimalist vibe with white walls, shelving and a take-away counter with stainless steel finishes. There is limited indoor seating, with one large communal-style wooden table and two smaller window tables. Different style and coloured chairs, a display of cookbooks including Dalia's own, and bold-print statements on both end walls provide character and charm to an otherwise blank canvas. However, there is little to no atmosphere when dining inside as most customers are popping in for take-away, and the lack of background music does not help. On the other hand, outdoors the cushion-clad wooden picnic benches with potted plants and fresh apples in the napkin baskets, tie in nicely with Kitsch's new organic, green concept. There is a calm, relaxed ambience, whilst still capturing some of the beach road buzz.
Food is served in take-out containers or for those dining in, on disposable white plastic plates – a feature I'm not particularly fond of as I think it takes away from the high quality of food. The take-away counter varies daily in each location, but includes wholesome savouries and healthy sweet treats, as well as cupcakes, baked doughnuts, lamingtons, brownies and blondies. For beverages, almond milk, coconut water and fresh juices are available, alongside organic coffee and tea.
Having eaten from the Jumeirah branch a number of times, I have sampled a large variety of the menu and often with additional specials on offer, such as a brown rice salad or a roasted broccoli, kale and ginger soup. The soup is the only disappointing dish, with a confusion of flavours; the strong kick of ginger is a little off-putting on the palate. The salad boxes, which can be ordered in two different sizes, are always packed with flavour despite the simple ingredients.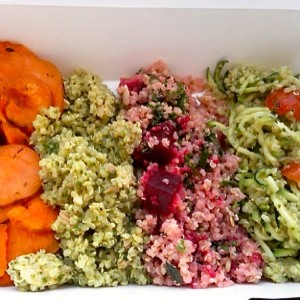 On my first visit I am accompanied by a vegan friend and staff are very helpful, happily removing the fetta cheese from the raw zucchini pasta, quinoa, tomatoes and sunflower seed salad, and serving roasted sweet potatoes without cottage cheese.
I love the vibrancy and sweetness of the carrot and beetroot hummus, with its perfectly smooth, almost whipped consistency, and generous spread on the paleo superfood zucchini bread with a drizzle of oil and some ground nuts. The bread is a pleasure to eat especially for those who, like me, are gluten or wheat intolerant, and struggle to find a good alternative in most restaurants or stores. The crust has the right amount of bite, while the centre is moist and chewy. The cauliflower, kale and goat's cheese pizza is texturally interesting, but tends to fall apart making it tricky to eat.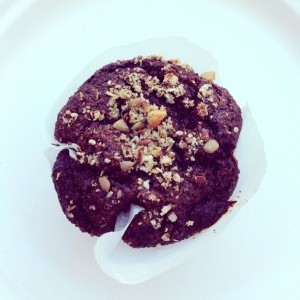 Nonetheless, my two favourite dishes are the sweet potato tartlettes and the paleo almond-banana muffins. The bite-size tarts consist of an indulgent sticky fudge top layer, piped on top of a nut base that go down a treat with hot tea. It's hard to believe these moreish morsels contain no gluten, dairy or sugar when they taste this good. Meanwhile, the muffins are tantalisingly moist. They are like biting into a fluffy cloud! I love to enjoy one of these surprisingly light delights as a lazy Friday breakfast treat, while sitting outside the café with my laptop, availing of the free WiFi and happily blogging away.
In summary, Kitsch Counter is a breath of fresh air in Dubai for those with special dietary requirements and a haven for the health conscious. Service is accommodating and friendly, and in terms of value for money, Kitsch is on-point, undercutting other venues that use similar high quality, superfood ingredients. I'm excited and curious to see if more cafés around Dubai will follow Kitsch's lead and venture down the healthy, yet affordable highway.
Do you have any healthy favourites?
Emma. x
So who is FooDiva's new guest reviewer Emma? An Irish P.E. and science teacher by trade has led to a passion for healthy, nutritious food and a fascination with molecular gastronomy. She has just launched a food blog, Cinnamon Fiend, which focuses on wheat, dairy and sugar-free recipes, dining experiences, as well as lifestyle and nutritional tips. Check it out here or follow her on Instagram @thecinnamonfiend.