Does the new-look Pierchic still offer a fairy tale ending?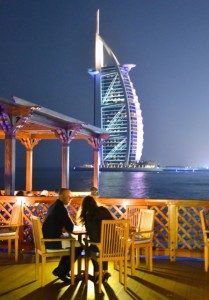 Once upon a time, a fledgling kiwi, newly emigrated from New Zealand, was wined and dined al fresco by a prospective employer, at a stunning seafood restaurant on the end of a pier in Dubai. The weather beaten wooden walls and deck belied the excellent service and food contained therein, and the iconic views of the Burj Al Arab dazzled her.
Fast-forward seven years…the view remains, but Al Qasr's Pierchic has had an extensive refit where the inside seating area has been increased (the al fresco dining area reduced; a clever decision for the summer months), and new blue-lit lounge and bar pods glow midway down the pier. Huge fishnet-like chandeliers hover over the bar like a bloom of jellyfish, and changing ceiling lights create a feeling of weightlessness.
For a Tuesday evening, the venue is three-quarters full and gently humming. My eagerly anticipated menu described the dishes, but not the cost. My husband's did. A number of incorrect assumptions had been made. Thankfully the prompt arrival of a salmon tartare amuse bouche (served with piquant lemon, olive oil and chives) made me forget the menu, and left me ready to enjoy my 'priceless' meal.
The yellow fin tuna ceviche with borsch consommé delivered a generous serving of ceviche cured with lemon, but a decoration of finely diced red jelly was slightly perplexing. Knowing the history of borsch, the colour was understandable, but the beetroot flavours did not shine through, and it certainly did not resemble a consommé. Due to the lack of flavour, the jelly added nothing to the dish other than providing an interesting texture. The micro greens gracing the top provided a burst of colour, however, the inclusion of alfalfa sprouts in the mix overpowered the ceviche's delicate flavours.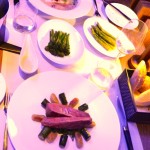 My husband chose the Cornish crab salad. The mound of crab salad was topped with watercress leaves, while white and green asparagus spears were arranged in a fan around half of the plate. The crab had a delicate ocean flavour, and the asparagus was al dente. For texture, there was an asparagus puree and raw white asparagus shavings – an inventive touch which provided crunch to the dish. Unfortunately the crab flavour was so subtle that it was lost when combined with the other ingredients, so we ended up eating each element separately and quite enjoyed it, even if not how the chef intended it.
Our mains, thankfully, did not follow the starters down the same rabbit hole. When the poached Atlantic halibut was presented, I was glad that I married someone who shares their food (otherwise ours would be a short-lived relationship). The nutritious wakame seaweed (also in the vegetarian tofu dish) topped a perfectly poached fillet resting in a light barley chowder that had enough clams to continue the ocean theme, but not overpower the dish with their distinctive taste. The halibut retained its form nicely in the chowder, while the addition of small, al dente hand-carved zucchini balls provided a secondary texture, and chilli flakes in the chowder, a nice gentle heat.
Ordering a meat dish, a baked Welsh lamb rack at a renowned seafood restaurant did feel risky and a little bit naughty, but I am glad I did. My dish was attractively plated with melt-in-the-mouth golden pan-fried gnocchi, and al dente grilled baby zucchinis circling two deboned fillets. It was served as ordered (medium-rare, balanced on a bed of sautéed green leaves) and the flavours merged beautifully with the lamb. The accompanying butter-based lamb gravy, served separately, was too salty for me, but was lapped up by my husband. The broccolini and asparagus side dishes, surprisingly served undressed on a white plate, should have had a point of difference at this level of restaurant (e.g. sliced almonds, lemon zest or chilli oil).
Too often, in my opinion, high quality restaurants fall flat at the final 'sweet treat' hurdle. The arrival of an apple tart became the highlight of our meal. A whole poached apple served between a biscuit and wafer (on which a ball of honeycomb ice-cream was balanced); two chunks of salted caramel honeycomb; and the best looking "skyscraper" toffee apple I have ever seen. The ice-cream was not too sweet and melded perfectly with the poached apple, while the crumbly biscuit base added a nice texture.
A deconstructed mille-feuille was next with four chocolate balls balancing between a crunchy brittle, and a chocolate sponge and wafer. They melted in our mouth leaving a sponge centre, with no excess of cream custard to be seen. Pink edible flower petals and caramel brought in additional colour. The lemon, raspberry and chocolate bonbons served as complimentary petit fours at the end of the meal ensured that my sweet tooth was fully satisfied.
While the standard of food improved with every course, the same cannot be said for the service. Our reservation request for a Burj view was not accommodated (outside tables were full), and it was only through my persistence that we were not given a table a deux next to a service station, rather than our final resting place in the middle of the restaurant. We were not offered sommelier services (surprisingly, given the excellent selection of champagnes, new and old world wines) and on one occasion we even had to refill our own drinks. There appeared to be a lack of coordination between our waiters as our butter was not refilled, ground pepper was not offered, and dishes were not cleared promptly. The gaggle of staff talking around the front desk suggested a hostess or manager should have visited our table. In short, we did not feel we were being looked after in an attentive manner.
While a small slip in food and service would be forgiveable provided there is good service recovery, the cumulative effect of the service and the lacklustre starters – all at an expensive price point of AED550 per person – failed to give me the fairy tale ending I had hoped for, and accounts for a FooDiva knife rating of 3 out of 5. Pierchic retains an unbeatable location, matched now by a beautiful refit. Once service matches this fabulous venue and the starters are fine tuned, the rating will no doubt rise.
Should the man always be given a priced-up menu? I believe the reservation team should pose this question in advance. What are your thoughts?
Until next time,
Alex.
So who's FooDiva's guest reviewer?  Alex (and husband) make up #NZFoodies, two New Zealanders who for the last eight years have utilised Dubai as a springboard to travel (read eat!) extensively, including hot spots across the Middle East and Levant. They love to explore food, from street vendors through to the chef's table.