Coya – the Peruvian trend takes off in Dubai (at a price)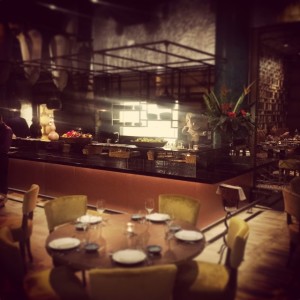 Peruvian food is currently having a bit of a moment. British supermarkets have started stocking ceviche [seh-vee-chey] on their shelves alongside sushi, two Lima venues top the 2014 list of the 50 best Latin American restaurants, 2014 was 'the year of Peruvian cuisine' according to the Culinary Institute of America, and a rash of Peruvian restaurants has been opening internationally over the last two to three years. With the opening of Barcelona's Pakta, even Catalonia's legendary Adrià family has jumped on board the bandwagon (though note one big name chef disagrees). Given Peruvian food is a natural fusion of South American flavours with strong culinary influences from an important Japanese-Peruvian community, the appeal should be obvious – even if it took most of us (Nobu Matsuhisa excepted) until the 21st century to notice.
Coya at the Four Seasons Resort on Jumeirah Beach Road is the Dubai branch of the one Michelin star London Peruvian restaurant that The Times declared to be one of the 20 coolest restaurants in Britain and Zagat described as one of the 10 hottest restaurants in the world. It's not the first Peruvian restaurant in Dubai, but it might well be the most hotly anticipated. The London original offers high-end Peruvian food for the Mayfair in-crowd, for people who want to see and be seen. The Ferraris, Bentleys, and Rolls-Royces parked next to the Dubai branch's (free) valet parking desk, the doormen by the sense-of-occasion entry, and the stylishly dressed clientele all suggest that our local version – packed by 8.30pm even on a Sunday night – is trying to fill the same niche as its London parent; perhaps even more so.
But is the food any good? Fortunately, the answer is yes – even if the menu is yet another "the food will come as it's ready sharing concept", the current bubonic plague of restaurant trends. The menu starts with ceviche (cubed fish cured in a citrus marinade known as leche de tigre, or 'tiger's milk) and tiraditos (more overtly Japanese-influenced raw sliced fish). I ordered the pargo a la trufa ceviche of red snapper, truffle, ponzu, and chives. It's the most expensive ceviche at AED78, but the sharpness of the ponzu and the earthiness of the truffles were very well-balanced. The next dish to arrive was from the anticuchos (grilled skewers): an antichuco tradicional of beef heart, rocoto chilli pepper, and garlic. We had to convince the waitress that we really wanted the beef heart, so I suspect they've had some negative reaction to the dish – but we loved it. The meat was soft and tender but with some grilled external crispiness, and with a rich smoky flavour from the rocoto chilli sauce. An order of amarillo chilli tempura from the 'para picar' (small dish; literally 'to nibble') menu section was a mild disappointment. There was nothing wrong with the technically accomplished tempura batter or the yellow chilli sauce, sharp and with a nicely building chilli heat, but the chillies inside the tempura seemed comparatively bland.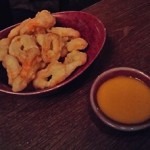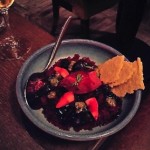 So far, so good. And then the mains arrived, along with the big off-note of the night. There was nothing wrong with the quality of the food, mind. My solomillo de res (spicy beef fillet, crispy shallot, and garlic) was an excellent dish, with hints of Japanese sweetness accompanying the well-seasoned and incredibly tender fillet. Mrs White Hat's pulpo al olivo (octopus cooked in a josper oven with Peruvian olives) was also brilliantly cooked, with the olives and grilled cherry tomatoes offering a really good balance of flavours alongside the tender octopus. But the portion sizes…you pay AED190 for a few small slices of (admittedly excellent) unaccompanied beef fillet, and then have to spend at least another AED30 for sides. Now, our side dish of patatas bravas consisted of superb discs of well-sauced simultaneously crisp and soft potato – but the side was at least as big as, possibly larger than the mains which seem wildly overpriced given the portion sizes. If our portions were representative, then I can only imagine how someone ordering the wagyu sirloin might feel to find out they've spent more on their dish than what Wolfgang Puck's Cut charges for a more generous serve of the same cut.
Given the stinginess of the mains, both of us had room for dessert. Mrs White Hat's lime tart was a delight, essentially a lime crème caramel in tart form with an apricot sorbet that she's still drooling over ("mmmmm, it was good"). My chicha morada was a combination of gently spiced granita and ice cream based on traditional Peruvian purple corn, accompanied by orange shortbread. It seemed a little underpowered in comparison to the lime tart, and perhaps would have worked better as a palate cleanser than as a full dessert.
Service was delightful, with two ordering problems dealt with professionally and smoothly by excellent waitresses. I had to remind our main waitress that I'd ordered a pisco sour (which eventually arrived from the bar halfway through my main), and an incorrect dessert was delivered. The fact that there were two problems with the order at a single table of two does raise an eyebrow given the prices that Coya charges. One error could happen to anyone, but two suggests some kitchen and bar communication issues are being worked out. The decor offers a spruced-up historic Latin American urban vibe, with a chic and modern combination of metallic finishings alongside wood and amber-coloured furnishings. But the air conditioning could probably be turned down a notch; it was so cold Mrs White Hat had to use a scarf as a wrap.
Coya does a lot of things brilliantly, but how you ultimately feel about the experience will probably depend on how you feel about the prices they charge. The prices for the smaller sharing plates are fair enough given the venue, with our choices ranging from AED40 (for the tempura chillies) through to AED78 (for the ceviche with truffles), but the prices charged for the mains – which head north of AED400 at the upper end of the menu – seem at best ambitious given the portion sizes. We ordered the least expensive main (the octopus at AED82) and still spent AED650 on dinner for two – excluding alcohol, but including an AED30 bottle of water. We were by no means full after a reasonably representative tour of the menu. Paradoxically – given alcohol prices in Dubai – the pisco sour costs less than it does in London (AED50 v. £11.95), but that moment of pricing sanity doesn't really counterbalance the cost of those surprisingly small mains. If someone else is paying, if you own a Ferrari, or if you're eating on an expense account, I suspect you'll love Coya. Me, I just can't helping feeling that you shouldn't leave a restaurant resentful over what you've been charged for, or the size of, your main course. For all the undoubted positives, and there are many, it's that smouldering resentment over those mains that brings my FooDiva rating down to three and a half knives, instead of four (out of five).
Have you tried Peruvian cuisine? What are your expectations regarding the size of a main course?
Hasta la proxima,
The Man in the White Hat.
So who's FooDiva's anon guest reviewer, The Man in the White Hat? He has an abiding interest in both history and food; his holidays tend to combine an intriguing local cuisine with a UNESCO World Heritage site, and he's eaten his way across some 50 countries in Europe, Asia, Africa, North and South America, and Australasia.  He currently lives in Dubai, where he edits a couple of academic publications.