Em Sherif – a succulent, yet frivolous feast
Em Sherif is Lebanese chef Mireille Hayek's first restaurant in Dubai, a licensed concept imported from Beirut. Conveniently nestled at the foot of The Address Downtown Dubai and facing Burj Khalifa, the restaurant can either be accessed through the hotel or from the Dubai Mall promenade. Em Sherif, Hayek's nickname, claims to offer a prestigious fine dining experience based around authentic, traditional Lebanese cuisine.
Stepping inside the restaurant felt like travelling to Beirut. From the somewhat empty terrace (overlooking the fountains), one could hear the echoes of long-forgotten, traditional Lebanese folk songs played by a duo armed with a lute and a small derbakki, a Lebanese percussion instrument, creating an upbeat, cosy ambience. The décor is mesmerising and plush; very shabby chic. Blue walls are wallpapered with Ottoman-style mirrors and oriental porcelain plates; pale blue translucent drapes adorn plush fuchsia banquettes; and a huge metallic firewood oven surrounds large black tables and chairs.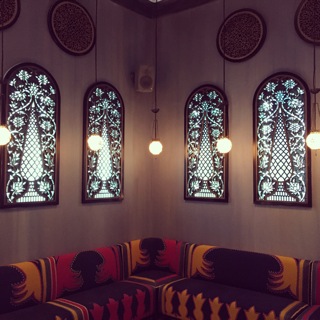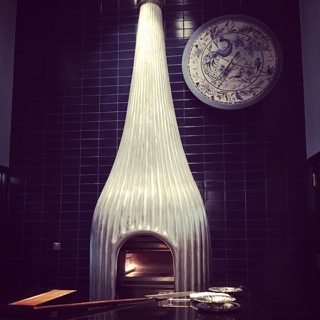 Em Sherif has no a la carte menu. For AED320 per person, a fixed menu of 32 dishes is offered – yes you read right, that's the only option. More on that later. Soon after sitting down, our amuse-bouche and salads arrived. A freshly baked and well seasoned thyme man'ousheh (pizzete) was served – the dough is delicious, warm and chewy setting the tone for the feast that awaited us. The tabbouleh, the traditional Levantine salad of parsley, tomatoes and burgul was a little salty but very bright and fresh. The fattoush salad, however, was exquisite. Traditionally, it consists of diced tomatoes, cucumbers, green capsicums and deep-fried pita bread. Here, the bread was replaced with fried julienned aubergines, whilst a dressing of mostly pomegranate molasses offered a sweet and tangy antidote to the fresh vegetables.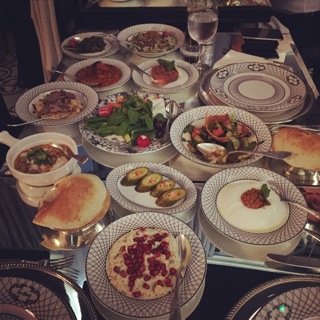 The cold mezze followed. The hummus, moutabbal, and labneh were velvety and rich. Our favourite was the moutabbal, an eggplant and tahini paste topped with pomegranate seeds. The labneh, a cheese made of strained yoghurt, was accompanied by a delicious olive tapenade. Pickled wild cucumbers, or kabees mehshi followed, each one stuffed with diced carrots, cauliflower and garlic. They were the perfect acidic accompaniment to the creamy dishes on the menu. Mdardra came next, a cumin-flavoured cold dish of lentils, rice and fried onions on top of a cabbage salad. The rice and the lentils were perfectly cooked, preserving the right crunch of each ingredient. A shakshouka of tomatoes and burgul followed, bearing no resemblance to the traditional North African breakfast dish, so perhaps renaming this dish may help manage expectations. The kebbeh nayyeh then arrived, the creamy Lebanese equivalent of beef tartare with raw meat, crushed wheat, and onions – exquisite. Finally, triangular-shaped rolls of Swiss chard stuffed with rice and tomatoes struck the right balance between sour and tart.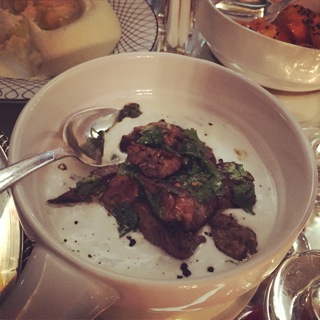 The next course of warm mezze dishes was delicious and impeccably executed with the exception of one – an Asian-style shrimp. Four small shrimps in an orange sauce topped with black sesame seeds were tasty, but hints of ginger and garlic created a confusing mix. Why would a dish that has nothing to do with Arabic cuisine make it to this menu? On the other hand, mashed potatoes with shredded lamb; beef liver in yoghurt sauce; fish fillets in a smooth tahini sauce; cheese rolls; and the cheese and meat arayess (grilled pita bread sandwiches) were all so flavourful that the only word my friend and I uttered for the next thirty or so minutes was 'wow'. My favourite was the fatteh which mixed chickpeas in a yogurt and tahini sauce with a drizzle of olive oil, and deep-fried pita chunks. Pine nuts and almonds were added making the dish nutty and smooth. It was one of the most wonderful interpretations that I have ever tasted.
The meats followed. Big cubes of juicy and tender lamb kebab and taouk, marinated chicken arrived, accompanied with grilled onions and tomatoes, and a smooth garlic paste. They were cooked to perfection. The chef's plat du jour, rezz a'djej, rice and chicken, is a classic Lebanese dish – large and juicy chunks of chicken breast were served with the classic oriental rice which is mixed with minced meat and a good dose of spices, cumin in particular. Excellent.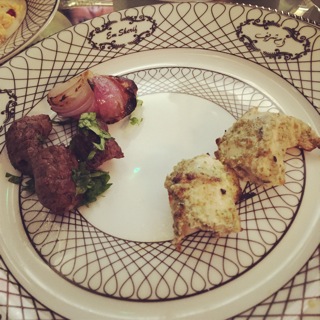 Our waiter then served five desserts – meghleh, mohalabiyyeh, tamriyyeh, umm Ali, and nashawiyyet remmen. The latter is a kind of pomegranate fruit salad – super fresh and crunchy. The mohalabiyyeh, the Lebanese version of pana cotta, a creamy dessert made of milk, corn flour, sugar, meskeh, and orange blossom water, topped with crushed pistachios, was silky smooth and so rich. It was easily our favourite. Despite being extremely full, we tasted all five and gave our seal of approval to all.
Service was quick and friendly despite a pretty full restaurant (including a few birthday tables) for a Tuesday dinner. Even though, with the exception of the odd dish, we enjoyed the food, I was somewhat puzzled by two issues. Firstly, the inflexible set menu. It is the easiest way to get diners to try a wide variety of dishes with minimal hassle on the serving staff. However, to serve 32 dishes just for two people is excessive, especially when each one could easily feed five hungry diners. Despite our best efforts to eat as much as we could, it was impossible to finish everything and I cringed at the idea of how much food was being wasted. By the time the main courses arrived, we were literally forcing ourselves to eat and did so only for the sake of this review. The experience stopped being enjoyable and felt more like a mission I had to complete. A choice of fixed menus with fewer dishes (at a more reasonable price) would accommodate intimate dinners, generate less waste, and render the whole experience more enjoyable and far more sustainable.
The second issue was the absence of a printed menu. A few minutes into sitting down, our waiter asked if he should start serving the food. Puzzled, I asked if I could see a menu first to which he answered, "There is no menu! You will receive 32 dishes tonight and it's fixed!" As a Lebanese, I easily recognised the dishes and knew what I was eating. However, if Em Sherif wishes to cater to the non-Arab population of a city as diversely cultural as Dubai, listing the dishes with a short explanation on a menu would help diners recognise what they were eating.
I would still recommend Em Sherif to (very) hungry diners who crave a traditional, authentic and delicious Lebanese feast – it really does live up to its fine dining claim. And by far, it truly is the best Lebanese cuisine I have ever eaten in Dubai. Despite this benchmark though, and the top-notch service, buzzing atmosphere and prime location, I have to mark Em Sherif down for the inflexible, frivolous dining formula and absence of printed menus. So until that's resolved (I hope), it's a 3.5 out of 5 FooDiva knife rating.
Until next time,
SJ.
Who is FooDiva's guest reviewer SJ? By day, she is a professor of Political Science. By night, she shares her cooking, travelling and dining out adventures on Instagram here.