A new series of secret pop-up dinners in the UAE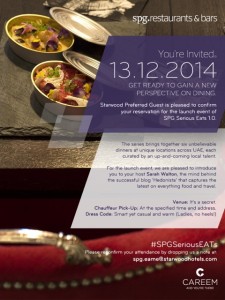 It looks like one of my 2015 dining predictions is coming true with pop-ups and supper clubs a key trend here in the UAE. Even major hotel chains are jumping on the bandwagon. Starwood (the operators of hotel brands like Sheraton, Le Meridien, Westin and Luxury Collection amongst others) has teamed up with social concierge Lime & Tonic to bring a series of pop-up dinners at 'secret' locations within its UAE hotels, each with a different host and theme – all under the hashtag #SPGSeriousEats. Unless you're in the industry or a Starwood regular, I doubt you will know that SPG is its loyalty programme, so they may benefit from explaining that.
Here's a peek into the launch pop-up, with the next dinner lined up for later this month. At 2pm on a Saturday a Careem car rocks up at my door to transport us to a secret location, but naughty me asks the driver for our destination who confirms the meeting point of the Four Points Sheraton on the Sheikh Zayed, where after a 45 minute wait, a coach ferries near 40 of us to Al Maha Desert Resort, a Luxury Collection property.
One and a half hours later (would have been much quicker if we'd been Careemed all the way), we arrive
to a welcome fruit cocktail before being piled into four-wheel drives for a jaunt into the desert. Canapés and non-champagne bubbles, a falcon show and a wonderful sunset. The cars then whisk us to the presidential suite for an al fresco (and chilly – admittedly we are told to wrap up warm) six-course feast, paired with wines courtesy of our hostess, the food blogger and sommelier Sarah of The Hedonista. She's a great one for insider vino tips so do check out her blog. I could eat the foie gras terrine with a chocolate sauce, and the braised lamb shank all over again. It's then back into our 4WD to the main reception, and the dreaded bus (I really am a diva) for the trek back to the Four Points, and finally our very own Careem home for 11ish.
It is a long day for an aperitif and dinner, which could easily have been shortened with direct transfers, minimising the waiting around – but the setting and the food are exquisite, making the journey worthwhile. Be prepared to chat and meet like-minded foodies. Best bit is, all the dinners are subsidised, so are very well priced at AED399 per person including transfers, food and vino. I would happily pay more for a direct transfer though.
The next dinner is on 20th January – click here for more info. And if you've not yet registered on Lime & Tonic, you can get an AED100 credit here. 
Oh and whilst I am writing, I may as well shamelessly plug FooDiva's very own #DineAroundDubai experiences in January and February here – five top-end restaurants all in one evening, dishes paired with wine courtesy of MMI, and car transfers. You get to meet the chefs and restaurant managers with FooDiva as your guide.
So what do you think of this trend for alternative dining? Do you like the idea of a secret destination?
A bientôt.
FooDiva. x
Disclosure – the launch pop-up was an invitation-only event. I may have been plied with food and drink, but as you can see with my honest feedback, I have no qualms in expressing my opinion.