Green Spices – the new Thai in town
As I drove with a friend through a bustling Sheikh Zayed highway on a Wednesday evening towards a new Thai in town – Green Spices at the recently opened Sofitel Dubai Downtown – I had high expectations given Dubai's prolific, and in some cases, solid Thai restaurant scene.
On arrival, we were greeted by a friendly hostess who, after confirming our reservation, asked if we preferred to be seated at one of two large circular bars surrounding live cooking stations, or at a regular table. The former looked a little lonely, with more diners occupying the tables, so we opted for one by the window with a view of the forever-busy Sheikh Z. There's also a big lounge area with green leather sofas, and a scattering of Buddha statues. The décor is simple, modern and sleek with no bells or whistles, only smooth jazz music playing in the background. Statues aside, the only indication of dining in a Thai restaurant are mountains of coconut milk cans and oyster sauce bottles decorating the bars.
The menu is generous. Yet the wide selection of appetisers, soups, curries and mains, ranked from mild to very spicy, generated a sense of deja-vu. The Thai rolls section, however, was interesting and new. Our waitress first brought a bowl of prawn crackers with a side of sweet chilli sauce, but they were bland and a little stale.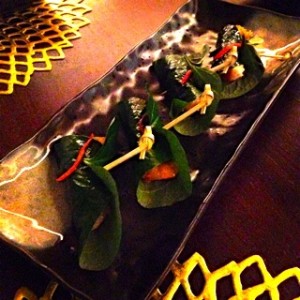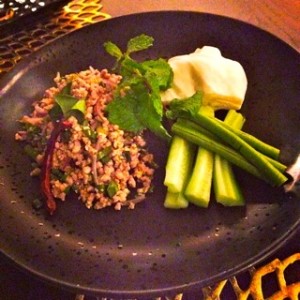 Our first appetiser dish of prawn rolls consisted of four servings of slightly fried prawns dotted with flecks of coconut, ginger, and peanuts – each rolled in a betel leaf. Bright and fresh flavours of lime, chilli, and ginger burst in my mouth with every bite. The betel leaf was soft enough to bite into and not at all chewy. Little gems of deliciousness. Our minced chicken salad arrived next – deconstructed – with a generous serving of minced chicken tossed with raw red onions, roasted rice and coriander in a lime dressing. Cabbage leaves, mint, cucumbers and green beans rested on the side, waiting to be rolled. While the chicken mince was exquisite on its own, its flavours were further elevated when paired with the other fresh ingredients.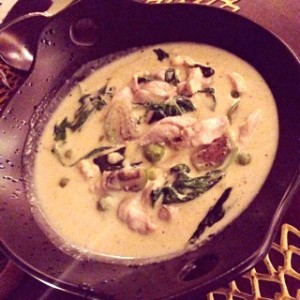 For mains our stir-fried beef was served first – slivers of beef stir-fried with green and red bell peppers, and spring onions. The vegetables were cooked to perfection – not at all soggy and with the right amount of crunch. The beef was tender and full of flavour. Then came the green curry, with a wonderfully fragrant aroma. Thin strips of chicken, bamboo shoots, Thai eggplant and peas sat in a delicious coconut milk sauce. The sauce held firmly without being heavy, and the vegetables were very tasty. While the chicken was succulent, I would have preferred larger chunks of poultry.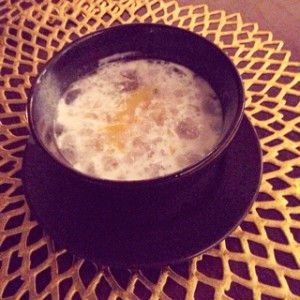 With only four desserts on the menu including a fruit platter, I would have liked to have seen a wider variety, not just to appease my sweet tooth, but in the interest of giving diners more choice. The fried bananas arrived drizzled with a warm chocolate sauce and accompanied by a (small) scoop of coconut ice cream. Despite being deep-fried, the batter was airy and not oily. The dessert was on point – warm, light, sweet but not overly sickly, and refreshing once paired with the ice cream. Our second choice was a little more unusual – a water chestnut soup with tiny red chestnuts swimming alongside pieces of jackfruit and crushed ice in a cold coconut-based soup. With every spoonful, the chestnuts exploded in my mouth and the jackfruit brought a little zing that was balanced by the sweetness of the coconut milk – a perfect sweet ending.
Throughout our meal, the service was impeccable – friendly, and knowledgeable when questioned on the menu. Our food was served quickly and the staff quietly and efficiently worked their way through the busy tables, never leaving us unattended. For a restaurant only recently open, they proved to be well-trained and attentive, without being overbearing.
Our Entertainer two-for-one voucher reduced the bill from AED215 to AED173 per person, without alcohol – either way very reasonably priced for a top-end licensed restaurant. While Green Spices lacks the majestic (and expensive) decor of neighbour Tong Thai at the JW Marriott Marquis, its interior is still inviting, with a subdued and heart-warming atmosphere. The food (minus the stale crackers) is delicious, albeit traditional, and the service excellent. Green Spices is a robust newcomer on Dubai's competitive Thai dining scene, and for that I am giving it a 3.5 FooDiva knife rating.
Tell me, which is your favourite Thai restaurant in town – licensed, or cheap and cheerful?
Until next time,
SJ.
Who is FooDiva's new guest reviewer? By day, SJ is a professor of Political Science. By night, she enjoys cooking and sharing her recipes on Instagram here.