A taste of Turkey in Abu Dhabi
I must admit I have never visited Turkey despite travelling extensively around the world, but I was introduced to true, authentic Turkish food when I worked on board a yacht. The deckhand hailed from Turkey, and on some occasions he would cook for me. The food was always so tasty, and you could see and hear from his storytelling of when he was a boy, how his mother taught him to cook. His Turkish coffee was delicious, even though it kept me awake for many hours.
I find myself intrigued with a new Turkish restaurant just recently open in Abu Dhabi in the Al Zeina district, Dolmabahce, which means 'filled garden' and is named after a small bay on the European shore of the Bosphorous river. Today Dolmabahce Palace still sits in this area. There are not many Turkish restaurants in Abu Dhabi, so I am compelled to try it out.
Entering into a large elaborate room, you are immediately transported to the Ottoman empire. The ceiling heaves with elaborate chandeliers; Turkish tiles and Ottoman art adorn the walls; table settings are minimal but with beautiful, ornate chairs. The floor is very slippery though, and I even notice a few waiting staff treading cautiously when moving around the restaurant. The kitchen is open-plan and you can view the chefs working in unison, creating authentic dishes from recipes dating back as far as 600 years ago.
The kitchen at Dolmabahce is run by Selcuk Atasayer. Born and raised in Turkey, Selcuk studied at the Culinary Arts High School in Izmir. After working in several restaurants in Turkey, he moved to Dubai, first to Grosvenor House and later the Jumeirah Group as sous chef.
The staff are friendly and attentive, and service is swift and unobtrusive, but the restaurant is a little quiet so take that with a pinch of salt. We are first brought a selection of lavash and pitta breads with Turkish tulum cheese, butter and olives. The menu ranges from traditional soups and salads with all the Turkish-cum-Arabian inspired ingredients like rose water, olives, vine leaves, aubergine, filo pastry, sajuk, yoghurt, lentils, nuts and pomegranates.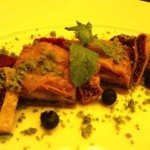 A selection of cold mezzes arrive at the table on a large tray – labneh with carrots, so creamy, it is delicious; hummus, babaganoush and a spicy tomato salsa, esme. One of the hot starters that catches my eye is the traditional manti – a Turkish pasta filled with beef and served with yoghurt. Lahmacun and pide also feature on the menu with various toppings. I order the sajuk pide – an oval shaped bread with cheese, and the traditional sajuk sausage – exquisite, flaky and light. I am in my element whenever I frequent authentic restaurants.
Main courses offer a large variety consisting mainly of meat with a few seafood dishes – iskender kebab which Turkey is well known for; testi kebab which is a mixture of meat and vegetables baked in a clay pot. We opt for the one-metre grilled Turkish kebab of various meats (a two-metre kebab is also available). This is a wonderful way of sharing with chicken shish taouk, grilled lamb chops, beef kebabs, grilled vegetables and sumac onions served on a base of Turkish bread – all spread across a long wooden board. That's exactly how I love to eat. The lamb and beef are cooked to perfection, whilst the chicken is tasty and succulent. Wrapping the meat in Turkish bread with hummus just seals the deal, and between three of us we almost devour the entire selection.
Again service in between courses is quick and elegant, with the waiters well educated on the menu. One can't eat at a Turkish restaurant and not end with baklava. We pick the pistachio baklava, which is plated with some figs and sprinkled with pistachio dust. A slight disappointment as the baklava's filo pastry is very soggy and lacks crunchiness.
Despite the not-too-sweet ending, at AED138 per person, Dolmabahce is a must-try. I urge you to visit and share your experience here. Any other Turkish restaurants I should know about?
In the words of James Beard, "food is our common ground, a universal experience."
Bon appétit.
Liesl.
So who's guest reviewer Liesl? "I have been a chef for 20 (odd) years, incorporating my many travels and experience with an intense passion for food.  I have called Abu Dhabi my home for the last four years where I work as a private chef.  I love food, exploring new cultures and people. I will probably die doing what I enjoy best, and that is cooking!"