Time to taste the Australian bush in Dubai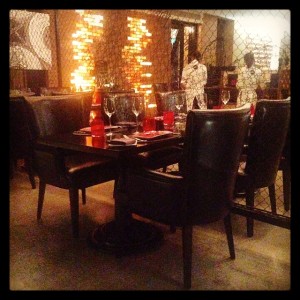 Kangaroo, emu, lemon aspen, eucalyptus, rosella, paperbark, lemon myrtle, wattle seeds, macadamia nuts. I could go on, and you could be forgiven for thinking I am hot footing it in the Oz outback chasing a kangaroo (highly undiva-like), but these are all foods known as 'bush tucker' – the produce Australian Aborigines feasted on, and nowadays used to describe ingredients native to Australia's wilderness. And it's these ingredients, and more, that are peppered throughout the menu of a relatively new Australian restaurant in Dubai, Bushman's at Anantara The Palm Resort. Now that's much more FooDiva's cup of tea.
Bushman's has its own private entrance to the right of the resort, unlike The Beach House where you have to meander through the hotel lobby. Boomerangs made of jarrah, a natural hardwood from south-western Australia adorn the restaurant, with the romantic view that guests will return to Bushman's. Well it's gonna take more than a boomerang or two to make me go back. Another wall is lined with over 10,000 corks mimicking cave and canyon wall art. Then there's pressed tin, red brick textures, corrugated ceilings, an open fire-pit with lamb roasting away, and a flaming Parilla grill. Australian dollar coins (AED6,000 worth according to our friendly barman) line the bar top. He'll play a little game with you, like he does with us, to pin point the only two dirham and euro coins, in return for a free drink.
I am surprised to see Bushman's so busy for a Tuesday night, so surprised I didn't think to make a booking – but if you do go, I would advise reserving. The menu is concise and not too overwhelming, whilst signature dishes are marked with wine pairing suggestions – a clever yet discrete upselling initiative. Our Penfold's Rawson Retreat – a Shiraz Cabernet is wonderfully full bodied and at AED290, a steal…well for Dubai wine prices that is. A warm loaf of wholemeal bread with an Arabic duqqa nut mix for dipping (throwing in macadamias for an Ozzie flavour) is served on an oak chopping board.
We opt for one of two Australian antipasto platters which showcase five small appetisers to share. Our waitress is well versed on all the ingredients and at her suggestion, we start with the yabby tail, an Australian freshwater crustacean similar to crayfish in texture and flavour – served on a slaw of shredded rosella, a wild hibiscus. The sweetness of the shellfish meat is a good antidote to the tangy rosella. Next up (at her recommendation again), slivers of salmon (Tasmanian) are delicately smoked in eucalyptus and dotted with a peppery horseradish sauce. A fillet of emu, carpaccio-style is lightly seared and has a similar flavour profile to its more famous relative, another low-fat poultry, ostrich. An accompanying salsa verde with lemon aspen fruit is both fragrant and acidic. And the piece de resistance and why I am drawn to this starter in the first place – thin slices of kangaroo smoked in paperbark have the gamey taste of venison which a spicy tomato relish complements. To round off the starters, a veggie option – a roulade of roasted red peppers filled with goat's cheese and topped with basil foam. Each and every bite of the five starters is different yet exquisite. I learn so much about Australian ingredients from this one dish alone – so if you're experimental with your food, it's a must-order.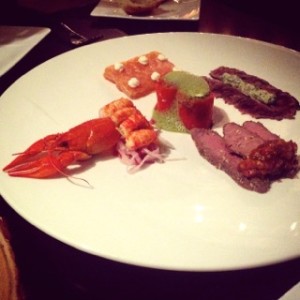 For main course, I am so tempted to order the kangaroo sirloin, but instead choose the baked fillet of barramundi, an Australian white fish with a slightly sweet and mild flavour. I would have preferred it a little undercooked and a tad seared. Its crust of macadamia nuts and herbs is so super crispy, I want to peel it off and eat it like a packet of crisps. The fish sits on a bed of lemon risotto which is both creamy and beautifully al dente – whilst a buttery sauce has a good kick of lemongrass peeking through. The dish is prettily presented with a singular roasted asparagus spear, a duo of cherry tomatoes and a green salad.
My friend's Australian Angus sirloin steak (200g) does pack flavour, and is served rare as requested – but it's not one of those remarkable steaks you'll be raving about for months. However, there's a nice twist in her asparagus side order with the hollandaise sauce oozing lemon myrtle, giving it a delicately perfumed verbena taste. A salt guru is on hand, an initiative first championed at its sister resort Anantara Desert Islands on Sir Baniyas to recommend salt pairings for our main courses.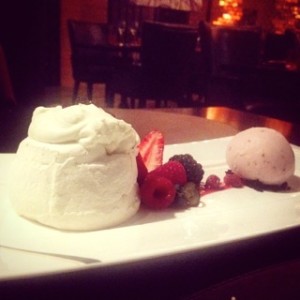 For dessert, we share a pavlova, which both Australia and New Zealand claim as their own. Be warned there's another grandiose pavlova dessert on the menu serving four, constructed with a little bit of theatre at the table. In our case, the meringue is delightfully crisp, dense and gooey with generous lashings of fresh lemon myrtle cream and a sprinkling of dark chocolate 'soil'. A handful of mixed berries over a coulis dominate the rather bland plum sorbet. No theatre, but sorbet aside, a sweet ending.
Service in both the restaurant and the bar strikes a good balance of casual banter without being over-friendly and excellent menu knowledge – no mean feat given the unusual ingredients. At AED260 per head without vino (and that's with the Entertainer app two for one main course deal), Bushman's isn't cheap but it's neither expensive given the import of these Australian bush ingredients.
It's not often I discover a restaurant in Dubai that blows a breath of fresh air (the last time was Q'bara); offering something a little bit different, that elusive 'je ne sais quoi'; something with such a solid, heart-warming identity; and something home-grown created rather untypically by hoteliers not restaurateurs. Bushman's ticks all these boxes marrying interesting, delicious food with excellent service and a soulful atmosphere. One thing's for sure, I shall be hot footing it back to the Palm for some more kangaroo…with my boomerang in hand. Add Bushman's to your restaurant wish list pronto. Here's to a four out of five FooDiva knife rating.
How adventurous is your palate? Would you eat these ingredients, or have you already? Pray tell, where else can we find bush tucker here?
A bientôt.
FooDiva. x